Flood
/
New York Flood Insurance
From the Bronx to Buffalo, Long Island to Valley Stream and everywhere else in the Empire State, New York State faces some of the harshest natural disasters on the east coast. It faces hurricanes and torrential rains during hurricane season and heavy snowfall during the winters. With all the access liquid falling from the sky, it takes a toll on the state's bodies of water, such as lakes and streams. This leads to flood damage, which is only covered by a New York flood insurance policy.
Contrary to popular belief, home insurance doesn't cover most flooding when it's caused by natural disasters. That's why you'll need to get a New York flood insurance quote with Clovered today! We partner with the state's top private companies so we can provide you with a flood policy that meets your needs and your budget.
But you'll need to act quickly to secure a policy because flood insurance can only go into effect at least 30 days after the date of purchase. Securing your policy before the hurricane or winter season is crucial to protect your investment.
What Does Flood Insurance Cover in New York?
Many instances of natural floods are covered under a New York flood insurance policy, such as snowmelt or rains overflowing bodies of water like rivers and lakes, causing them to flood into the nearest homes. In that instance and many more, a flood policy would protect the following.
☘ Your home's physical structure and its foundation, meaning the essential pieces that make up your home, are covered by flood insurance. This can be anything from flooring and drywall to built-in cabinets and electrical wiring.
☘ Flood insurance can help pay to repair or replace your personal belongings that were damaged or destroyed directly by flooding. This coverage extends to things like TVs, computers and other electronics to furniture and clothes.
☘ When floodwaters enter a home, they tend to damage or destroy a handful of appliances in your home. Luckily, flood insurance can help replace many of those appliances, like your HVAC unit, water heater, dishwasher and much more.
How Much Is Flood Insurance in New York?
Since much of New York sits within FEMA's 100-year floodplain, the state's average cost of flood insurance is a bit higher than the national average at $875 per year. Although that price is a bit higher than the national average, the amount of coverage you get for that price is seemingly priceless.
If you don't have a New York flood insurance policy in place and do suffer a catastrophic flood, you could be left high and dry and paying to repair the damages yourself. That's why we highly recommend every resident maintain adequate coverage at all times.
How to Get Private Flood Insurance in New York
Getting private flood insurance in New York is a lot easier than you may imagine. Although flood insurance takes 30 days after purchase to kick in and go into effect, Clovered can pair you with a policy in just minutes. Simply call one of our friendly licensed agents and we'll help you get coverage that meets your needs.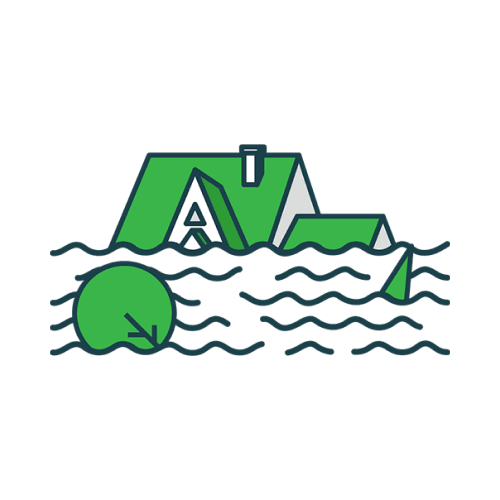 Stay Above Water With Flood Insurance
Do you want to pay for costly and common flood damage yourself or have an insurance policy pick up the tab?
The editorial content on Clovered's website is meant to be informational material and should not be considered legal advice.