How to Buy Flood Insurance Online or Through an Agent
Flood
/
How to Buy Flood Insurance Online or Through an Agent
If you look up flood insurance, you'll quickly realize that the government offers policies. But navigating the FEMA website isn't exactly intuitive, and you may not know what you're looking for. Here's the information you need to help you understand how to buy flood insurance.
Considering Your Flood Insurance Options
Government flood insurance is almost a misleading name since it isn't quite sold by the government. You can purchase it through NFIP Direct, which is done through a local agent, or you can get a flood policy written by a private company that partners with the NFIP. A complete list of these companies can be found here.
If you're wondering about a flood policy, a good first step is to call your current insurance company (if you have one) and inquire if they sell flood insurance. They'll either write policies through the NFIP or try to get you to purchase flood insurance from them or a private company they partner with. There are some key differences when buying each flood insurance option, though.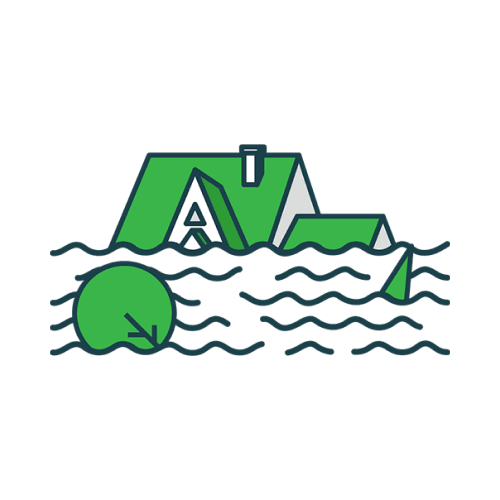 Stay Above Water With Flood Insurance
Do you want to pay for costly and common flood damage yourself or have an insurance policy pick up the tab?
How to Buy Government-Backed Flood Insurance
The NFIP was created by the government in the 1960s as a means for people to purchase flood insurance. At that time, there were very few private insurers selling it because the destruction caused by a flood was too great of a risk to cover. The NFIP is a part of the Federal Emergency Management Agency (FEMA) and it not only provides insurance but also creates flood zone maps for the country that help determine flood insurance rates.
You purchase an NFIP plan through agents at private companies, like Clovered, who sell it on behalf of the government. The agents handle customer service if you file a claim, but the government pays for the damage. Participating companies get a percentage of the premiums for doing this.
Since the rates are determined by federal flood zone maps the government creates, NFIP rates won't vary much from insurer to insurer, only the way claims are filed and handled will. FEMA determines the rates and rules, and insurers that participate in the NFIP can write the policies.
Private Flood Insurance Companies
The NFIP's task of maintaining accurate flood hazard maps for the whole country is a monumental one. Land changes over time, thanks to natural and manmade causes, and the agency is regularly working to keep its maps up to date. 
As a result, some of its maps don't reflect the accurate risk of flood damage that certain properties have. Also, as a government entity, the NFIP is subject to federal regulations that can affect rates and policyholders that private insurers don't have to worry about in the same way.
For example, the Biggert-Waters Act passed in 2012 authorized some rate increases for NFIP policies to help the program pay back its debt to the federal government, which is currently in the millions of dollars.
To avoid the issues that can arise when relying on government projects, more and more insurance companies have been offering their own flood insurance. Companies in the private sector have more room to innovate, especially as technology has improved throughout the years.
They can write plans with higher limits, determine different and more nuanced rates, and may have a shorter waiting period to get a policy.
Private flood insurance providers also usually offer additional living expenses coverage as part of plans, which NFIP policies don't have. However, private flood insurance has its drawbacks. It can be more expensive, and it doesn't cover every geographic area like the NFIP does. Private insurers are likely to go where there's less risk of flooding.
How to Buy Flood Insurance Online
If you don't currently have an insurance provider, are unhappy with the one you've got, or are simply curious about flood insurance quotes, buying flood insurance online could be ideal for you.
Clovered was built with you in mind, and it takes just a few minutes to get a quote online. We partner with the country's top providers so you can compare rates to get the coverage you need at the price you want.
It only takes a few minutes to get a flood insurance quote on Clovered. All you need is some information about your home, and you select the amount of dwelling and personal protection you want, identify the flood zone you live in if you know it, and you'll hear back from a licensed agent ready to help you.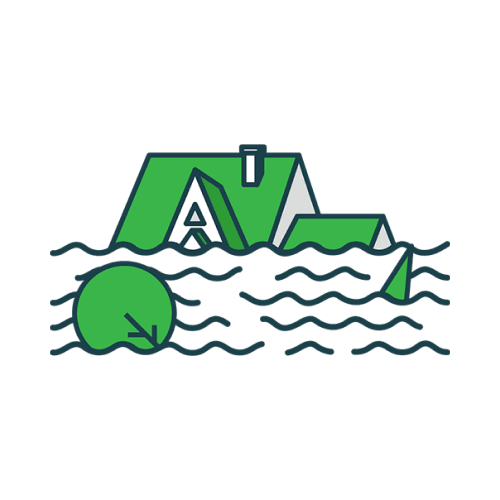 Stay Above Water With Flood Insurance
Do you want to pay for costly and common flood damage yourself or have an insurance policy pick up the tab?
The editorial content on Clovered's website is meant to be informational material and should not be considered legal advice.
Similar Articles
5 Min Read