7 Flood Insurance Facts You Need to Know
Flood
/
7 Flood Insurance Facts You Need to Know
Unlike a typical natural disaster, which remains confined to regions of the United States, flooding has no bounds to abide by. Flooding occurs from the warm Atlantic waters of Florida to the bitter cold Pacific waters of Washington.
It moves swiftly into California and spreads its overflowing nature across the plains of the Midwest, grounds of Texas and city streets of the Northeast.
Flooding also occurs throughout more than half of the year, beginning in spring with the snowmelt and continuing through summer and fall with heavy rains filling rivers, lakes, ponds, streams and other bodies of water across the U.S.
That's why flooding is the most common natural disaster in the world. The Federal Emergency Management Agency (FEMA) has created a 100-year floodplain that represents the most commonly flooded areas in the United States, denoting which areas are prone to at least one flood every 100 years, and it found that more than 40 million people live inside some sort of flood designation.
But even though floods are the most common natural disaster and more people in the U.S. are exposed to flood damage every year than hurricanes, tornadoes and wildfires, many people remain uninformed about the effects of not having flood insurance. We're here to cut through that red tape and inform you of the most important flood insurance facts everyone should know.
1. Flood Damage Isn't Covered by Your Homeowners Insurance Policy
Contrary to popular belief, flood damage is not covered by your homeowners insurance policy. Homeowners insurance only covers water damage that occurs due to an unexpected internal factor, such as a burst pipe that spews water through your home, rainwater seeping through a leaky roof or sewage backup that enters your home unexpectedly.
But homeowners insurance doesn't cover water damage due to a nearby flooded patch of land, overflowing body of water or even rainwater that piles up near your home and enters through its foundation.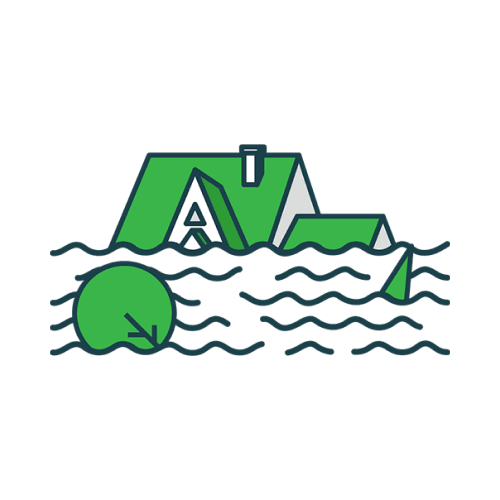 Stay Above Water With Flood Insurance
Do you want to pay for costly and common flood damage yourself or have an insurance policy pick up the tab?
2. Flood Insurance Takes 30 Days to Kick in
For the majority of policyholders, flood insurance has a 30-day waiting period before it kicks in and protects your home and belongings. So if a hurricane is threatening your area or rivers are overflowing and you purchase a flood insurance policy on August 15th, that policy will not cover any damage that occurs until September 15th.
Flood insurance's 30-day waiting period makes it pivotal for everyone to get a policy sooner rather than later. After all, you're paying for the policy, you may as well be able to use it, too.
Two exceptions to the 30-day waiting period are valid if the policy is purchased in conjunction with the renewal, extension or increasing of a home loan or if your area's flood map has been revised and has increased in risk during the past year. The former comes with no waiting period and the latter includes a one-day waiting period for all policyholders.
3. FEMA Flood Assistance May Not Be Available (Or as Much as You Need)
If a flood is declared a federal disaster by the President of the United States, FEMA is then allowed to allocate a designated amount of funds to the individuals affected by the flood. However, FEMA has noted that less than 50 percent of floods receive that designation.
In addition, those people living outside of high-risk flood zones are only allocated a maximum of one-third of the entire disaster assistance budget per flood, and those living in high-risk zones are allocated the remaining budget.
Even if you are one of the lucky ones to receive financial assistance from FEMA, it probably won't be as much as you need and will likely only be a fraction of what you would receive from your flood insurance company. That brings us to the next point.
4. Getting Flood Insurance Can Be Extremely Affordable
However, the price you pay for flood insurance depends heavily on which flood zone you live in. The less risky the zone, the cheaper the premium. The more risky a zone, the higher the premium. To get a flood insurance quote for a policy in your area, simply fill in the online form on our site.
5. Flood Damage Is Expensive
It's estimated that just 1 inch of floodwater can cause up to $25,000 worth of damage to your home and belongings. If you're paying $450 per year in premiums, that means a single flood would cost about 55 years' worth of premiums. Still think you don't need flood insurance?
6. You Need Flood Insurance Even If You Don't Live in a High-Risk Flood Zone
FEMA estimates that nearly 20 percent of all flood insurance claims within the National Flood Insurance Program, a government-run flood insurance policy, comes from people who live outside high-risk flood zones.
7. Flood Insurance Is Available for Everyone (Not Just Homeowners)
One of the most misunderstood facets of flood insurance is that it's only for homeowners. That's just flat out incomprehensible. Flood insurance is available for everyone in the U.S. — whether you own or rent a home.
For condo, townhome and mobile home owners, getting flood insurance is pivotal. If you're renting a home, apartment, condo or other structure, it's just as pivotal. While you probably don't need flood insurance if you live on the third floor of an apartment building, you should invest in flood insurance if you're on the first or second floor.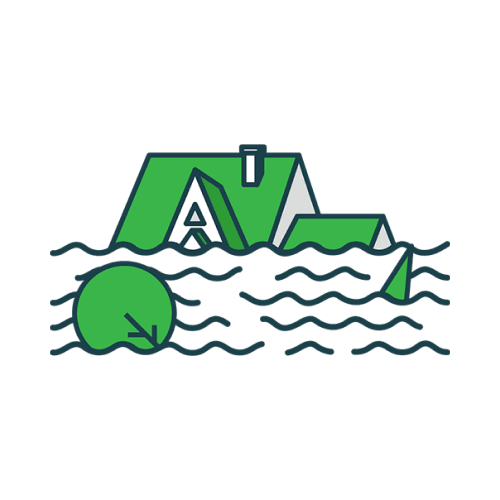 Stay Above Water With Flood Insurance
Do you want to pay for costly and common flood damage yourself or have an insurance policy pick up the tab?
The editorial content on Clovered's website is meant to be informational material and should not be considered legal advice.
Similar Articles