What Is FEMA's National Flood Insurance Program (NFIP)?
Flood
/
What Is FEMA's National Flood Insurance Program (NFIP)?
So why do people still balk at the chance of purchasing flood insurance to protect their home and most valuable possessions? That's a question the Federal Emergency Management Agency (FEMA) has likely been asking since launching the National Flood Insurance Program (NFIP) in 1968.
What Is NFIP Flood Insurance through FEMA?
The NFIP currently has more than 5 million flood insurance policies nationwide, but it's believed that more than 40 million Americans fall into one of three the SFHA categories, which is why FEMA has spent more than $200 million in the past few years on updating its flood maps that determine SFHA zones.
The NFIP was designed in the late '60s to address the need for affordable flood insurance and fill the gap between those who were eligible for and those who were too high a risk to secure a flood insurance policy from a private flood insurer. Since the bulk of the NFIP's customers live in high-risk flood zones, the NFIP is operating at a loss and is funded by the government through taxpayer dollars.
FEMA determines these high-risk flood zones by creating and updating designated U.S. flood maps, which identify flood risk for particular communities by gauging weather patterns, construction and development and other factors such as erosion.
The risk for each member of the SFHA is visualized through FEMA's U.S. flood maps to show areas most prone to flooding. You can check to see if your home lies within one of these areas by searching your address in FEMA's community flood maps.
But it's important to note that people who live in high-risk areas have a one in four chance of experiencing a flood during a 30-year mortgage. That's a pretty significant chance. But with the changing weather and rising oceans, even the Department of Homeland Security thinks this number is fairly low and inaccurate.
Although moderate- to low-risk areas do not require flood insurance, FEMA highly recommends anyone living in those areas to purchase a policy.
Is All Flood Insurance Through FEMA?
What Does FEMA Flood Insurance Cover?
Like standard flood coverage, FEMA flood insurance covers the structure of your home or business and the contents you keep inside the property. Unlike standard flood coverage, FEMA flood insurance has lower coverage limits, maxing out payments for flood damage to residential structures at $250,000, commercial structures at $500,000 and contents kept inside either a home or business at $100,000 per claim.
The dwelling portion covers things that are considered the structure of the property, such as the walls, roof, flooring, plumbing and electrical systems. It also provides coverage for some structures located on your property, such as detached garages. Since the NFIP maxes out coverage at $250,000 for residential structures and $500,000 for commercial structures, there's a chance these policies could leave you underinsured.
For instance, if your house is worth $400,000 and it gets mostly destroyed by a flood, causing damages to the structure that cost $300,000 to repair, you'd only be covered up to $250,000. So you'd be stuck paying the remaining $50,000 out of your own pocket.
Additionally, if you own $150,000 worth of personal belongings — including furniture, electronics, clothes, jewelry and tools — you could be stuck paying another $50,000 out of your own pocket if they're all destroyed by the flood.
How Much Is FEMA Flood Insurance?
The average National Flood Insurance Program rates are about $700 per year to insure a home's structure for $250,000 and its contents for $100,000. However, many more factors go into the determination process of your rates, such as where you live, how often the area has flooded, and how many claims you and your neighbors have filed.
How Do I Review My FEMA Flood Insurance Policy?
If you purchased a FEMA NFIP flood insurance policy through an agent like Clovered, all you need to do is call them to review your policy. If your home has increased in value, or you've purchased more belongings, you may need to increase your coverage if you're not already maxed out.
How to Get a Policy Through the National Flood Insurance Program
It's important to research your state's flood history to see if there has been any flooding in the past. If there has been, we strongly recommend getting a flood insurance policy for your home or business to protect your most valuable investment and the belongings you keep inside. Keep in mind that there's typically a 30-day waiting period before any flood insurance policy goes into effect.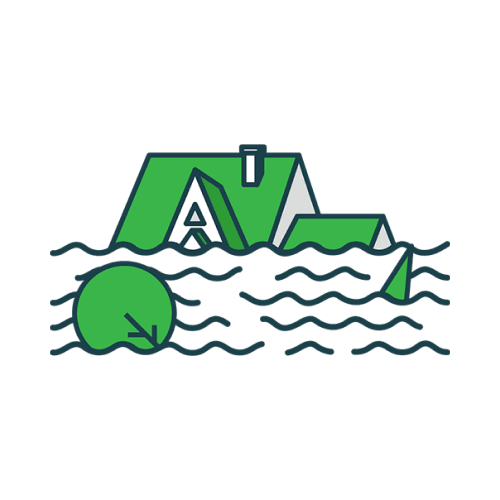 Stay Above Water With Flood Insurance
Do you want to pay for costly and common flood damage yourself or have an insurance policy pick up the tab?
The editorial content on Clovered's website is meant to be informational material and should not be considered legal advice.