3 Best Insurance Coverages to Protect Your Business Equipment
Commercial Property
/
3 Best Insurance Coverages to Protect Your Business Equipment
From small startup companies to large enterprise conglomerates, businesses still need to protect their equipment in a similar fashion.
After all, having damaged equipment can significantly hinder operations and having no equipment can halt business entirely.
Have you ever wondered what happens to businesses that are forced to temporarily close their doors due to an unforeseen accident or peril? Well, about 40 percent of them never reopen again. For business owners and operators, that's a pretty scary thought.
But one way to ensure the doors of your company remain open through unexpected events is to get adequate insurance. These are the coverages your business should know about and purchase as soon as possible.
1. Property Insurance for Businesses
Property insurance is one of the most commonly used and pivotal types of insurance every business should have — whether you're operating out of your home or a 25,000-square-foot facility.
Property insurance for business works similarly to residential home insurance. It covers the buildings you operate out of and the belongings inside from covered perils listed in your insurance policy.
It's crucial that businesses maintain adequate property insurance because it will reimburse them if a covered peril damages or completely destroys business equipment.
This coverage extends to things like computers and security devices and even the inventory of your company. Let's say your business regularly stores $250,000 worth of product in the warehouse. What would happen if a fire broke out and destroyed all of it?
If you maintain adequate property insurance, your business can be reimbursed for all that product or your insurance company can help you purchase new inventory. Sounds pretty good, right? Property insurance is the ultimate defense for your business equipment against events like hurricanes, fires and many more covered perils.
2. Flood Insurance for Businesses
If your business is located within a FEMA-designated flood zone (or even if it's not) investing in flood insurance should be near the top of your company's priority list.
Many people don't realize that flooding is not covered by property insurance, and many people don't find out until it's too late.
What would your business do if a major rainstorm came in, filled up the parking lot of your business and eventually seeped it into the warehouse, damaging $100,000 worth of equipment? Property insurance wouldn't even touch that.
If your company had flood insurance, it would step in and help to repair or replace any belongings that were damaged or destroyed. Don't live in an area you think can flood? Think again. Because flooding is caused by hurricanes, rainstorms, snow and other events, floods are actually the most common natural disaster in the United States.
You may not think you need flood insurance, but when you need to use it, you'll be extremely happy you invested in it. Keep in mind that flood insurance usually takes 30 days to go into effect, so invest in it sooner rather than later.
3. Commercial Auto Insurance for Businesses
While commercial auto insurance doesn't apply to every business out there that owns equipment, it is crucial for companies that own vehicles which carry employees, products or business equipment. Any company-owned cars are protected by commercial auto insurance.
Maintaining adequate commercial auto insurance to cover the entire fleet of vehicles is crucial, especially since there are more and more accidents on the road each year.
Additionally, if your employees use their own car for company activities (ie. deliveries, pickups, transporting, etc.) you'll want to invest in non-owned auto liability coverage. It covers employees who have no auto insurance or inadequate coverage. Plus, it protects any equipment they may be transporting.
Business Interruption Insurance
While business interruption insurance doesn't directly cover any of your company's equipment, it can work in tandem with your property, flood and auto liability insurance.
Business interruption insurance compensates your company if a covered peril damages or destroys your building or vehicles, causing it to temporarily close.
So what happens if a fire scorches your company's building and it's forced to close or relocate to another office for a period of time? Even though it doesn't seem fair, you'd still be required to pay for expenses such as rent, utilities, mortgage, etc.
That is, unless you have adequate business interruption insurance! It will step in and pay for a multitude of factors, including current mortgage payments and monthly rent at an equivalent office. If your business was closed for any period of time, it can also reimburse the company for lost funds during that time.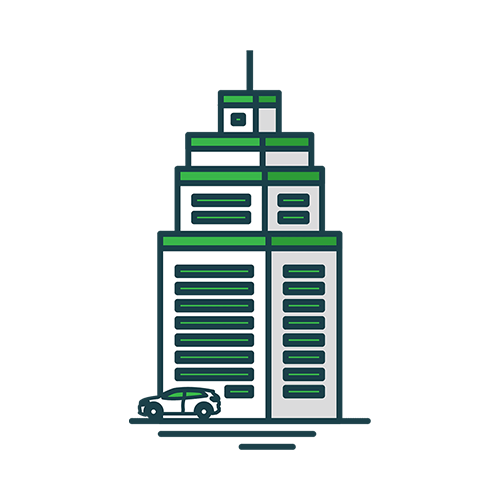 Protect Your Business Assets
Your business is your greatest asset, and you need to protect all the things that help drive customers with commercial insurance.
The editorial content on Clovered's website is meant to be informational material and should not be considered legal advice.
Similar Articles