Jet Ski Insurance Guide: Coverages, Costs & More
Boat
/
Jet Ski Insurance Guide: Coverages, Costs & More
Jet skiing provides an adrenaline rush like no other. It's such an enjoyable and innocent way to pass the time. However, the dangers of jet skiing shouldn't go unnoticed. You're often flying down and across waterways at high speeds with little protection or cushion to brace you if there's any sort of impact.
Jet skis typically cost thousands of dollars. And, any accident you may be in with your jet ski could easily run thousands of dollars, depending on how many people get hurt and what property gets damaged. If you have a jet ski, you should invest in jet ski insurance. This guide will go over everything you need to know, from what jet ski insurance covers to what it might cost you.
Jet Ski Insurance Overview
Jet skis present a unique watercraft insurance risk. Even though they're smaller than most boats, the high speeds and relatively reckless nature with which they're driven make them a precarious thing to cover. The U.S. Coast Guard reports that personal watercraft, such as jet skis and WaveRunners, was the second most common type of vessel involved in reported accidents in 2020. Twenty-two percent of all reported accidents involved a jet ski.
Despite this, you can usually purchase jet ski coverage from most boat insurance providers. You won't need to hunt down a specialty insurer. Most boat insurance companies are prepared to cover a variety of vessels, from jet skis to yachts to sailboats.
What Does Jet Ski Insurance Cover?
Jet ski insurance, also known as personal watercraft (PWC) insurance, protects your jet ski from all sorts of damage. With liability coverage, your policy also protects you from having to pay out of pocket if you cause damage to others in a jet ski accident.
Jet ski insurance usually safeguards your vessel should it suffer physical damage. Your insurance can help you pay for repairs to your jet ski if it's damaged in an accident thanks to collision coverage. Your insurance can also reimburse you if your jet ski gets damaged by severe weather, like hurricanes, hail, and fires, as long as you have comprehensive coverage. Your insurance company can also reimburse you for the value of your personal watercraft if it gets stolen or vandalized.
PWC insurance also typically includes liability coverage. As we touched on a little bit earlier, liability coverage financially protects you if you cause an accident or injure someone on the water. Your insurance company can step in and cover the costs to fix the damaged property. Liability insurance can also cover the medical bills and expenses of the injured party if you're found liable.
Liability coverage can sometimes be bought as a standalone policy. But, if you go the route of having only liability insurance, the value of your personal watercraft isn't covered at all. You'd have to pay for the repairs to your own vehicle out of pocket unless you have comprehensive boat insurance.
You may also have coverage for someone you're towing behind your PWC, like a water skier or wakeboarder, but you'll need to double-check your policy.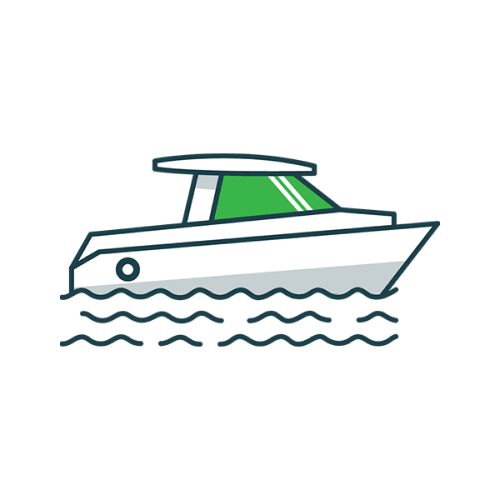 Keep Your Vessel Afloat With Boat Insurance
Don't get sunk by unexpected damages.Keep your vessel safe with a policy from one of the nation's top carriers.
Possible PWC Insurance Exclusions
When it comes to jet ski insurance, your carrier may have an issue with any PWC that's been modified to go even faster than normal. Any jet ski with aftermarket modifications may be denied coverage.
Also, you may not be covered when you're driving your jet ski after dark. If your boat insurance has a defined cruising box or navigational limits, you won't be covered if you operate your PWC outside of this agreed-upon area, either.
Also, to get and maintain a jet ski insurance policy, you'll need to abide by your state's boating requirements. Many states have age restrictions when it comes to driving a jet ski, and you typically need to have a valid driver's license.
Letting someone use your jet ski that violates your state requirements could nullify your coverage. Furthermore, if it's discovered that you caused damage with your personal watercraft while you were driving intoxicated, your insurance company likely won't cover any damages as you were breaking the law.
Do You Need Insurance for a Jet Ski?
Jet ski insurance likely isn't required by your state or local government, but some marinas may require it if you want to store your PWC. Regardless, jet ski insurance is the best way to protect yourself from potentially paying thousands of dollars to remedy damages you could cause or suffer. It's wise to protect yourself with a jet ski insurance policy.
You take on a major risk every time you take the water on your PWC. Needless to say, it's very dangerous, and you can get in an accident without even doing anything wrong thanks to another boat driver's carelessness. Jet ski insurance can act as a financial safety net in the worst-case scenarios.
You may believe that your home insurance covers your jet ski, but this really isn't the case. While homeowners insurance does include some coverage for boats, it's typically capped at $1,000 or $1,500. Any jet ski-related incident or damage would likely easily exceed this. And, your home insurance may only cover damage your PWC sustains on your property. You can't rely on your homeowners insurance to consistently protect your personal watercraft.
How Much Does Jet Ski Insurance Cost?
Jet ski insurance costs vary based on many factors. The age and location of the PWC are important, as well as the boating history of the policyholder. A jet ski insurance policy could cost around $100 to $500 per year depending on your carrier and the amount of coverage you want.
Opting for only liability coverage will result in lower premiums compared to having full protection for your personal watercraft. Also, you may pay less for your policy the more years of boating experience you have. Insurers feel more comfortable covering someone with a long, clean record of jet ski use than someone who is a first-time owner and operator.
Your deductible, which is the amount you have to pay out of pocket when you file a claim before your insurer covers the rest of the damages, can range between $250 to over $1,000 depending on your plan. You may be able to lower your annual PWC insurance cost by raising your deductible.
Be sure to look into potential discounts when getting a jet ski insurance policy. Some carriers may reward you for moving your personal watercraft outside of a hurricane danger zone during hurricane season. Also, insurers usually reward policyholders who complete certain boating safety courses. Some companies may also offer discounts when you insure multiple PWC's at once.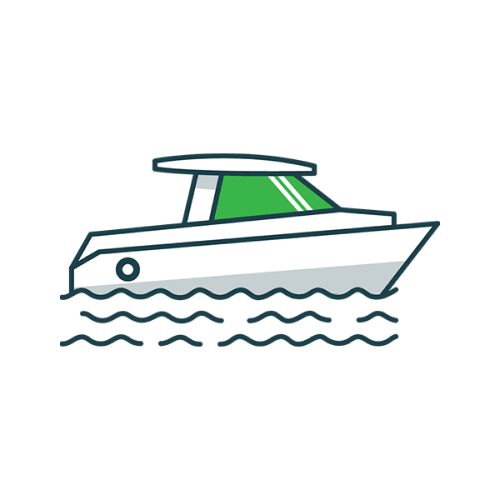 Keep Your Vessel Afloat With Boat Insurance
Don't get sunk by unexpected damages.Keep your vessel safe with a policy from one of the nation's top carriers.
The editorial content on Clovered's website is meant to be informational material and should not be considered legal advice.
Similar Articles