Does Boat Insurance Cover Hurricanes?
Boat
/
Does Boat Insurance Cover Hurricanes?
To a boat owner, there might be nothing scarier than learning a hurricane or tropical storm is headed right toward where you keep your vessel. Boat insurance is designed to protect the structure of your watercraft from damage, as well as shield you from liability concerns, but does a hurricane make the list of covered damage sources?
Does Boat Insurance Cover Hurricanes?
Yes, boat insurance can cover damage your vessel sustains from hurricanes. But, it's not always included in policies by default. You need to check your policy before storm season, as many different types of exclusions and conditions may apply to your boat regarding hurricane damage.
Many insurers will protect your boat from hurricane damage. Some providers may also offer to reimburse you for hauling your boat out of the water to protect it in preparation for a hurricane. Progressive, for example, can reimburse you up to 50% of the cost to haul out (and relaunch your boat afterward) if your area is under a tropical storm or hurricane warning.
If protection from hurricane damage isn't included in your policy, you can usually add it – although it will increase your premium. Boat insurance is highly customizable – much more so than car insurance, for instance.
Since there's no legal limited amount of boat coverage you're required to have, you choose how much you want to cover your watercraft for. You can also choose many different add-ons for your coverage, like fuel spill coverage, boat towing assistance, wreckage removal, and more. What options you have available to include in your policy vary by carrier. This may include hurricane coverage.
Comprehensive Boat Insurance and Hurricanes
Regardless of what add-ons or endorsements you choose, most comprehensive boat policies will protect the components of your vessel, like the hull, sails, mast, outboard motor, and other permanent features of your boat from a list of potential sources of damage. The covered sources of damage, sometimes called perils, typically include fire, lightning, theft, vandalism, and sinking.
Check to see if protections from hurricane damage are included in your policy. If needed, don't wait until the last second to add it. Carriers may not add hurricane coverage to your policy days before a storm is about to hit. Some providers have rules that prohibit them to bind policies when a hurricane or tropical storm watch or warning is in effect.
Also, make sure damage from flooding, like a storm surge, is included in your hurricane protection, not just wind damage.
Comprehensive boat insurance should cover your boat generally from the elements. But, there are some add-ons you might want to consider to further protect yourself from boat-related hurricane damage.
Be sure to check your policy for salvage and wreckage removal. Some plans may include this, while other times you may need to purchase an endorsement for it. If you store your boat in the water during a hurricane and it becomes submerged, you'd probably want your insurance company to help recover it.
Some providers will subtract the cost of recovering your vessel from its overall value, decreasing your overall payout for your boat. Some insurers may deem that a percentage of the check you receive for your boat goes toward salvage and recovery.
For example, you could receive a $100,000 check for the value of your sunken boat, and your provider states that 5% is for recovery costs, meaning they have allotted you $5,000. If it costs more than this to float your boat, you could be out of luck. The best policy will provide cover for salvage and recovery completely separate from your boat's value.
Additionally, you may want to consider an endorsement for valuable electronics you have on board, such as fish finders, GPSs, radars, and even televisions. While both your home insurance and boat insurance could cover them partially in case they get damaged from a hurricane, you may be able to purchase more complete coverage for them. Or, you might be able to get an add-on that lowers your deductible for the electronics. The same goes for expensive or valuable fishing gear you keep on your vessel.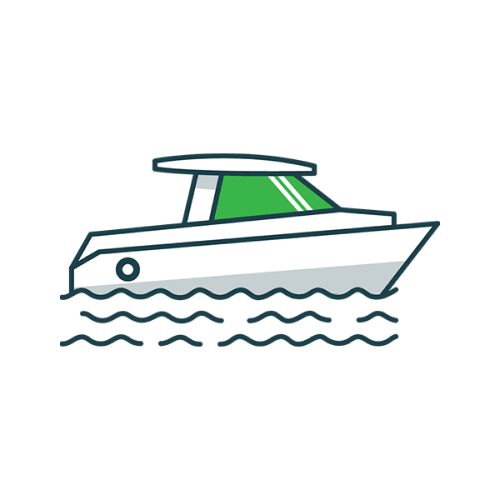 Keep Your Vessel Afloat With Boat Insurance
Don't get sunk by unexpected damages.Keep your vessel safe with a policy from one of the nation's top carriers.
Boat Insurance Hurricane Exclusions: Named Storms
Some boat insurance policies, especially if you live in a hurricane-prone area, may by default come with a named storm exclusion. In this case, if a tropical depression becomes serious enough to be given a name by the National Weather Service, the damage it may cause to your boat won't be covered by your provider.
In other cases, your provider may cover you from hurricane damage, but only if you have a formal hurricane plan in place, or you vow to take the proper steps before a hurricane to protect your vessel. Your plan may come with stipulations or conditions you need to follow to maintain coverage during a named storm.
For example, some carriers have navigation limits during hurricane season, meaning you may not take your boat to certain (storm-prone) places during your insurer's defined storm season. Or, your insurer may ask if your boat lies within or if you plan on cruising within a certain longitudinal and latitudinal box during the summer months, like a "hurricane box." If you plan on your vessel being within this box during certain times, you may pay more for boat insurance to counter the higher chance of financial loss from a hurricane.
Hurricane Plans for Boat Insurance
As we mentioned earlier, some insurers may expect you to take certain precautions when a hurricane is approaching to protect your boat from damage. You may be required to provide a hurricane plan. This is beneficial to both you and your insurance company because it reduces the chance of your boat sustaining damage, which lessens the odds that you'll file a claim with your carrier which costs them money and time.
Unsurprisingly, the high winds and flooding a tropical storm or hurricane brings with it can be disastrous for boats. It's usually best to move your boat out of the water to protect it from a named storm, but some insurers may allow you to keep it in the water, too.
If you're hauling it out, be sure it's stored properly with enough support in a safe area. Many marinas and yards have plans in place when a hurricane is approaching to haul out and store as many boats as possible. Some carriers may want your boat to be tied down after it's hauled out, too.
As we mentioned earlier, check your insurance policy for haul out coverage to see if your provider can cover some costs of a professional haul out.
If you're keeping your boat in the water, your provider may require you to reduce the windage of your vessel as much as possible (which you should do anyway when a named storm is coming). This can include removing sails, covers, and more. You may also need to unstep your mast. Your insurer may want you to look into hurricane moorings or tying down your boat with extra dock lines, too, in a fixed harbor.
Always be aware of what your boat insurance policy does and doesn't protect when it comes to hurricanes. You can usually add more coverage, but don't wait until the last minute. Also, recognize the conditions and limitations of your plan, such as seasonal navigational limits and hurricane plan requirements.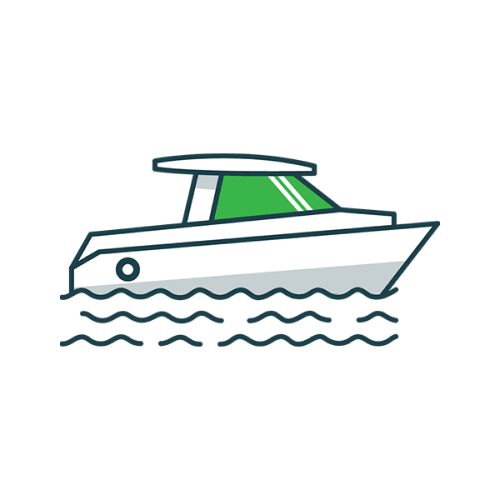 Keep Your Vessel Afloat With Boat Insurance
Don't get sunk by unexpected damages.Keep your vessel safe with a policy from one of the nation's top carriers.
The editorial content on Clovered's website is meant to be informational material and should not be considered legal advice.
Similar Articles