Do I Need Boat Insurance?
Boat
/
Do I Need Boat Insurance?
Protecting your boat with boat insurance is never a bad move. It's a safety net specifically designed for the many risks boats face daily. Unlike car insurance, though, it isn't required for every vessel owner at all times.
Boat insurance is rarely ever mandated on a state level. But, there are several situations where you may be asked to get a policy. Let's take a look at when that may be, and how much boat insurance you may need or want to get to be safely covered.
Do I Need Boat Insurance?
Even though only two states (Utah and Arkansas) require boat insurance, the risks your vessel faces at all times make boat insurance a common-sense investment for protection. Additionally, your lender will likely mandate boat insurance if you have a loan on your boat, and some marinas may ask you for liability insurance before giving you a slip or mooring.
The types of boat insurance you may be expected to get aren't always the same, though. If your state, marina, or shipyard requires you to get a policy, they're probably expecting you to get liability coverage. If your lender needs you to get a policy, they'll likely require a sort of comprehensive or full coverage plan.
You could broadly divide the protection boat insurance offers into two categories: liability protection, which covers other vessels and people from your actions on the water, and comprehensive or physical damage protection, which covers your vessel when it suffers damage.
Liability coverage protects other boaters from accidents you may cause on the water. It typically provides money for bodily injuries you may inflict on someone else, and property damage you may cause in an accident. Liability insurance doesn't protect the value of your vessel at all. It allows your insurance company to step in and cover damages you may cause to others.
Comprehensive boat insurance, on the other hand, safeguards the value of your boat. It protects your watercraft by allowing your insurance company to provide reimbursement after an accident or after suffering covered damage for repairs. For example, if you were to hit a submerged object and begin sinking, your comprehensive boat insurance could pay for the salvage and repairs of your vessel.
Now that we've gone over the coverages you may be expected to get, let's dive deeper into when you may be asked for them.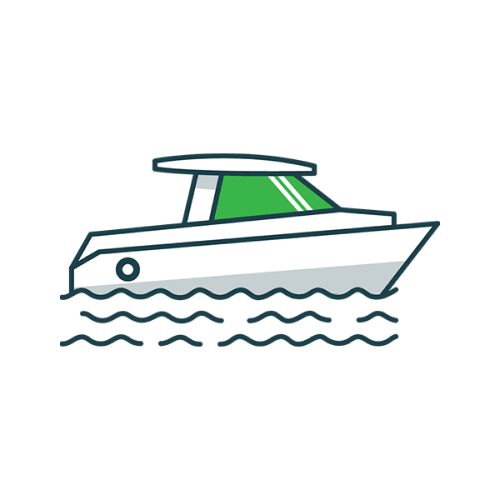 Keep Your Vessel Afloat With Boat Insurance
Don't get sunk by unexpected damages.Keep your vessel safe with a policy from one of the nation's top carriers.
If Your State Requires Boat Insurance
Both Utah and Arkansas require owners with boats that have motors greater than 50 horsepower to get liability insurance. In Utah, the minimum liability requirements are $25,000/$50,000 bodily injury/death and $15,000 property damage, or $65,000 combined minimum per accident. In Arkansas, you need at least $50,000 of liability protection per occurrence.
Like with car insurance, states have an interest in requiring boat liability coverage because, after an accident, not all drivers (of boats or cars) have the money to pay for fixing the damages they can cause to others.
For instance, if you're at fault for wrecking someone's $30,000 boat while out on the water, would you be able to pay out of pocket to fix it without an issue? Most people probably can't. This is the principle behind liability insurance requirements.
If Your Marina Requires Boat Insurance
When signing a contract with a marina, they usually require you to get a minimum amount of liability insurance for your vessel before giving you a slip. It varies by place, and some may even ask you to get a type of comprehensive courage, too. The marina wants you to have liability insurance so they don't have to pay for an accident you may cause.
A marina might ask you to be named as an additional insured on your policy, too. By adding your marina as an additional insured, the marina can verify your coverage, and they become entitled to some protection under your policy. It's a fairly common practice, but double-check with your carrier before doing so. You can usually add a marina as an additional insured at little to no cost, and it shouldn't affect your insurance rate.
If Your Lender Requires Boat Insurance
People typically get loans for boats through banks or the boat dealer themselves. Either way, your lender will need you to get comprehensive insurance to cover the value of your vessel. This protects their financial interest in your boat. Since your lender is putting up money for your purchase, they want to make sure they can recoup their investment if the boat gets damaged. With insurance, the carrier can provide this security.
If you don't have boat insurance arranged already before you get the loan, the dealer or bank may set you up with a policy they select. You can usually find a better rate by shopping for a policy yourself.
Why You Need Boat Insurance
An accident on the water can easily cost you thousands of dollars. If someone gets injured, you can expect to pay even more. Also, if your boat sustains damage when you're not using it, your homeowners insurance will likely not cover your watercraft. A dedicated boat insurance policy is your best bet for sufficient protection.
According to the US Coast Guard, there were over 5,000 recorded boating accidents that resulted in over 700 deaths last year. Given the frequency and severity of watercraft mishaps, it's wise to financially protect your boat with an insurance policy. It can safeguard yourself and others.
Boat liability insurance typically provides funds for medical payments, loss of income, and more to cover related medical bills and expenses of someone you may injure. It also can cover passengers of your watercraft if they get hurt, too.
But, what about protection for your vessel? Your boat can sustain damage when you're using it, when it's in storage, or when it's sitting at your dock seemingly safe behind your house. Comprehensive coverage is designed to protect your boat from the elements, as well as theft and vandalism.
Homeowners insurance typically only covers boats up to $1,000 or $1,500, and there are many size and value restrictions. As a boat owner, you know how far $1,000 could go in protecting your boat, and it's not much. Your home insurance may also cover some personal property on your boat, like furniture and electronics, but there are restrictions for this, too. For instance, you may only be covered when your boat is on your property.
Simply put, you can't count on your home insurance to protect your boat. Your boat is always susceptible to damage, even when it's in storage and especially when it's unattended. Boat insurance has your back in all scenarios.
How Much Boat Insurance Do I Need?
Other than state, lender, or marina minimum requirements, how much boat insurance you need really depends on the value of your vessel and how much you're willing to pay out of pocket in case you suffer damage.
When getting boat insurance, you usually want to get at least enough to cover the full value of your vessel. For instance, if you have a $60,000 boat, you'll want at least $60,000 worth of coverage. How your provider covers your boat is up to you. You typically choose between actual cash value or agreed-upon (hull) coverage.
Actual cash value is the more affordable option, but it accounts for depreciation over time, which reduces the amount you can get reimbursed for your watercraft. Agreed-upon value is what it sounds like. You and your insurer agree on a price tag for your vessel, and that's how much you can get paid for your boat in case of a total loss. You may need receipts or marine surveys to determine the value of your vessel.
As for liability insurance, many carriers may recommend at least $1,00,000 worth of coverage. There are several other considerations for a policy, like uninsured motorist coverage, towing coverage, and many optional add-ons. Boat insurance is highly customizable. Know what you may need and not need.
One more thing to keep in mind: be aware of the damages your boat can sustain. For instance, if you live in an area where hurricanes are a concern, you may want to make sure your boat policy covers hurricanes.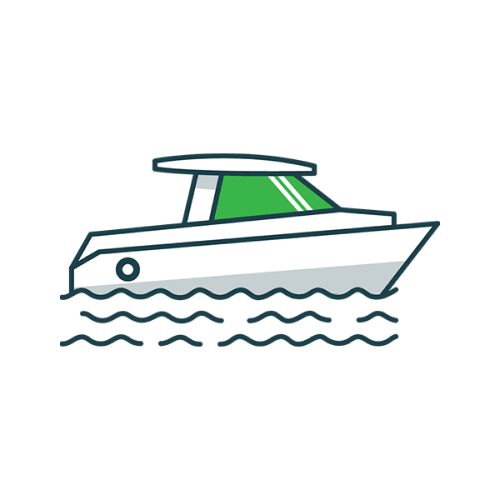 Keep Your Vessel Afloat With Boat Insurance
Don't get sunk by unexpected damages.Keep your vessel safe with a policy from one of the nation's top carriers.
The editorial content on Clovered's website is meant to be informational material and should not be considered legal advice.
Similar Articles