Does Boat Insurance Cover Sinking?
Boat
/
Does Boat Insurance Cover Sinking?
Even the most experienced boaters aren't immune to having a vessel sink. It can happen accidentally while you're operating it, or it can occur while you're at home thinking your boat is safely secured at a dock or marina.
To avoid a bill of titanic proportions after your boat sinks, you should have boat insurance. Let's take a look at when and how boat insurance covers sinking.
Does Boat Insurance Cover Sinking?
Yes, boat insurance generally covers sinking, although there are some notable policy exclusions you may want to know. Usually, boat insurance should cover your vessel if it sank due to a covered peril, and your policy may also reimburse you for some salvage and removal costs.
As long as you have some sort of comprehensive or full boat insurance policy, your provider should cover your boat if it sinks due to a potential source of damage, called a peril, that's outlined in the policy. Examples of typically covered perils include fire, theft, storms, and vandalism. So, if your boat sank as a result of one of these perils, your insurer should reimburse you.
Keep in mind that if you only have liability coverage, damage to your watercraft won't be covered, although some wreckage and removal costs can be depending on your policy. Liability coverage is meant to safeguard you financially from injuries and damage you cause to others, not protect the value of your boat.
So, while most complete boat policies can cover sinking, there are some exclusions you should know. The biggest gripe a carrier can have with a sunken boat is negligence. If your boat sank as a result of your negligence or failure to perform expected maintenance, your insurance company may rule that the burden to fix your boat is on you since your negligence caused the issue in the first place.
Other than negligence, some policies have distance, location, or weather exclusions to consider regarding sinking. If your policy specifies that boat operation is only covered in a certain area, you won't be covered if your watercraft goes under somewhere beyond these navigation limits.
For example, the navigation limits of your policy may be no more than 250 miles offshore, or you may be excluded if you travel into certain areas during hurricane season. Be aware of your policy's cruising range.
Also, most boat insurance policies usually only cover personal use. If your vessel sinks while using it for a commercial or business purpose, like a chartered cruise or a commercial fishing trip, your insurer may not cover you.
How Boat Insurance Covers Sinking
How much you'll be reimbursed for your vessel after it sinks depends on the coverage in your policy. When you get a boat policy, you choose the value of your boat that you want the insurance company to protect. In the case of a total loss, like after your boat sinks, your insurer can reimburse you for the value of your boat.
Typically, the most affordable way to insure your boat is for its actual cash value. Actual cash value covers your vessel for its fair market price around the time of its purchase, but your coverage amount will gradually decrease over time as your boat gets older. This is because actual cash value factors in depreciation. Depreciation formulas vary by company, but generally, the older a boat is, the less your insurer will reimburse you for it because it's lost value compared to when it was new.
Agreed-upon value, sometimes called hull value, on the other hand, doesn't factor in depreciation. You agree on an amount with your provider, usually at least what you paid for the boat, and your insurance company will reimburse you for that amount after your boat sinks — no matter how old the vessel is at the time of damage. Agreed-upon value coverage is common, and it usually is more costly than actual cash value coverage.
For brand new boats, you may be able to purchase total replacement cost or guaranteed replacement cost coverage. This will likely be the most expensive option. With total replacement cost in your policy, your insurer can buy you a brand new boat of the same make and model to replace your damaged one in case of a covered loss.
This is usually only available for boats under a year or two old. After that, carriers will usually pay you the fair market price or an agreed-upon value of your boat (the insurance company doesn't want to buy you a brand new boat when your boat is no longer brand new).
Does Boat Insurance Cover Hitting a Rock?
As long as you have comprehensive coverage and you were operating your boat properly, boat insurance should cover hitting a rock. If you were driving unreasonably fast, or you were intoxicated, or there was some other condition that could be considered negligence, your insurance may exclude the damage.
Hitting a submerged rock or other marine debris can cause serious damage to your vessel. If your boat sinks as a result of the accident, you'll then likely have to deal with some salvage and removal costs. Beyond just covering the value of your boat, your policy may have a couple of ways of helping you deal with these added costs.
Some policies have potential salvage, removal, and wreckage costs built in that won't affect your payout for your boat. Other times, an insurer may subtract salvage costs from the value of your boat, lowering how much you get reimbursed for your vessel. It's also possible that your carrier writes you a check for the value of your boat, but mandates that a percentage of it goes to salvage and wreckage removal. 
For instance, let's say you and your insurer agreed to cover your boat for $50,000. Your boat hits a rock, sinks, and your watercraft is declared a total loss. Your provider could write you a check for $50,000. But, you've been required to remove the wreckage from the accident site. Your insurance company mandates 10% of your payout goes to salvage costs, meaning you now have $5,000 to cover salvage, and you've essentially been paid $45,000 for your boat.
Be aware of your policy. When having to deal with removing the wreckage of your sunken boat, you don't want to lessen your reimbursement.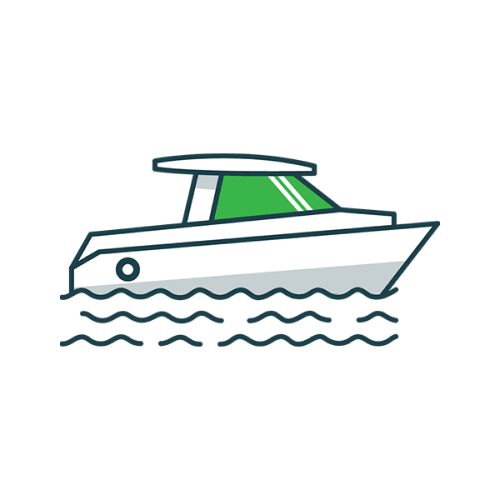 Keep Your Vessel Afloat With Boat Insurance
Don't get sunk by unexpected damages.Keep your vessel safe with a policy from one of the nation's top carriers.
What to Do After Your Boat Sinks
After your boat sinks (and everyone is safe), you should call your insurance company as soon as possible. The longer you wait, the more damage can be done. It's helpful to give your provider as much information as possible, including pictures, for a smoother claims process. You'll likely have to meet with an adjuster, too.
Your boat is considered a total loss if the cost to repair it is more than it's worth. After your boat sinks, your insurance company will determine if it's a total loss or not. This is where the amount of coverage you've chosen for your boat comes into play (actual cash value, agreed-upon value, or the replacement value.)
If it's a total loss, you can be paid up to your policy's limits for the value of your boat. If the insurance company deems your boat is salvageable and repairable, your insurance company should help cover the associated costs for fixing it up, as mentioned earlier. Depending on where your boat is submerged, the local authorities may require the wreckage moved as soon as possible, so it's better to not hesitate to contact your insurance carrier.
What If You're Boat Sunk at the Dock?
Many boats sink right in the spot where they're docked or moored. Your insurance may cover this if the sinking was caused by a covered peril, like weather or vandalism. But, if your boat sank while docked due to negligence or a lack of maintenance, which is fairly common in this scenario, your provider won't cover the damage.
Many dock sinkings occur due to an owner's failure to address wear and tear. Often, a small issue around or under the waterline can corrode, leading to a leak that eventually submerges your boat. For example, bellows, hoses, and bilge pumps can all fail if not properly maintained. Your insurance company expects you to perform regular upkeep on your boat to keep it in working order. If they determine that you didn't prior to your boat sinking, you may have difficulty with a claim.
But, if you have comprehensive boat insurance, your watercraft should be covered from many weather-related damages that could sink it while docked. Lightning, fire, and vandalism are all typically covered. Hurricane damage may be covered, too, depending on your policy.
If your boat sank at the dock as a result of these perils, your insurance company should help you out.
Sunken Boat Recovery Costs
The cost of recovering a sunken boat ranges based on your vessel's length, but it'll likely cost you a few thousand dollars at least. If you have the right boat coverage, your insurance company can cover some or all of your recovery costs for you.
Salvage, refloating, and towing can cost hundreds of dollars per foot of boat length. You want to have the right insurance policy that can cover all expenses without cutting into the insured value of your boat itself. 
A comprehensive boat policy is the best way to cover your vessel from most forms of damage. But, even with liability coverage only, many liability policies cover the "raising, removal or destruction of the wreckage of a watercraft." It may also cover costs related to cleaning up an oil or fuel spill. So, while the value of your boat itself isn't covered, removing its wreckage may be.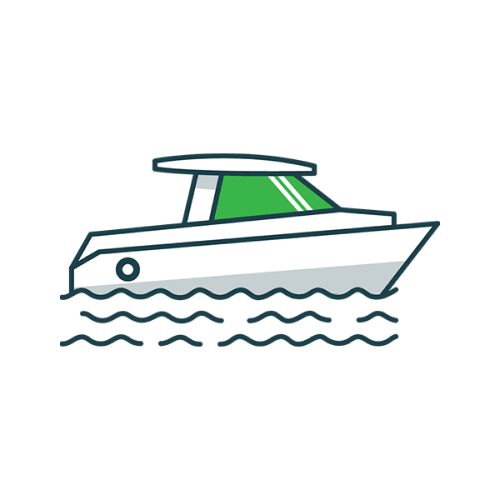 Keep Your Vessel Afloat With Boat Insurance
Don't get sunk by unexpected damages.Keep your vessel safe with a policy from one of the nation's top carriers.
The editorial content on Clovered's website is meant to be informational material and should not be considered legal advice.
Similar Articles