What Is Comprehensive Boat Insurance?
Boat
/
What Is Comprehensive Boat Insurance?
Boat insurance is a must for any savvy boat owner. But, the many types of coverage and endorsements available for your vessel can be a little overwhelming at first. Comprehensive boat insurance is one of the most common forms of coverage available.
Let's take a look at what comprehensive boat insurance covers so you can understand its benefits and when and why you may need it.
What Is Comprehensive Boat Insurance?
Comprehensive boat insurance covers damage to your vessel from unexpected perils you can face that aren't related to collisions with another boat. Comprehensive boat insurance protects your boat from the damage it can sustain while you're not using it, too.
Comprehensive boat insurance is often sold with other types of coverage, specifically collision coverage. You don't usually have just comprehensive coverage on your vessel and not other types of coverage, too, as your boat wouldn't fully be protected with just comprehensive insurance.
Plus, if you have a loan on your boat, your lender will typically require you to get comprehensive boat coverage in addition to other forms to sufficiently protect your (and their) investment.
Boat insurers usually offer a variety of add-ons and coverage types. Comprehensive coverage is just one facet of protection that's available.
In some hurricane-prone states, comprehensive watercraft coverage may have a different, higher deductible if you're filing for a loss related to a hurricane or tropical storm.
What Does Comprehensive Boat Insurance Cover?
Comprehensive boat insurance usually covers damage from:
Vandalism

Theft

Tropical storms or hurricanes

Hail

Fire and lightning
When getting a boat insurance policy, you must choose the amount that you want the insurer to cover your boat for. The common options for boat coverage are agreed-upon value, also known as hull value, and actual cash value.
Hull value insures your vessel for whatever amount you and your insurer agree upon. For instance, you may have paid $50,000 for your boat, so you want to insure it for $50,000. Actual cash value factors in depreciation, which causes the cost of your boat to decrease as it gets older.
If you cover your boat for $50,000, in ten years your carrier may only pay you $30,000, as that's what your insurer determined its fair market price would be at that time. Deprecation formulas vary by provider but know that the older your boat, the less it's worth generally.
If your boat is stolen, the amount you're compensated depends on your coverage. The agreed-upon value will likely provide more than actual cash value. Some companies also offer replacement cost or total replacement cost coverage, which means your provider will buy you a brand-new boat of like make and model as the stolen one after you incur a total loss.
Most comprehensive boat policies should cover damage from tropical storms and hurricanes, but double-check with your carrier to make sure. As mentioned earlier, some policies will have separate deductibles for hurricane damage, too.
If you don't have hurricane protection on your boat insurance, you may be able to add a rider or endorsement for an extra cost. Don't wait until just before a storm comes to contact your insurer, though. Many carriers require you to add a hurricane endorsement at least 30 days before you can file a claim for storm damage.
Boat insurance coverage for hail can be tricky sometimes. Limited hail coverage for your boat may be included in your homeowners insurance policy, but "only while inside a fully enclosed building." This means the hail would presumably have to break the roof or windows first and then damage the watercraft.
To sufficiently protect your vessel, you'd need comprehensive boat insurance. If you suffer hail damage, it's better to file sooner rather than later. Allowing the damage to sit can make it worse, and your insurer won't want to cover damage that wasn't directly caused by the hail.
Protection from fires should be standard in most comprehensive boat insurance plans. This generally includes damage to the structure of the vessel but could include equipment and furnishings on it, too.
To receive coverage from fire and smoke damage, the cause of the fire must have been sudden or accidental. Fires set purposefully are usually excluded.
Comprehensive Boat Insurance Quotes
Comprehensive boat insurance is the best way to protect your boat when it's out of the water. Any boat is an investment. Boat owners, especially new boat owners, should protect their watercraft from as many types of damage as possible. If you can't afford to pay for unexpected boat damage out of pocket, you should look into comprehensive boat insurance.
At Clovered, we can offer you a tailored comprehensive boat insurance policy so you can enjoy watercraft ownership stress-free. We partner with Progressive, one of the nation's top boat insurance providers, so you know you're in trustworthy and experienced hands. We just need some information about you and your vessel, and one of our licensed agents will get back to you with the rate you can expect for coverage.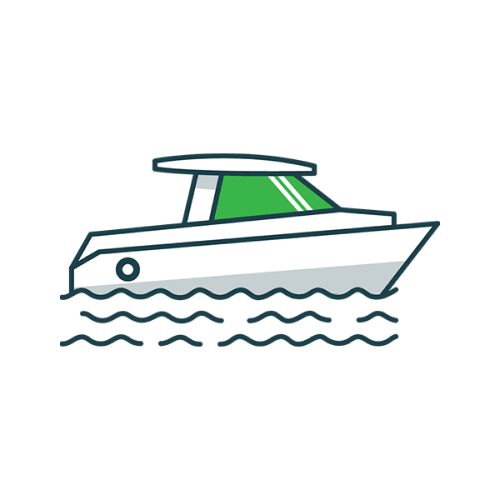 Keep Your Vessel Afloat With Boat Insurance
Don't get sunk by unexpected damages.Keep your vessel safe with a policy from one of the nation's top carriers.
The editorial content on Clovered's website is meant to be informational material and should not be considered legal advice.
Similar Articles