Does Homeowners Insurance Cover Boats?
Boat
/
Does Homeowners Insurance Cover Boats?
If you have homeowners insurance, you're probably aware that it covers much more than just your house. Other structures on your property, personal belongings, as well as your financial liability, are all at least partially protected by your home insurance policy.
With so many different areas of coverage, a boat owner may fairly be wondering what, if any, of these protections extend to your watercraft. Let's find out if your homeowners insurance covers boats.
Does Homeowners Insurance Cover Boats?
Yes, homeowners insurance covers boats, but on a very limited basis. While most policies contain some protection for personal watercraft, the limits are very low and there are a lot of liability restrictions. In short, if you have a boat, you probably need a separate boat insurance plan to adequately protect it.
Many homeowners insurance policies contain specific language regarding watercraft. They generally only protect boats up to $1,000-$1,500 worth of damage, or up to 10% of your home's insured value. Even if the damage your boat suffers costs significantly over $1,000, you can only receive as much as your home policy allows. Even with small boats, it's easy to see how potential damage could surpass a $1,000 maximum.
Many policies extend watercraft protection not only to your boat itself, but also to furnishings on your boat, your boat trailer, and your boat's motor. Most of the perils that your insurance covers your home from should apply to your vessel, too. These include fire, wind, and theft.
Homeowners insurance policies safeguard your personal property. But, your policy has limits. Even though your boat is a possession, it could cost more than your personal property coverage limits on its own, or it has a significant enough price tag that if factored into your home insurance, your boat would raise your premium.
For example, you could have $50,000 of personal property coverage on a $200,000 house. A relatively new boat between 20 and 30 feet could easily be near or over that $50,000 price tag. So, it would be tough to factor into your home insurance coverage without raising your premiums.
Additionally, your boat can increase your liability risk in a way that if it was fully included in your coverage, your rate would have to be much higher for the insurer to determine it worthwhile to even cover. More on this later. As a result, homeowners insurance providers hugely limit their coverage of policyholder's boats.
Even for small boats, up to $1,000 of coverage may not cover very much. Plus, you'd still have to pay your deductible when you file. Since common home insurance deductibles range from $500 to $2,000, looking to recoup losses from your insurer for strictly boat damage may not even be worth it. You may be better off paying out of pocket.
Will Homeowners Insurance Cover a Boating Accident?
Just as protection of your boat's value is limited, liability coverage for your boat under your homeowners insurance is also limited. There are typically several restrictions on when and how you're covered in case of a boating accident.
Liability coverage in your home insurance financially protects you from accidents that can occur on or around your property. It can be very useful if someone gets hurt around your home, like a dog bite or a slip-and-fall situation at your pool. With liability coverage, your insurer can step in to pay potential medical expenses and legal fees.
Your liability coverage can also extend to a boating accident. If you injure someone on the water, or someone gets hurt on your boat, your provider can help cover expenses. However, most insurers have strict regulations on the size and power of the boat to be eligible for claims.
Your boat typically needs to be a motorized vessel with 25-50 horsepower or less, or a sailboat that's 26 or fewer feet in length. Any incidents involving vessels larger or more powerful than these stipulations typically aren't covered. Also, jet skis are always excluded from homeowners insurance liability coverage.
Furthermore, your liability coverage may not come into play if you collide with another moving boat. Instead, your insurance may only cover if you injure someone or damage someone's stationary property. You may need boat insurance to cover a full-on boating collision.
You also should inform your insurer that you have a boat when you get your policy. If you're looking for coverage for a boating accident, and your carrier didn't know you had a boat in the first place, you may be in for a difficult time.
What About a Watercraft Endorsement For a Homeowners Insurance Policy?
As you can see, there are several coverage gaps in the limited protection your home insurance provides for your boat. Beyond the relatively small dollar amount, your insurer may not cover passengers at all, either. Also, damage to your boat may not be covered unless it occurs while it's on your property. Some carriers may offer a watercraft endorsement for homeowners insurance to fill some of these gaps.
You'll need to ask your carrier if you're interested in a watercraft endorsement. They vary by company, and your insurer may have a limit on how old or large your boat can be before they add it to your policy. Oftentimes, though, your best bet would be to get separate boat insurance.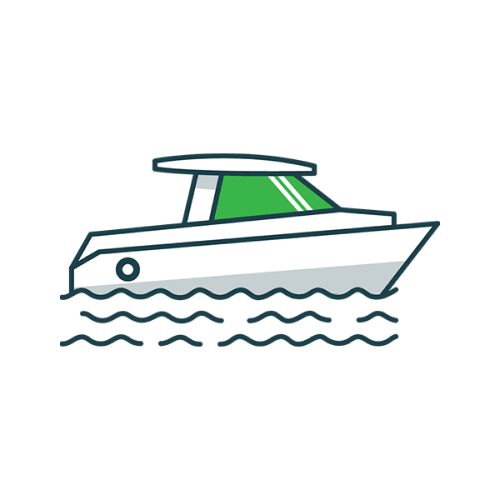 Keep Your Vessel Afloat With Boat Insurance
Don't get sunk by unexpected damages.Keep your vessel safe with a policy from one of the nation's top carriers.
The editorial content on Clovered's website is meant to be informational material and should not be considered legal advice.
Similar Articles