Landlord Insurance vs Homeowners Insurance: What's the Difference?
Insurance 101
/
Landlord Insurance vs Homeowners Insurance: What's the Difference?
There are a few huge differences between landlord insurance and homeowners insurance that could make or break your finances.
Sure, each policy is strikingly similar to one another, but each covers a completely different set of instances — beginning with who lives in the home.
If you're a landlord and have the wrong homeowners insurance policy, you could think you're covered when you're really not. It works adversely the other way for homeowners who may not actually be the landlord they think they are.
With the booming home-sharing economy opening up a can of worms for long-term and short-term rentals, as well as people renting out a portion of their home vs. the entire thing, things can get pretty confusing.
This guide explaining landlord insurance vs homeowners insurance is the only thing you'll need to know exactly what kind of coverage you'll need.
Do I Need Homeowners Insurance for a Rental Property?
There are many instances in the real world when homeowners have no idea whether landlord insurance or homeowners insurance is the right policy to purchase.
Are you renting out your entire home? Do you just rent a room for extra cash? Are you big into short-term rentals to maximize your free cash flow?
You'd better know what kind of insurance you need to protect yourself and your property! Let's take a look at some of the most common rental scenarios and how you're covered.
1. Renting Out a Room in Your Home
If you're just renting out a room in your home but plan to continue living there, you may be perfectly fine keeping homeowners insurance and skipping landlord insurance.
This is because insurance for landlords is usually saved for the landlord's home, belongings they keep inside the home and their own liability for the tenant in the home.
If those coverages sound familiar, that's because they are. Homeowners insurance has many of the same coverages as landlord insurance does, but it protects the homeowners instead.
So if you're renting out a room in your home, check with your agent to make sure you don't need landlord insurance.
If you don't, it's a wise idea to require the room renter to secure a renters insurance policy while they're living under your roof.
2. Helping a Friend With a Short-Term Rental
If you're helping a friend out with a short-term rental (or looking to capitalize on the short-term renters market for some extra cash), there are two situations you could be in. You either live in the home while the renters are there or you leave the property all to the renters.
If you're in the former category, living in the home full time, you're likely just fine keeping homeowners insurance on the property.
We recommend looking at a short-term rental policy or abiding by the insurance coverages required by the service renting out your home.
However, if you don't live in the home while short-term renters are there, you'll likely need insurance for landlords and some form of short-term rental insurance to make sure you're covered in every situation.
3. Moving Out and Renting Your Entire Home
If you're completely moving out and have designated that home as a property strictly meant for renters, you definitely need to invest in a landlord insurance policy.
A landlord insurance policy makes sure your home's structure and any other structures on the property are covered. It also extends coverage to items you keep at the home to maintain the property or are included within the monthly rental costs.
Though one of the biggest protections a landlord policy has is its liability protection. This coverage helps to pay for medical expenses or court costs if an injury occurs to the tenant or a guest on the premises and you're deemed liable.
Is Landlord Insurance More Expensive Than Homeowners?
Contrary to popular belief, landlord insurance is usually no more expensive than the average homeowners insurance policy you could get on the same home. Like any insurance coverage, there are a multitude of factors that go into determining the cost of coverage.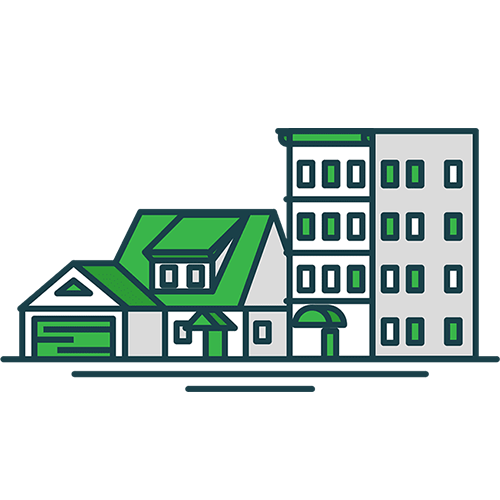 Home Protection Is Just a Click Away
We partner with the nation's top home insurance companies so you can get an excellent policy at an affordable price.
The editorial content on Clovered's website is meant to be informational material and should not be considered legal advice.
Similar Articles