What Is a Wind Mitigation Inspection?
Insurance 101
/
What Is a Wind Mitigation Inspection?
While your homeowners insurance policy acts as a reactive measure if your house is damaged by wind, it shouldn't be your only protection.
In Florida, if you're proactive by effectively wind mitigating your house, not only will your home be safer and more secure in a storm, your insurance company will reward you by discounting your premium.
What Is a Wind Mitigation Inspection?
Wind mitigation is the implementation of building techniques or the addition of certain features onto a house to help it sustain strong winds and resist damage. To see if your house was built with wind mitigation or to find out how you can wind-mitigate your home, you'd need a wind mitigation inspection.
A wind mitigation inspection can be done by a licensed contractor, architect, engineer, or other building inspectors. This person will come to your house to determine how well it can withstand strong winds based on the way it was built and what features it has.
Wind Mitigation Requirements
A wind mitigation inspection is usually good for five years, meaning as long as your inspection occurred five or fewer years ago, you're eligible for home insurance discounts.
One of the main reasons these inspections are important is because the state determined that homes not up to building code are dangerous. For example, in 2001, Florida changed building standards to get rid of inferior construction techniques that compromised homes during hurricanes.
At the time, these were considered some of the strictest regulations in the country. As a result, many construction techniques and methods have changed over the years, like the way of attaching roofs to walls and the standards of windows and shutters used.
Obviously, if you have an older house, you can't change how it was built. It's not your fault if it's no longer up to code. If this is the case, it will cost more money to retrofit your house with possible upgrades, like changing the roof-to-wall attachments or installing new impact-resistant windows, but it could save you money long-term — and protect your home from devastating hurricane damage.
By law, there's a standard wind mitigation form that must be available on the Florida Office of Insurance Regulation website. The form is separated into seven major numbered sections. These are areas that the inspector will look at when performing an inspection. While wind mitigation forms may vary slightly by state, they all generally contain the same provisions regarding roof integrity and opening protection.
In the Florida form, the first section concerns building code and whether your home was built before or after 2001. In South Florida, it may be sufficient if your home was built after 1994 in compliance with the stricter local building codes in Miami-Dade and Broward counties that went into effect then.
The second through fifth sections are about your roof. An inspector will look at the shape of your roof, the material used, how it was constructed, and how it was attached to the walls.
Generally, asphalt shingles are frowned upon, while metal or ceramic roofs are much more wind-resistant. If your roof was attached to your walls by toe-nailing, rather than with wraps or clips, this is also a problem.
Also, some roof shapes are better for withstanding strong winds than others. For example, a hip roof or flat roof is preferred over a gable roof. A gable roof is probably the most common in the United States.
It has two sloping surfaces, one on each side of the house, that meet at the top. It's the type of roof you probably draw when drawing a simple house, or it looks like two cards leaned against each other upright when you begin building a house of cards.
Due to their simple design, gable roofs are less sturdy and wind-resistant than hip roofs. A hip roof has slopes on all four sides and is also very popular. While hip roofs are a little more expensive to build, they stand up to high winds better, which is why they're preferred in a wind mitigation inspection.
There are a few different types of hip roofs, and to receive a discount for having one, the roof has to be at least 90% hip. This is calculated by measuring the length of the roof that's hip shape as a proportion of the total perimeter of the roof. In other words, your total length of non-hip features has to be no more than 10% of the total roof.
The sixth section looks to see if your roof deck is water-resistant and the seventh section deals with opening protections. This includes your windows, doors and shutters to see how well they could sustain an impact from windborne debris.
Florida Wind Mitigation Insurance Discounts
There's no Florida law requiring you to get a wind mitigation inspection, but there is a Florida law that requires insurers to discount homeowners insurance premiums if the policyholder has proven that his or her home has effective wind mitigation measures. Your rate can't go up if you fail an inspection, so there's really no downside in getting one.
Florida law stipulates that insurance companies have to give discounts to "properties on which fixtures or construction techniques demonstrated to reduce the amount of loss in a windstorm can be or have been installed or implemented."
Exactly how much money could you save if your home has proper wind mitigation? Well, according to numbers from the Florida Office of Insurance Regulation, rates statewide between homes with and without wind mitigation built before 2001 can differ by thousands of dollars:
$150,000 Value Pre-2001 Construction
W/ Wind Mitigation
$1,954
$1,081
$1,455
$1,782
$1,810
$1,536
$2,415
$1,147
$1,647
$150,000 Value Pre-2001 Construction
No Wind Mitigation
$3,104
$2,415
$3,054
$2,780
$2,721
$3,406
$3,357
$2,675
$2,939
Difference Between Rates
$1,150
$1,334
$1,599
$998
$911
$1,870
$942
$1,528
$1,292
Again, these numbers are averages across the state. Rates differ with and without a wind mitigation vary by city and county. The cost of homeowners insurance is determined by a plethora of factors. But, it's clear that rates are lower across the board with a wind mitigation. Let's take a look at yearly premiums for a home valued at $300,000 in Florida:
$300,000 Value Pre-2001 Construction
W/ Wind Mitigation
$3,907
$2,163
$2,911
$3,564
$3,620
$3,071
$4,830
$2,294
$3,295
$300,000 Value Pre-2001 Construction
No Wind Mitigation
$6,209
$4,831
$6,108
$5,561
$5,442
$6,813
$6,715
$5,350
$5,878
Difference Between Rates
$2,302
$2,668
$3,197
$1,997
$1,822
$3,742
$1,885
$3,056
$2,583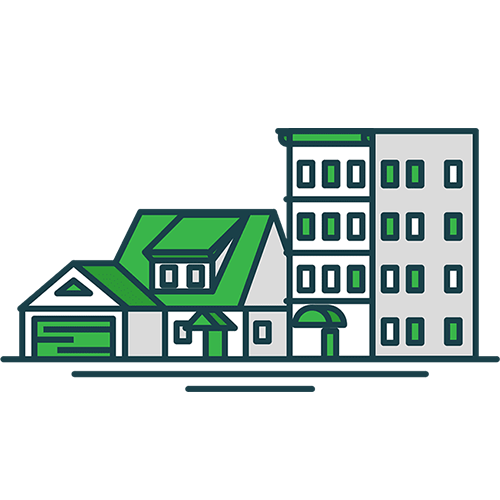 Home Protection Is Just a Click Away
We partner with the nation's top home insurance companies so you can get an excellent policy at an affordable price.
The editorial content on Clovered's website is meant to be informational material and should not be considered legal advice.
Similar Articles