Will A New Roof Lower My Insurance Premiums?
Homeowner
/
Will A New Roof Lower My Insurance Premiums?
Your roof is arguably the most important aspect of your home's structure and its quality can have a major impact on the cost of your homeowners insurance. While the cost of repairing or replacing your roof can be steep, it can certainly pay dividends when done at the right time.
Depending on how old your roof is, what materials it's made from and how it was installed, you may qualify for a discount on your homeowners insurance premiums. Let's take a look at some of the small changes you can make to your roof that have the potential to result in major savings.
Will a New Roof Lower My Homeowners Insurance Premiums?
Total roof replacement could save you hundreds of thousands of dollars on your homeowners insurance premiums every year. It's important to see every aspect of your roof's construction as an investment because your roof is one of the most important shields between your family and the perils that could cause damage.
No matter how big or small your roof repair changes are, make sure to update your insurance company as quickly as possible. Whether you're considering getting a new roof or simply making some small changes to its existing structure, you may be in for a bonus of lower homeowners insurance rates and you want to ensure your insurer calculates how much you could save.
New Roof Homeowners Insurance Discount
The discounts you qualify for will vary depending on where you live and your premium details, but your policy could offer between 5% and 40% for roof upgrades. However, don't be surprised if the new roof estimates total $10,000 to $50,000. Obviously, the amount you pay and the discount you receive will heavily depend on the size of your home.
Your insurance company will also consider the material of your new roof before telling you what discount you may qualify for. On average, insurance providers may discount your policy by at least 20% for complete roof replacement.
Roof Requirements for Homeowners Insurance
When binding a policy as a new policyholder, many insurers won't write you a policy if your roof hasn't been updated in the last 40 years. For policyholders renewing with their current insurer, those requirements may also be in place or they could drop your coverage entirely.
While some roofing materials may have a longer lifespan, they may also cost more to replace or repair if damaged. Your insurance provider may offer discounts based on the age of your roof and the upgrades you've applied to it, including the use of any storm-resistant materials. On average, here's how long you can expect your roof to last barring any unforeseen natural disasters:
Materials, Construction, Age of Roof and Insurance
Your roof materials are an essential part of determining the overall quality of your roof. Renovating or reinforcing your roof with stronger materials means your home could be less likely to experience costly damage during harsh weather conditions.
Roof materials are rated on a scale of one to four by insurance companies, so looking for modern, Class 4 materials will help result in the biggest shift in your homeowners insurance rates. This can include stronger shingles made from copper, aluminum, resin or plastic. But let's take a look at the most common types of roofing materials for homes
Average Lifespan

: 25 to 30 years

Roof Material:

Combination out of fiberglass, asphalt and paper fibers

Durability:

Among the least durable roof materials available

Cost:

Among the most expensive to choose from due to maintenance to retain effectiveness

Look:

Available in either a standard, single-thickness or a thicker, laminated shingles

Compatibility:

Can be installed on every roof up to relatively steeper finishes

Natural Disasters:

More effective at withstanding

fire damage

than

wind damage
2. Wood Shingles and Shakes
Average Lifespan

: 30 to 50 years

Roof Material:

Constructed out of cedar, southern pine and redwood

Durability:

Less durable than many roof types and requires routine maintenance to maintain its appearance

Cost:

Moderately expensive compared to metal or tile

Look:

Gives homes a more natural aesthetic, popular in California and the Northwest

Compatibility:

Can be installed on both moderately and steeply sloped homes

Natural Disasters:

While wood roofs can be treated to make them more flame retardant, they're exceptionally poor at protecting against fire and are more effective at protecting against wind damage
Average Lifespan

: 35 to 50 years for concrete; 100 years for clay

Roof Materials

: Typically made from either concrete (a mixture of cement and sand) or clay

Durability

: While tile roofs are breakable, both concrete and clay tile roofs are relatively durable and low-maintenance

Cost

: Moderately priced to expensive depending on roof materials

Look

: This particular roof type is popular in Spanish-style homes and is commonly found in the Southwest

Compatibility

: Can be installed on both moderately sloped and significantly sloped homes

Natural Disasters

: Both concrete and clay tile roofs are effectively fire-resistant, though less capable of protecting against wind damage
Average Lifespan

: 30 to 45 years for aluminum; up to 100 years for zinc and copper

Roof Material:

Metal roofs can be constructed out of aluminum, copper, steel or a zinc alloy

Durability:

Steel and copper roofs are very durable, while aluminum and zinc are moderately durable

Cost:

Copper and zinc roofs are often very expensive, while aluminum roofs are less expensive

Look:

Metal roofs are typically installed as shingles, but some providers manufacture metal roofs in sheet form or design them to mimic other roof materials

Compatibility:

Can be installed on either low or steeply sloped homes

Natural Disasters:

Effective at both fire and wind resistance
Will Homeowners Insurance Pay For a New Roof?
Homeowners insurance will only pay for a new roof if your roof was damaged or destroyed by a covered peril, such as a windstorm or hailstorm. A leaking roof or destroyed roof may be covered in those instances. It won't pay to install a new roof or repair your current roof if the damage was caused by something like negligence or lack of upkeep.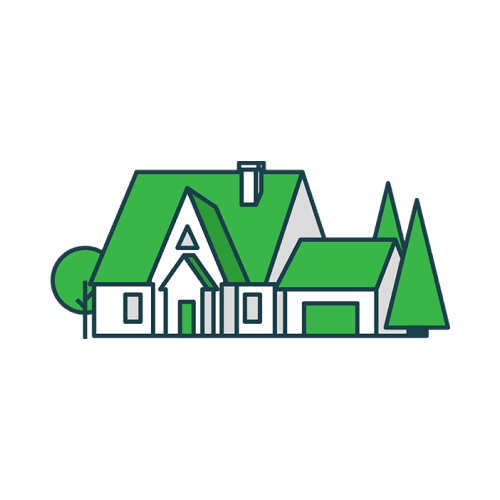 It's Time to Switch Your Homeowners Insurance
We partner with the nation's top homeowners insurance companies so you can get a custom policy at an affordable price.
The editorial content on Clovered's website is meant to be informational material and should not be considered legal advice.
Similar Articles