Does Homeowners Insurance Cover Hurricane Damage?
Homeowner
/
Does Homeowners Insurance Cover Hurricane Damage?
Hurricane damage is covered by homeowners insurance, but certain stipulations alter home insurance hurricane coverage in hurricane-prone states. For instance, hurricane deductibles are required in 19 states and dictate that more money must be paid by the policyholder if hurricane damage is sustained.
If you live in a hurricane-prone area, you need to know things like the average cost of hurricane damage per year, what is a hurricane deductible and does homeowners insurance cover hurricane damage to be in good hands.
While you probably have an evacuation plan in place, know what steps to take to protect your home from hurricane damage, what to do during a hurricane and how to file a claim after a hurricane has caused damage. But you also must know what's covered. Let's take a look.
Does Homeowners Insurance Cover Hurricane Damage?
Yes, homeowners insurance covers hurricane damage in nearly all instances. If your home is located in an area that's prone to hurricanes, especially in Florida, you'll have a separate hurricane deductible and your insurer may put stipulations on your policy that excludes damage from strong winds.
In that case, you may have to purchase additional homeowners insurance coverage from your insurer or seek out a company that provides that extra home insurance hurricane coverage you need. Additionally, a wind mitigation that proves your roof is aerodynamic during heavy wind storms may decrease your coverage premiums and provide superior protection from hurricanes.
If you live in an area prone to hurricanes, it's important to conduct a home insurance review at the beginning of each hurricane season, which starts on June 1st every year. If you don't have homeowners insurance, we highly suggest you purchase it sooner rather than later, as insurance companies can refuse to write home insurance policies when a hurricane watch has been issued.
What Homeowners Insurance Covers During a Hurricane
While homeowners insurance is designed to provide sufficient coverage for your home from hurricanes, it does not provide coverage for flooding due to hurricanes. Every homeowner must purchase a separate flood insurance policy to protect from storm surges, overflowing bodies of water and many other instances commonly covered by flood insurance.
Like getting a homeowners insurance policy or conducting a yearly review of your policy, homeowners must purchase flood insurance well in advance because each flood policy requires a 30-day buffer period before going into effect.
What Is a Hurricane Deductible?
A hurricane deductible is a designated amount of money a homeowner must pay out of the insurance claim when the damage was caused by a hurricane. It's similar to a regular home insurance deductible, but it works on a percentage-based threshold instead of a dollar-based threshold.
Hurricane deductibles began after Hurricane Katrina and are in force to protect insurance companies from catastrophic losses and potentially going bankrupt by paying out a significant number of claims at the same time.
Hurricane deductibles are typically 1 percent to 10 percent of a policyholder's dwelling coverage, which protects the home structure and major items that make up the home, such as a roof, flooring and windows. So if a homeowner with $200,000 in dwelling coverage has a 5 percent hurricane deductible, they must $10,000 toward an insurance claim.
Currently, hurricane deductibles are required in 19 states (Alabama, Connecticut, Delaware, Florida, Georgia, Hawaii, Louisiana, Maine, Maryland, Massachusetts, Mississippi, New Jersey, New York, North Carolina, Pennsylvania, Rhode Island, South Carolina, Texas, Virginia) and Washington D.C.
Average Cost of Hurricane Damage Per Year
According to statistics compiled by the Congressional Budget Office for the U.S. Congress, hurricanes cause $34 billion to $54 billion in damages and losses to households in the United States each year. They account for another $9 billion per year in damages and losses to commercial businesses.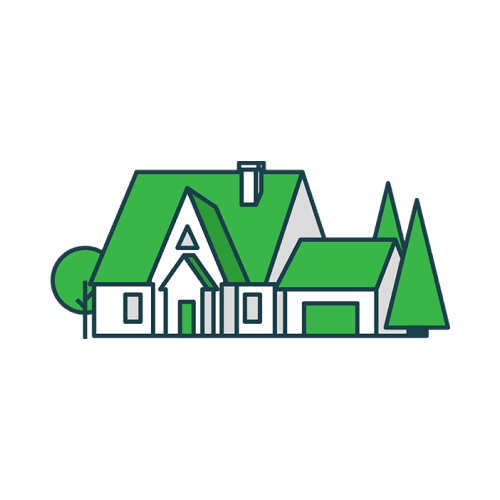 It's Time to Switch Your Homeowners Insurance
We partner with the nation's top homeowners insurance companies so you can get a custom policy at an affordable price.
The editorial content on Clovered's website is meant to be informational material and should not be considered legal advice.
Similar Articles