What Is Personal Property Insurance?
Insurance 101
/
What Is Personal Property Insurance?
Personal property insurance, also called Coverage C or personal property coverage, is the part of a home insurance policy that's designed to help pay to repair or replace your personal belongings if they're damaged, destroyed, lost or stolen by a covered peril. Personal property coverage applies to items you own and keep on your property, such as furniture, electronics and clothes.
Since everyone owns personal property, it's one of the most common types of home insurance coverage and it's found in homeowners, renters, condo, landlord and flood insurance policies. While your insurer may stipulate the coverage for high-value items like expensive pieces of jewelry, coverage is customizable and you can typically enroll in as much or as little coverage as you need.
But there are stipulations within Coverage C that you will want to know about before securing a policy. This is everything you need to know about personal property insurance.

What Does Personal Property Insurance Cover?
Personal property insurance covers many of your personal belongings, which are kept within your residence or on your property, if they're damaged or destroyed by a covered peril. Items like furniture, computers, TVs, jewelry and even clothes are considered personal belongings and, therefore, are protected under Coverage C of your home insurance policy.
The most commonly covered perils include theft, vandalism, fires, hurricanes, tornados and hail. Of course, there are far more covered perils that exist outside of the previously listed. So if your aforementioned items are directly damaged or destroyed by one of these many perils, your insurance company should be able to reimburse you for your items.
It's also important to note that there are two types of payouts for personal property coverage: actual cash value and replacement cost coverage. There are also some coverage stipulations when it comes to insuring high-value items like jewelry, collectibles and art.
Personal Property Replacement Cost Coverage
Replacement cost coverage is the more straightforward of the two. If you suffer a covered loss, replacement cost coverage will pay to repair or replace your personal belongings for the exact dollar amount they cost when you purchased them.
It doesn't factor in depreciation. This means if you bought a TV three years ago for $1,000 and it was destroyed by a house fire, your insurer would cut you a check for $1,000 to replace the TV. Keep in mind that, since replacement cost coverage will pay you more for your belongings in almost every instance, it also costs more money in premiums to enroll in this coverage.
Personal Property Actual Cash Value Coverage
Actual cash value, on the other hand, reimburses your lost, damaged or destroyed items at the fair market value. It factors depreciation into the value of your items. So if that same TV you bought for $1,000 three years ago was stolen, your insurance company would only pay you a portion of what you bought it for.
The thought process is that it would cost much less to purchase that same TV in the current market. While there's no perfect formula for figuring out how much your insurer will reimburse you for your items, and each insurer likely calculates the value differently, actual cash value will pay you less than replacement cost coverage would.
Since that's the case, it's cheaper to insure your items to their actual cash value than it would be to insure them at their replacement cost.
Personal Property Floater
A personal property floater is designed to provide extended coverage to high-value items like jewelry, extra coverage for easily movable items like an expensive laptop or, generally, assign insurance to an item that needs better or more coverage.
The extra coverage is designed to float coverage to an item. Each insurance company may have different names and definitions for a personal property floater (such as an endorsement or rider), so it's best to consult your insurance agent to find out what kind of coverage your insurer extends to personal property floaters.
Scheduled Personal Property Coverage
Scheduled personal property coverage is similar to a floater in that it provides supplemental insurance to high-value items. However, items that you must "schedule" typically already have some form of coverage on your current home insurance policy.
For instance, many home insurance policies limit coverage for jewelry, expensive clothing, furs, musical instruments, antiques and other items. That limit could be $1,500 or $5,000 per item, which may not be enough to replace the item if it were damaged, destroyed or stolen.
So you can schedule the piece of property, which provides adequate coverage. However, it will also increase your premiums because you're enrolling in more coverage. But it may be better to be adequately covered than to not have enough coverage.
For instance, if you own a wedding ring that costs $8,000 and your home insurance policy limits jewelry to $2,500 per item, there's a significant gap in your coverage. If it were stolen or destroyed, you could be stuck paying the difference out of your own pocket. But if you schedule it with scheduled personal property coverage, you could likely get enough coverage to cover the entire cost of the ring.
If you own many high-value items, it's also important to know that each high-value item must have its own scheduled personal property coverage or floater attached to it. Coverage doesn't transfer from item to item.
How Much Personal Property Coverage Do I Need?
You need as much personal property coverage to replace all of your personal belongings, to an extent that you can comfortably live with and afford, in case everything was destroyed by a covered peril. So if you own $30,000 worth of belongings, you'd need $30,000 worth of Coverage C personal property.
On the other hand, there's no need to have $50,000 in personal property coverage if you only have $10,000 worth of stuff. Adversely, if you can only afford $20,000 worth of coverage and have $30,000 worth of belongings, you may want to consider cutting your daily cup of coffee or fast food.
Even though your personal belongings are covered, there's always a limit to how much money your insurance company will pay out due to a covered peril. If you have $30,000 worth of belongings and you only have $20,000 in personal property coverage, you may want to reevaluate your policy. If that was the case and a fire destroyed everything you own, you'd be stuck paying $10,000 out of your own pocket to replace your belongings.
Jewelry coverage can get tricky, too. Many policies have an overall limit on jewelry and a limit per item. If your jewelry limit is $2,500 and you have $5,000 worth of jewelry, you're underinsured. If the fire scenario occurred, you'd have to pay $2,500 out of your own pocket to replace that jewelry. You may purchase additional riders that add extended coverage for things like these, though.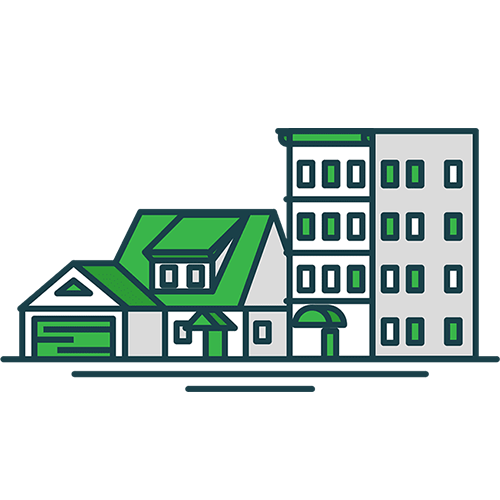 Home Protection Is Just a Click Away
We partner with the nation's top home insurance companies so you can get an excellent policy at an affordable price.
The editorial content on Clovered's website is meant to be informational material and should not be considered legal advice.
Similar Articles