What Is Personal Liability Coverage?
Insurance 101
/
What Is Personal Liability Coverage?
Personal liability coverage, or Coverage E within your home insurance policy, protects you and your family by providing money to pay medical expenses for injuries on your property for which you're found liable, damage that you or your family cause to someone else's property or belongings, dog bites on and off your property and lawsuits that derive from any of these situations.
Personal liability coverage is designed to bail you and your family out on many occasions. And the thing about it is that many people don't think they need it until they actually have to use it. Then they're always glad it's a perk of their policy. Let's take a deeper dive into everything you need to know about personal liability coverage.

What Does Personal Liability Insurance Cover?
Personal liability insurance mainly covers accidents that occur on a policyholder's property and are considered to be the fault of a policyholder — whether it's due to a broken stair or an attractive nuisance in the backyard like a pool or trampoline — dog bites on and off the property or if the policyholder caused damage to another person's property.
All of those instances should be covered by your home insurance policy, and resulting lawsuits should also be covered up to your policy's maximum limits. Many home insurance policies come standard with $100,000 worth of liability coverage, but you can always opt for more.
In the instance you have to file a liability home insurance claim, and it was deemed to be covered by your insurer, your policy would pay up to your maximum for each claim to cover any medical expenses, damages to other people's property and lawsuits that result due to the incident.
How Much Personal Liability Coverage Do I Need?
Standard home insurance policies typically come with $100,000 in liability coverage. However, many policies offer up to $500,000 in protection. Many people can settle for a comfortable $100,000 in liability coverage and be just fine. However, there are many instances when it's smart to increase your liability coverage past the $100,000 mark.
If you have a pool, you should opt for higher coverage due to the many tangible dangers that come with them. If somebody happens to drown in your pool and you're found liable, a lawsuit and damages could easily total more than $1 million. If you only have $100,000 in coverage, the remaining $900,000 would come out of your own pocket, and you may be forced to file for bankruptcy.
If you need more than $500,000 in liability coverage and your current insurer doesn't offer that, you can always opt for umbrella insurance, which increases your liability coverage to $1 million with the option to increase it incrementally by another $500,000 to $1 million.
Personal Liability Insurance Coverage Claims Examples
Let's take a look at an example. If you have $100,000 in liability protection and your dog bites a neighbor, resulting in $30,000 worth of medical bills and a lawsuit with $40,000 in court costs and settlement fees, your home insurance would cover the expenses because the $70,000 total falls under your policy's maximum.
If, two weeks later, a friend comes over and breaks their leg while jumping on your trampoline, resulting in $20,000 in medical bills and $70,000 in court costs and settlement fees, your insurance would pick up the tab as well. Since the two incidents are separate and each falls below the $100,000 threshold, you should be covered.
However, if you only had $100,000 in liability coverage and either instance surpassed that amount with medical bills and legal fees, you'd be stuck paying the difference out of your own pocket. That's why we always recommend getting more liability coverage than you think you may need.
Coverage E Personal Liability Limit On Home Insurance
The minimum limit of Coverage E on home insurance policies is typically $100,000 and the maximum most companies will cap you at is $500,000. However, you can get $1 million or more in personal liability coverage if you invest in umbrella insurance.
Umbrella insurance is a standalone policy that's used in conjunction with your home insurance's personal liability coverage to help pay for damages that go above your policy's maximums. So if you had $500,000 in liability coverage with your home insurer and $1 million in coverage with your umbrella insurer, the home insurance's portion would typically be utilized before your umbrella policy kicks in.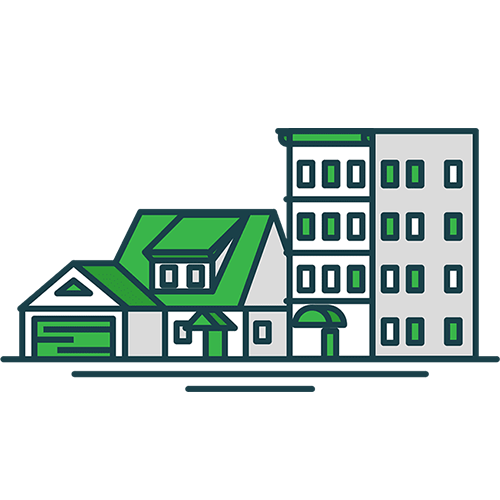 Home Protection Is Just a Click Away
We partner with the nation's top home insurance companies so you can get an excellent policy at an affordable price.
The editorial content on Clovered's website is meant to be informational material and should not be considered legal advice.
Similar Articles