Flood
/
Alabama Flood Insurance
From the lowlands of Mobile and Gulf Shores to the hilly regions of northern Alabama, you need an Alabama flood insurance policy to protect your home and belongings from flooding. Floods are the most common natural disaster on earth, and many people aren't protected because they think home insurance will have their back.
But that's not the case. Everyone from homeowners to renters needs a flood policy. Flood insurance rates in Alabama won't break the bank, but there are a few key things to remember. When determining the cost of flood insurance in Alabama, the price you pay depends on where you live and which company you get a policy from.
Clovered works with some of the best providers in The Heart of Dixie to provide flood insurance in Alabama to many of its residents. Just remember, flood policies go into effect 30 days after the date of purchase, so you need to act quickly to protect your home, belongings, family and financial situation!
What Flood Insurance Covers in Alabama
Alabama flood insurance helps protect your home and belongings from covered perils like overflowing rivers or bodies of water, torrential rains that seep in through the ground and many other instances involving liquid perils. Contrary to popular belief, an Alabama flood insurance policy is needed for these perils because regular home insurance won't cover them.
Structure & Foundation
Your home's physical structure and its foundation, meaning the essential pieces that make up your home, are covered by flood insurance. This can be anything from flooring and drywall to built-in cabinets and electrical wiring.
Personal Belongings
Flood insurance can help pay to repair or replace your personal belongings that were damaged or destroyed directly by flooding. This coverage extends to things like TVs, computers and other electronics to furniture and clothes.
Home Appliances
When floodwaters enter a home, they tend to damage or destroy a handful of appliances in your home. Luckily, flood insurance can help replace many of those appliances, like your HVAC unit, water heater, dishwasher and much more.
How Much Does Flood Insurance Cost in Alabama?
The cost of flood insurance in Alabama is only about $700 per year. But that also depends on where you live, how much coverage you need and where the nearest body of water is in proximity to your home. Flood insurance rates in Alabama tend to fluctuate heavily due to these factors.
Do I Need Flood Insurance in Alabama?
Flood insurance in Alabama is not required by law, but your lender could still make you maintain adequate coverage if you currently owe money on your mortgage. Whether it's required or not, getting flood insurance for your Alabama home should be a necessity.
Alabama flood insurance helps to protect your home, belongings and your family in times of need. And when you don't need to use it, which we hope you don't because that means you've encountered a devastating peril, it's great for your peace of mind!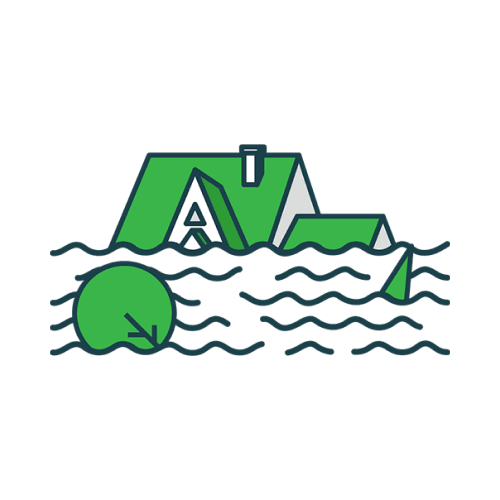 Stay Above Water With Flood Insurance
Do you want to pay for costly and common flood damage yourself or have an insurance policy pick up the tab?
The editorial content on Clovered's website is meant to be informational material and should not be considered legal advice.