Flood Insurance in Alabama
Flood
/
Flood Insurance in Alabama
Alabama's desirable location in the heart of the Southeast means its sunny weather and Gulf of Mexico access come with the risk of flooding.
Heavy rains are present year-round, and storm surge from a hurricane or tropical storm is possible, especially near the coast. Flood insurance is the only way to protect your property from such a disaster.
This in-depth guide provides the details you need to know to get the best flood insurance from Alabama. We also break down state rates from the National Flood Insurance Program, the largest flood insurer in the country, and Alabama.
How Much Is Flood Insurance in Alabama?
The average cost of flood insurance in Alabama is $927 annually. However, under the NFIP's Risk Rating 2.0, Alabama's average flood insurance cost will increase to $2,051 per year — a 121% average increase statewide.
Most flood insurance policies in the United States come from the government through the NFIP, administered by the Federal Emergency Management Agency (FEMA). There are over 19,000 active NFIP policies in Alabama, the largest flood insurance provider in the state by far.
The numbers for Alabama flood insurance rates come from the NFIP and are broken down below, showing the average current cost of flood insurance and the average cost of flood insurance in Alabama once RR 2.0 rates are fully realized.
Beginning in 2021, the NFIP changed how it calculates premiums for all policyholders under a new plan called Risk Rating 2.0. The NFIP states that the new method more accurately reflects property flood risks. Unfortunately, many people will see premium increases under RR 2.0
Average Cost of Flood Insurance in Alabama
County
Autauga
Baldwin
Barbour
Bibb
Blount
Bullock
Butler
Calhoun
Chambers
Cherokee
Chilton
Choctaw
Clarke
Clay
Cleburne
Coffee
Colbert
Conecuh
Coosa
Covington
Crenshaw
Cullman
Dale
Dallas
Dekalb
Early
Elmore
Escambia
Etowah
Fayette
Franklin
Geneva
Greene
Hale
Henry
Houston
Jackson
Jefferson
Lamar
Lauderdale
Lawrence
Lee
Limestone
Lowndes
Macon
Madison
Marengo
Marion
Marshall
Mobile
Monroe
Montgomery
Morgan
Perry
Pickens
Pike
Randolph
Russell
Shelby
St. Clair
Sumter
Talladega
Tallapoosa
Tuscaloosa
Walker
Washington
Wilcox
Winston
Policies in Force
149
6,265
28
14
18
582
582
213
19
107
23
15
28
582
582
131
70
582
12
69
582
57
61
146
32
582
239
75
158
7
10
47
38
31
22
234
93
980
7
103
44
182
155
49
15
2,071
39
16
48
4,374
7
671
318
582
28
11
8
49
452
260
17
274
54
408
57
582
26
29
Current Cost
$902
$949
$1,241
$1,230
$1,278
$991
$991
$878
$980
$1,012
$824
$802
$1,250
$991
$991
$817
$745
$991
$1,459
$1,059
$991
$980
$782
$837
$895
$991
$941
$820
$943
$905
$975
$831
$899
$908
$915
$807
$929
$1,022
$973
$1,054
$983
$807
$856
$881
$670
$797
$912
$1,502
$897
$977
$881
$760
$788
$991
$1,045
$1,207
$767
$920
$938
$852
$890
$991
$932
$862
$1,096
$991
$1,006
$1,127
Risk-Based Cost
$1,659
$2,337
$3,755
$1,799
$3,552
$1,524
$1,524
$1,499
$1,801
$2,232
$2,191
$2,288
$2,998
$1,524
$1,524
$1,598
$1,400
$1,524
$2,435
$2,614
$1,524
$2,010
$1,812
$1,366
$2,323
$1,524
$2,056
$1,648
$2,080
$1,124
$1,725
$1,758
$1,466
$1,995
$1,172
$1,469
$1,697
$1,625
$1,755
$3,166
$1,672
$1,537
$1,713
$2,008
$1,737
$1,773
$1,441
$3,169
$2,419
$2,248
$2,128
$1,345
$1,566
$1,524
$1,367
$2,330
$1,553
$1,525
$2,095
$1,569
$1,881
$1,955
$2,920
$1,698
$3,192
$1,524
$2,653
$2,146
RR 2.0 rates were enacted on October 1, 2021, for new NFIP policies. For existing NFIP policyholders, RR 2.0 rates began to take effect on April 1, 2022, but, depending on the size of your increase, it may take some time to realize your full, new risk-based premium since raises are capped at 18% per year.
Although the averages rise in all counties, you won't know your specific policy details until you get a quote. Some policyholders will even see decreases under the new methodology.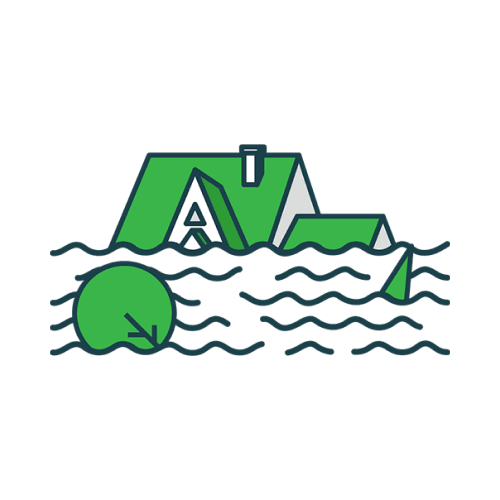 Stay Above Water With Flood Insurance
Do you want to pay for costly and common flood damage yourself or have an insurance policy pick up the tab?
Where Is the Cheapest Flood Insurance in Alabama?
Under RR 2.0, average flood insurance rates in Alabama are rising from $927 to $2,051 per year, a 121% increase. But, certain areas will pay less than the state average if they're less prone to flooding.
Generally, safer areas have more affordable rates since flooding is less likely. The counties with the cheapest flood insurance in Alabama on average are:
Macon ($670)

Colbert ($745)

Montgomery ($760)

Randolph ($767)

Dale ($782)

Morgan ($788)

Madison ($797)
Unfortunately, these rates won't last. Once RR 2.0 rates are in full effect, no county in Alabama will have average rates under $1,000 per year. The cheapest counties for flood insurance in Alabama under RR 2.0 will be:
Fayette ($1,124)

Henry ($1,172)

Montgomery ($1,345)

Pickens ($1,367)

Colbert ($1,400)
Although it seems dire, it's not all bad news. Over 11,000 people, 21% of all NFIP policyholders in Alabama, will see immediate decreases in their premiums Under RR 2.0.
Still, that means 79% of people will have their premiums grow. Most policies will increase by under $120 per year, but they may rise year after year, depending on your property, until you realize your total RR 2.0 premium.
What Does Flood Insurance in Alabama Cover?
Flood insurance covers the structure of your home and your personal belongings from flood damage. Qualifying flood events include:
Flood insurance policies are separated into two sections based on the coverage they provide:
Building Coverage
Building coverage in flood insurance covers the structure of your home and its permanent features, including walls, flooring, water heaters, and electrical systems.
Contents Coverage
Contents coverage in flood insurance financially protects your personal property in and around your home, such as furniture, clothes, electronics, bicycles, and small appliances.
How to Get the Best Flood Insurance in Alabama
The NFIP writes most flood insurance policies in Alabama. But, to get the best flood insurance in Alabama at the best price, you may need to turn to a private insurer based on your coverage wants and needs.
The private flood insurance market is relatively small nationwide, but it's growing in popularity as technology improves and residents unhappy with RR 2.0 rates look for other options. Depending on your home characteristics, coverage from a private company can offer higher policy limits at competitive rates.
The NFIP maxes out all residential flood policies at $250,000 in building coverage and $100,000 in contents coverage. This is because the government funds the NFIP and runs the program at a loss. It loses millions every year and can't afford to insure all homes fully.
Your home's replacement cost could exceed $250,000, meaning the structure of your home wouldn't fully be insured under an NFIP plan.
Unburdened by government regulations, private flood insurance companies can offer higher limits and other perks that the NFIP can't. For instance, private carriers can offer building coverage up to $1 million, replacement cost property coverage, and loss of use coverage. They can also cover more other structures on your property.
Additionally, private companies don't have long waiting periods for your policy to become active. The NFIP has a 30-day waiting period for residential policies to kick in.
When looking for the best flood insurance in Alabama, getting quotes from private flood insurers, such as TypTap and Neptune, may be worth it.
You may also be able to purchase NFIP coverage from a well-known private company through the WYO Program, where the private carrier will provide customer service while FEMA will provide claims payouts should you need it.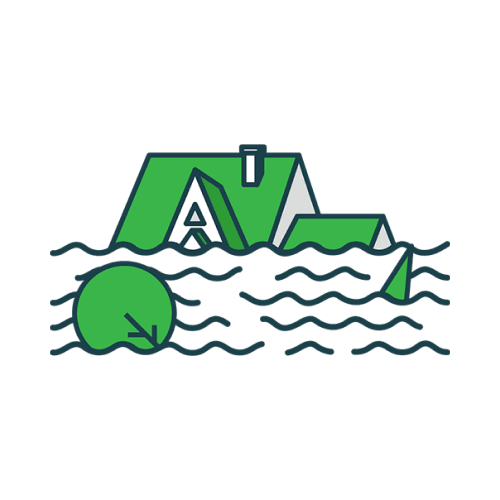 Stay Above Water With Flood Insurance
Do you want to pay for costly and common flood damage yourself or have an insurance policy pick up the tab?
Factors Affecting the Average Cost of Flood Insurance in Alabama
Alabama flood insurance costs are rising from $927 to $2,051 on average, annually. As we mentioned earlier, several factors affect your rates. Your home's susceptibility to flood damage is a driving factor in premiums. The more likely you are to suffer flood damage, the riskier it is to cover you, so the more your insurance costs.
The NFIP used to emphasize location and home elevation when determining premiums. But, under RR 2.0, the NFIP states it's taking a more comprehensive approach to pricing. Factors that influence Alabama flood insurance rates include:
Likelihood of flooding incidents in your area

Home characteristics

Home replacement cost

Elevation and distance from nearby water

Flood mitigation measures
Home characteristics include home elevation, home size, and more. Larger homes tend to have higher replacement costs, meaning more insurance is needed. The more coverage you need, the higher your rates will be. Additionally, homes at or below sea level have a greater chance of experiencing flood damage than homes at the top of hills or on stilts.
Location is also important. Mobile, Monroe, and Baldwin counties, the coastal counties in Alabama, have significant storm surge risk. This raises flood insurance premiums in these areas.
Flood zone always plays a factor in premiums. FEMA maintains flood maps for the whole country, determining flood risk for all properties. Even when not near the coast, you could be in a high-risk area known as a Special Flood Hazard Area (SFHA) due to nearby water sources or poor local drainage.
Homes in high-risk flood zones generally have higher premiums than those in low-risk areas. To locate your flood zone, check FEMA's Flood Map Service Center for a flood insurance rate map in Alabama.
Is Flood Insurance Required in Alabama?
Flood insurance can be required by your mortgage lender in Alabama if you live in an SFHA, a high-risk flood zone designated by FEMA. Banks typically accept NFIP or private flood insurance as long as the policy covers your home's replacement cost.
When you get a mortgage to buy a house, your lender puts down a significant amount of money with you. If your home is in an SFHA, your lender will require flood insurance as part of the home loan to protect their investment. Thus, if a flood destroys your home, your lender can recoup the money they put down through the flood insurance policy.
You should consider flood insurance even when you're not required to buy it. Homeowners insurance doesn't cover flooding damage. Floods are the most common and costly natural disaster in the United States, yet most people don't have sufficient protection.
A flood insurance plan is the best way to protect your property from flood damage no matter where you are.
How to Get Alabama Flood Insurance Quotes
With so much information about flood insurance, it can be hard to track what you need to know. With the help of an independent insurance agency like Clovered, getting an Alabama flood insurance quote can be simple and straightforward.
An independent agent compares policies from several providers to find the best coverage for you, given your needs and budget. Headquartered just south of Alabama in Florida, our team at Clovered is very familiar with property insurance needs in the Southeast, and we'd be happy to help you find coverage.
Getting Flood Insurance in Birmingham
Birmingham is the largest city in Jefferson County, where the average annual flood insurance cost is currently $1,022 annually. Once RR 2.0 rates are fully realized, the average cost of flood insurance in Birmingham will increase to about $1,625 per year.
These average rates in Birmingham are lower than the state average flood insurance cost of $2,051 under RR 2.0. This is likely because Birmingham's central location within the state shields it from Gulf Coast flood risks.
Birmingham also participates in the NFIP's Community Rating System, which helps lower flood insurance costs for residents. CRS is a program that rewards communities that actively mitigate flooding risks. The NFIP can discount premiums in CRS communities up to 45%.
Birmingham is the only Class 5-rated community in Alabama (the rating goes from 1 to 10), which affords residents up to 25% savings in flood insurance costs, according to the city website. Homes in an SFHA get premium reductions of 25%, while homes outside SFHAs can receive 10% discounts from the NFIP.
Birmingham has many creeks and tributaries that are prone to flooding, and you shouldn't overlook flood coverage in the city. There are still high-risk flood zones in the city, and you should shop around for flood coverage to be protected.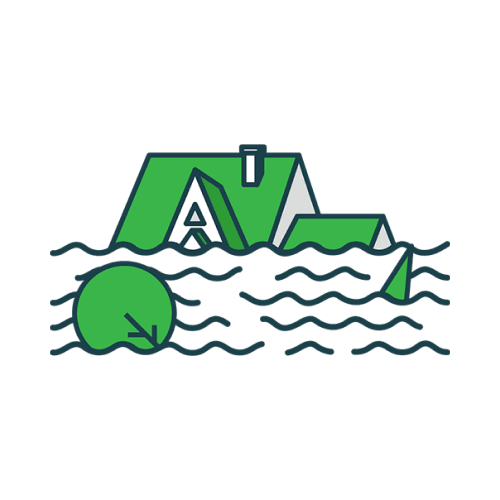 Stay Above Water With Flood Insurance
Do you want to pay for costly and common flood damage yourself or have an insurance policy pick up the tab?
The editorial content on Clovered's website is meant to be informational material and should not be considered legal advice.