An In-Depth Look at the Flood Insurance Claims Process
Flood
/
An In-Depth Look at the Flood Insurance Claims Process
Floods, even relatively minor ones, can be remarkably costly to recover from. Naturally, you'll want to replace, repair, and reset from a home disaster as soon as possible. If you've suffered flood damage, you expect your flood insurance provider to help you with putting your home and life back together.
If you need to file an insurance claim for flood damage, here's a breakdown of what you can expect and some important things you should know while going through the flood insurance claims process.
The Flood Insurance Claims Process
The National Flood Insurance Program, funded by the federal government, is the largest flood insurance provider in the country. It's estimated they've written about 90% of all flood policies in the United States. Due to their sheer popularity, we'll mostly be referring to the NFIP claims process below, but claims with a private flood insurance company would likely have many of the same steps.
If your flood damage is especially severe, you can apply for disaster assistance from the Federal Emergency Management Agency. FEMA also runs the NFIP, but disaster assistance is completely separate from flood insurance with different regulations and requirements.
What Can I Claim From Flood Insurance?
It's important to remember that the NFIP only covers direct, physical losses from a flood. NFIP policies typically have limits of $250,000 for building coverage, which covers your house's structure and permanent features, and $100,000 for contents coverage, which safeguards your personal property. Examples of covered belongings under contents coverage from the NFIP include electronics, furniture, and clothes.
How Does A Flood Insurance Claim Work?
Submitting an insurance claim is the way you tell your provider what you lost and how much you want to get reimbursed for the loss or damage. An insurance claim often includes a proof of loss or statement of loss form where you indicate exactly what was damaged. This is the case for flood insurance claims.
When To File a Flood Insurance Claim
You should file a flood insurance claim as soon as you can after you experience flood damage. Although you have up to 60 days to notify the NFIP of a flood loss, there's no reason to wait close to that long. You should get the flood insurance claims process started as quickly as possible so you can get your reimbursement as soon as possible.
Most flood insurance carriers recommend notifying them of a loss "promptly" or "as soon as possible." if there's been a large-scale disaster, FEMA often extends document deadlines. Generally, though, you have 60 days to contact them requesting reimbursement for flood damage and 60 days to file an appeal if your claim gets denied.
How to File a Flood Insurance Claim
If you've suffered flood damage, you should notify your flood insurance company as soon as possible. If your provider is the NFIP directly, you can call them at (800) 767-4341. Otherwise, you'd call your insurer to get a claim started and they'll work with the NFIP on reimbursement. If you're not sure of your flood insurance company's phone number, you can look here at this list of NFIP carriers.
Once you've contacted your insurance company to get the ball rolling on your claim, the flood insurance claim process usually looks like this:
After a flood, you should make a list of your personal property that was damaged. Have it done before an adjuster arrives. Record a description of every item that was damaged, including a brand name, how much you bought it for, and how old it was. Pictures and videos are useful. You should also try to find receipts and bills for your damaged belongings.
For appliances and electronics, like washers, dryers, televisions, and computers, it's especially helpful to know their model and serial numbers. Having these identifiers provides a better estimate of the amount it'll cost your insurer to replace the items with something of the same quality.
You shouldn't throw away damaged items immediately unless you need to, like rotten food or something that's now become a hazard to keep around. You want to show the adjuster damaged items. You should also salvage and move what you can to a safe, dry place so you don't experience any further indirect damage from the flood.
For example, leaving a table in a room that's got a few inches of water on the ground could damage the legs, but the insurer may not reimburse you for it if you left it sitting there for a while when you could've moved it. The NFIP also likely won't cover any mold that may occur, so it's important to clean up promptly as best as you can.
For building damage, it's useful to take pictures and videos for yourself so you can remember to point out particular problem areas to the adjuster when he or she arrives. You can also keep some samples of damaged items like flooring and carpet if applicable, too.
2. Receive a Visit From the Adjuster
The adjuster will usually reach out to you a day or two after you contact your insurance carrier, but you may need to wait a little longer if there's been a large-scale flood in your area when many people are likely contacting their providers.
The adjuster is sent by the insurance company to inspect your property and evaluate the damage to help determine the final ruling on how much the provider should reimburse you. They can also answer any questions you may have about your claim.
When the adjuster gets to your house, they'll take pictures and measurements of damaged areas. They'll ask you questions about the damage and potentially provide details and documentation that you might need to complete and send to your insurance company. One of the documents they could give you is a proof of loss form.
3. Fill Out Proof of Loss Form
After your adjuster gives you an estimate of the damages, you'll need to sign a proof of loss form to send to your provider. A proof of loss form is basically your official statement outlining what you lost in the flood and how much reimbursement you're seeking. The adjuster's findings and your inventory list you made will serve as the basis for the information you provide in this form.
You must submit your proof of loss form and any supporting information or documents to the NFIP within 60 days of the loss. Even though your adjuster might help you, it's your responsibility to fill out the proof of loss accurately and sufficiently. If you don't do it right, your claim could be denied.
Note that after a really severe flood where there's an official disaster declaration from the government, FEMA may extend the deadline for proof of loss forms.
You can also request further payment for damages after you submit a proof of loss form if you notice additional damage you didn't account for. You do this by filing a request for Additional Flood Payment. Contact your insurer if you want to do this.
How Do Flood Insurance Claims Pay Out?
After you go through the flood insurance claims process, your provider may pay out the settlement for your building damages to your mortgage lender and give the money for your damaged personal property directly to you. You'll only receive your claim payout after you submit a completed proof of loss form and you then agree on the amount your insurer is going to give you.
The way you recoup your loss for structural damage to your home may vary depending on your mortgage company. After you receive payment from your insurer, you may need to have your lender sign off before you can use the funds. Other mortgage companies may handle the disbursement of your claim payment more hands-on. They may hold the money and give it to you as you need it for repairs.
Payment for your personal property generally gets sent directly to you, though. You may get all of it at once, or you may buy some replacement items and then get reimbursed from your insurer after.
Unfortunately, receiving your flood insurance claim payout from the NFIP can take months sometimes. Depending on the extent of damage and the submission of paperwork and potential appeals, some people receive their claim within a couple of months, while others may wait over six months to a year. Claims from smaller, isolated flooding incidents may be resolved more quickly than those in large-scale disaster areas.
Flood Insurance Advanced Payments
When you meet with the adjuster during the flood insurance claims process, you can ask for an advanced payment of some of your claim. An advanced payment allows you to receive some money upfront so you can begin recovery and rebuilding before your insurance company fully settles your claim.
In this case, you'll submit something like a partial proof of loss form or an advanced receipt. If it's granted, your insurance company will subtract the amount they give you from the rest of your claim that you'll receive later.
With advanced payment, your mortgage lender will still need to sign off on building damage reimbursements, and personal property checks will still likely be sent right to you. Note that you can't request more than 50% of your expected claim total for advanced payment.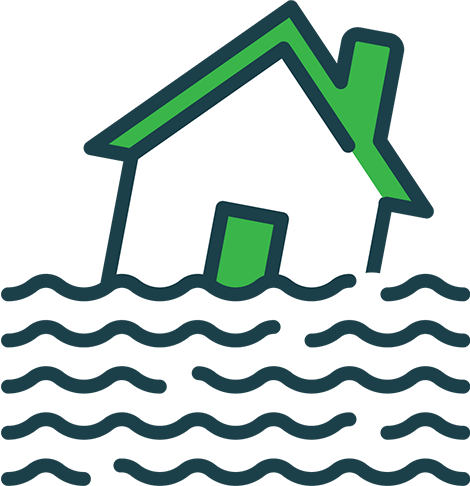 Stay Above Water With Flood Insurance
Do you want to pay for costly and common flood damage yourself or have an insurance policy pick up the tab?
The editorial content on Clovered's website is meant to be informational material and should not be considered legal advice.
Similar Articles