Flood Insurance in Delaware
Flood
/
Flood Insurance in Delaware
Delaware's tiny geographic area means most residents aren't too far from a body of water. Every county has an Atlantic coastline.
The threat of floods is never far off. Since homeowners insurance doesn't cover flooding damage, your home is exposed without a flood insurance policy.
This comprehensive guide informs homeowners on finding the best flood insurance in Delaware to sufficiently protect your property.
How Much Is Flood Insurance in Delaware?
The average cost of flood insurance in Delaware is $1,497 under the National Flood Insurance Program, the country's largest flood insurer. Although, costs may vary depending on your location and other factors.
The NFIP isn't your typical insurance company. It's a government program managed by the Federal Emergency Management Agency (FEMA). The government established this public option in 1968 to subsidize coverage and make flood insurance more accessible to a wider population.
In 2021, FEMA changed the way it calculates its flood insurance premiums. The change, called RR 2.0, raised flood costs in Delaware from about $874 to $1,497, on average.
The objective of RR 2.0 was to assess and evaluate flood risk for all properties more accurately. Unfortunately, it resulted in premium increases for flood insurance policies in nearly every state, including Delaware.
The table below illustrates flood insurance rates in Delaware by county before and after the implementation of RR 2.0.
Average Cost of Flood Insurance in Delaware
County
Kent
New Castle
Sussex
Policies in Force
584
1,176
9,010
Current Cost
$845
$985
$860
Risk-Based Cost
$1,168
$2,052
$1,449
RR 2.0 rates took effect for all new NFIP policies starting October 1, 2021. FEMA has been phasing in the new rates for existing policyholders since many are experiencing rate increases under the new methodology. The NFIP capped rate hikes at 18% annually, so depending on the size of your increase, it may take some time for you to realize your total RR 2.0 premium.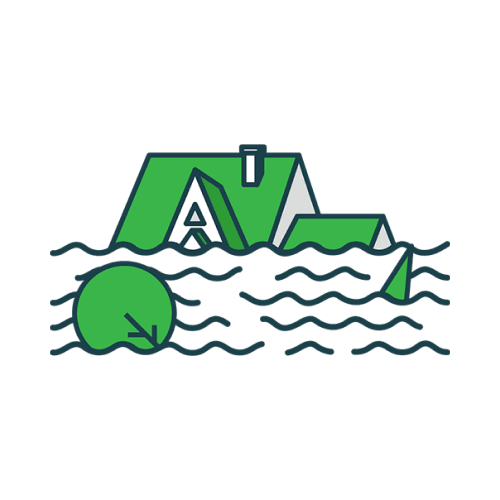 Stay Above Water With Flood Insurance
Do you want to pay for costly and common flood damage yourself or have an insurance policy pick up the tab?
What Does Flood Insurance in Delaware Cover?
Flood insurance in Delaware covers your home from flood damage. FEMA defines a flood as "a general and temporary condition of partial or complete inundation… of normally dry land area." Common flood causes include:
Mudslides

Coastal erosion

Storm surges

Sudden flash flooding from heavy rain
Flood insurance policies normally have two areas of coverage:
Building Coverage
Building coverage in flood insurance provides financial protection for the physical structure of your property, such as the foundation, flooring, walls, HVAC, wiring, built-in appliances, and more.
Contents Coverage
Contents coverage in flood insurance covers your personal belongings and possessions inside your home, like furniture, clothes, electronics, jewelry, curtains, tools, and more.
While flood insurance plans cover many aspects of your home, they rarely cover finished basements. Basements are the most flood-prone areas of homes due to their below-ground elevations. The NFIP won't cover most items in finished basements, from furniture to installations.
How to Get the Best Flood Insurance in Delaware
When looking for the best flood insurance in Delaware, you should consider coverage from private flood insurers before settling on the NFIP. Private flood insurance companies can offer higher coverage limits and more coverage options than NFIP policies.
The NFIP is limited due to its status s a government offering. Due to its size and objective of availability rather than making a profit, the program can't afford to cover all policyholders fully. The coverage limits for building and contents are limited to $250,000 and $100,000, respectively, and may not be sufficient for high-value properties.
NFIP policies offer standard coverage options and are generally designed to provide basic flood protection for as many people as possible.
Private Flood Insurance in Delaware
Private flood insurance companies in Delaware can offer more tailored coverage options to suit individual needs. They often provide higher coverage limits, often exceeding $1 million if needed, and additional benefits that go beyond what is offered by the NFIP. For example, private firms can offer loss of use coverage in their flood protection.
Loss of use coverage reimburses you if you must move out of your house after it suffers major flood damage. Your insurance company can cover lodging, food, gas, and more while you're displaced through this coverage.
Private flood insurance can be more expensive, especially for properties in high-risk flood zones. Since private insurers set their own rates, the cost can vary widely depending on the property's location and risk, which is why you should shop around to find cheap flood insurance in Delaware.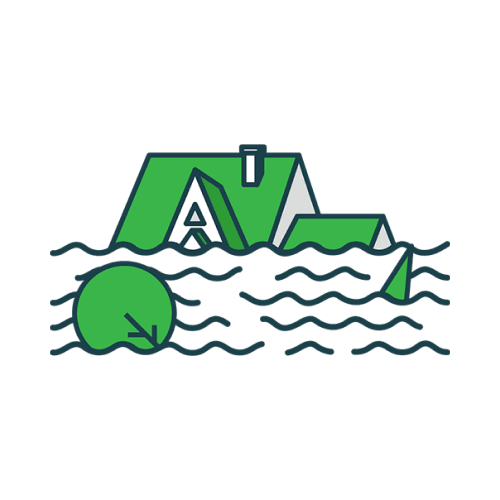 Stay Above Water With Flood Insurance
Do you want to pay for costly and common flood damage yourself or have an insurance policy pick up the tab?
Factors Affecting the Average Cost of Flood Insurance in Delaware
The average cost of flood insurance in Delaware is $1,497, but several factors influence how much you pay. Houses at greater risk of suffering flood damage pay higher flood insurance premiums. Factors that influence your property flood risk and premiums include:
Home location

Home elevation

Property features
The location of your property within a designated flood zone is a crucial factor. Properties in high-risk flood zones, known as Special Flood Hazard Areas (SFHAs), are more susceptible to flooding and may have higher insurance premiums than properties in moderate or low-risk zones. FEMA creates and determines flood maps for the country and updated many in relation to RR 2.0.
Houses closer to potential flooding sources (bodies of water) have higher premiums than homes further from water. Storm surge and coastal erosion, shoreline loss caused by storms or hurricanes, are more likely to affect houses close to lakes, rivers, and the Atlantic coast.
Flood Risk Factors in Delaware
County
Kent
New Castle
Sussex
Policies in Force
584
1,176
9,010
Storm Surge Risk
43.2%
33.1%
92.0%
Erosion Risk
11.3%
5.9%
26.8%
In addition to your location, your home's elevation also plays a role in your rates. Higher elevations may lead to lower premiums, as they are less likely to experience severe flooding. Properties located at lower elevations and in flood-prone areas generally have higher premiums due to their increased risk of flood damage.
The type of construction and materials used for your property also affect the insurance cost. Homes constructed to withstand flooding or that have flood-resistant materials may have lower premiums. For instance, masonry brick or concrete homes withstand floodwaters better and tend to have lower premiums than wooden frame houses.
Is Flood Insurance Required in Delaware?
While flood insurance isn't required by law in Delaware, homeowners with mortgages on properties in high-risk flood zones are generally required to carry flood insurance by their lenders.
Institutions accept private and NFIP coverage as long as the policy limits meet your home's value. If your home exceeds $250,000 in value, your NFIP policy must be the maximum of $250,000.
How to Get Flood Insurance Quotes in Delaware
Independent insurance agents, like our team at Clovered, make finding and securing the right insurance coverage easy. We'd be happy to help you get Delaware flood insurance quotes.
By using our online flood insurance quote form, you can easily compare rates from multiple flood insurance companies in your area. It only takes a few minutes to provide some basic information about yourself and your property. Our dedicated team will promptly respond with your flood insurance quotes in Delaware.
If you'd rather speak to a licensed agent over the phone for your quote, give us a call at 833-255-4117 during business hours. You can also email us at agent@clovered.com.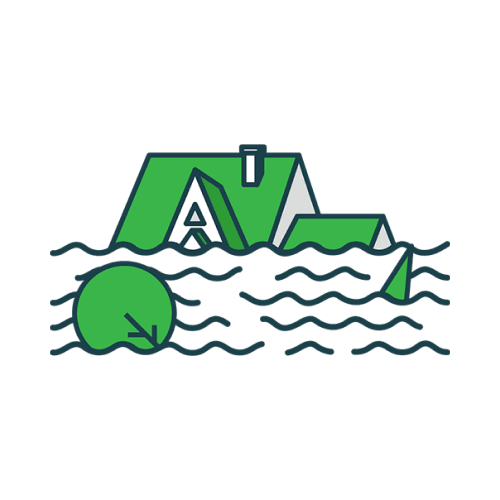 Stay Above Water With Flood Insurance
Do you want to pay for costly and common flood damage yourself or have an insurance policy pick up the tab?
The editorial content on Clovered's website is meant to be informational material and should not be considered legal advice.