Flood
/
Delaware Flood Insurance
Having a Delaware flood insurance policy could be the difference between having to pay to repair significant flood damages out of your own pocket or having the proper coverage in place so that you only pay a small deductible.
Contrary to popular belief, most flood damage due to natural disasters is not covered by the average home insurance policy. That means you'll need to pay a little extra to maintain adequate flood insurance in Delaware, especially if you live by the ocean or another body of water.
It takes 30 days for a Delaware flood insurance policy to go into effect after the purchase date, so it's best to get coverage well before the rainy or snowy season starts. We offer some of the best flood insurance around, so get a quote today!
What Flood Insurance in Delaware Covers
Delaware flood insurance typically covers perils like torrential rains, melting snow, and overflowing bodies of waters when they aren't contained and wind up seeping into your home or its foundation.
☘ Your home's physical structure and its foundation, meaning the essential pieces that make up your home, are covered by flood insurance. This can be anything from flooring and drywall to built-in cabinets and electrical wiring.
☘ Flood insurance can help pay to repair or replace your personal belongings that were damaged or destroyed directly by flooding. This coverage extends to things like TVs, computers and other electronics to furniture and clothes.
☘ When floodwaters enter a home, they tend to damage or destroy a handful of appliances in your home. Luckily, flood insurance can help replace many of those appliances, like your HVAC unit, water heater, dishwasher and much more.
How Much Is Flood Insurance in Delaware?
The average cost of flood insurance in Delaware is about $440 per year, a shockingly low price when you consider its coverage limits in comparison to your typical home insurance policy and that floods are the most common natural disaster on earth.
Do I Need Flood Insurance in Delaware?
Flood insurance in Delaware may be required by your mortgage lender if you still maintain a balance, but it isn't required by law. However, we highly recommend investing in a flood insurance policy to keep your home, belongings and family safe.
With Clovered, you can call one of our many licensed agents today at 833-255-4117 so they can pair you with a Delaware flood insurance policy that fits your needs — and your budget.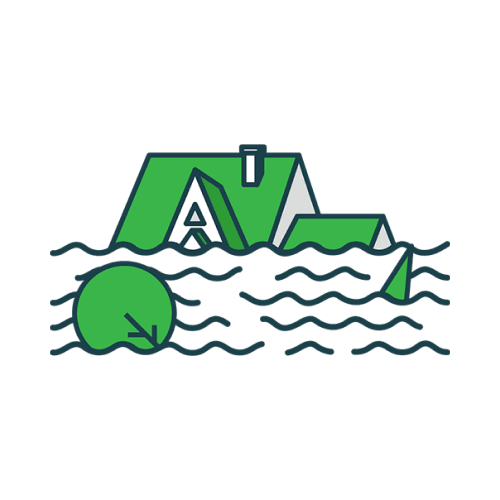 Stay Above Water With Flood Insurance
Do you want to pay for costly and common flood damage yourself or have an insurance policy pick up the tab?
The editorial content on Clovered's website is meant to be informational material and should not be considered legal advice.