Is Flood Insurance Required?
Flood
/
Is Flood Insurance Required?
Flood insurance is one of those extremely important coverages that isn't talked about frequently. We're here to get the conversations started, especially when you consider that floods are the most common natural disaster in the United States — and they aren't covered by home insurance.
While flood insurance isn't mandatory in every instance, some homeowners may be required to purchase it while others aren't technically required to secure a flood insurance policy.
But when you think about the major damage caused by a minor flood (upwards of $25,000 for just 1 inch of floodwater), everyone should seriously consider purchasing a flood insurance policy to protect their home, belongings and financial future.
Is Flood Insurance Required?
Yes and no. If you own your home outright and don't carry a mortgage, you are not required to maintain flood insurance on your property. Although, flood insurance is extremely important and we recommend every homeowner to carry a policy at all times. However, if you carry a mortgage on your home, flood insurance can be required by your lender.
When Is Flood Insurance Required?
The only time flood insurance is required is when you carry a mortgage on your home that's located within a low-to-moderate- or high-risk flood zone. For high-risk flood zones, your mortgage lender will require you to maintain an adequate flood insurance policy on the home until it's paid in full. For low-to-moderate-risk flood zones, your mortgage lender has the option to require you to maintain flood insurance until the home is paid in full.
The Federal Emergency Management Agency (FEMA) began issuing flood insurance policies in 1968 when homeowners began to be turned away by private companies. The result is the National Flood Insurance Program (NFIP), which aims to provide affordable policies to people living in risky flood zones.
However, the NFIP typically won't provide as much coverage as private insurance companies. Therefore those residing in those Special Flood Hazard Areas (SFHA) typically covered by the NFIP may not be covered to their home's full value.
How to Determine If You Need Flood Insurance
Determining if you need flood insurance is a lot easier than you may think. Let's break down the necessities for homeowners, condo owners, renters and landlords. We'll give you a hint, flood insurance is infinitely more important for a few categories.
If you own a home in an area that has even a remote chance of flooding (and most people in the U.S. do), you should purchase flood insurance. Like we said earlier, just 1 inch of floodwater in your home can cause $25,000 worth of damage to your home. You can prepare your home for a flood as much as you want, but it doesn't mean floodwaters won't affect your house.
Considering floods are caused by snowmelt, excessive rains, overflowing bodies of water and a multitude of other uncontrollable factors (and that they're the most common natural disaster in the U.S.), we strongly urge every homeowner to purchase flood insurance. Tipping the scale at about $50 per month, it's a low price to pay for quality peace of mind.
If your unit is located on floors one through four in your building, you should purchase flood insurance (especially if you live on the first or second floors). However, if your unit is above the fourth floor in your building, you probably don't need to purchase flood insurance. The likelihood of a flood rising to those heights is pretty rare.
Flood insurance is much cheaper for renters since they don't need coverage for the dwelling, which is the most costly portion of coverage on home and flood policies. Think about the belongings you own.
If a flood were to damage them, would you want to pay to replace all of them? The value of clothes, TVs, electronics and furniture can quickly add up, so it's better to get a flood insurance policy.
Similar to homeowners and condo owners, landlords need to protect their investment property. Every landlord who owns and rents out a house should strongly consider purchasing flood insurance. It comes with similar coverage as a flood policy for homeowners and adequately protects your investment.
Likewise, landlords who own and rent out condos should purchase flood insurance if their unit is located on the first through fourth floors. If the unit is above the fourth floor, you may not need flood insurance.
Flood Insurance Requirements
While many homeowners, condo owners and landlords will be required to maintain adequate flood insurance on their property if it's mortgaged, those who own the property outright will not have any legal obligations to have flood insurance.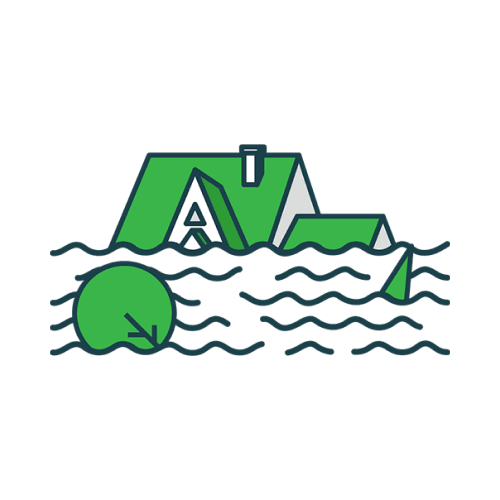 Stay Above Water With Flood Insurance
Do you want to pay for costly and common flood damage yourself or have an insurance policy pick up the tab?
The editorial content on Clovered's website is meant to be informational material and should not be considered legal advice.
Similar Articles