Flood
/
Georgia Flood Insurance
From the low-lying wetlands of Southern Georgia and the Atlantic Coastline spanning nearly the length of the state to its many lakes, rivers and ponds, The Peach State faces flooding dangers throughout much of its entirety. The only way to protect your home and your belongings from flood damage is to buy a Georgia flood insurance policy.
Home insurance won't cover flooding due to most natural causes, so homeowners, renters and landlords must enlist the help of a policy that has adequate flood insurance in Georgia coverages. These policies provide sufficient coverage to rebuild your entire home and replace all your personal belongings and appliances if you were struck by catastrophic flood damage.
Seeing that the cost of flood insurance in Georgia is under $700 per year, getting a policy is practically a steal when it comes to protecting your financial wellbeing. It also takes 30 days for flood insurance to kick in after you purchase a policy, so be sure to buy a policy as soon as possible.
What Flood Insurance Covers in Georgia
Flood insurance in Georgia covers a multitude of problems that directly relate to major-weather events, such as overflowing bodies of water, torrential rainfall and melting snow. While the latter isn't a huge problem in the state, mountainous regions in North Georgia are known to have a few feet of snow.
When that snow, or heavy rain, makes its way into rivers, streams, ponds and lakes, it causes them to overflow. If your home is nearby and gets flooded, it could be an expensive fix. In fact, just 1 inch of floodwaters causes an average of $25,000 worth of damages. You could be stuck paying for that yourself — or you could get a Georgia flood insurance policy to protect your home.
☘ Your home's physical structure and its foundation, meaning the essential pieces that make up your home, are covered by flood insurance. This can be anything from flooring and drywall to built-in cabinets and electrical wiring.
☘ Flood insurance can help pay to repair or replace your personal belongings that were damaged or destroyed directly by flooding. This coverage extends to things like TVs, computers and other electronics to furniture and clothes.
☘ When floodwaters enter a home, they tend to damage or destroy a handful of appliances in your home. Luckily, flood insurance can help replace many of those appliances, like your HVAC unit, water heater, dishwasher and much more.
What's the Average Cost of Flood Insurance in Georgia?
The average cost of flood insurance in Georgia is just under $700 per year. Compared to other home insurance policies for homeowners and landlords, flood insurance in Georgia is relatively affordable. Premium prices do fluctuate depending on how close you live to a body of water, how much coverage you need and a number of other factors.
Do I Need Flood Insurance in Georgia?
Although flood insurance isn't required by law in The Peach State, it's a good idea to maintain adequate coverage at all times. It goes above and beyond to help you in times of need. After all, you never know when a flood will occur until it's barreling down and already too late to stop it.
Keep in mind that flood insurance in Georgia can't go into effect within 30 days of you purchasing the policy. Lawmakers put this plan into place to deter people from purchasing insurance, filing a claim and canceling coverage immediately.
How to Get Flood Insurance in Georgia
Getting a Georgia flood insurance policy is simple when you choose Clovered. Simply give one of our many licensed agents a call and we can pair you with the perfect policy, meeting all your coverage needs at an affordable price you're willing to pay.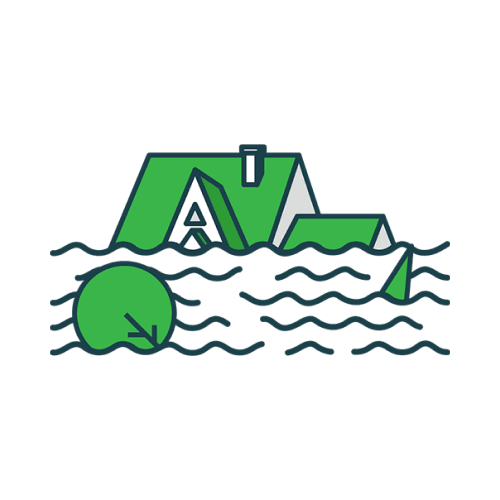 Stay Above Water With Flood Insurance
Do you want to pay for costly and common flood damage yourself or have an insurance policy pick up the tab?
The editorial content on Clovered's website is meant to be informational material and should not be considered legal advice.