Flood
/
Illinois Flood Insurance
The average cost of flood insurance in Illinois is a fraction of the price as home insurance — plus they cover two entirely different sets of perils. From the banks of the Mississippi River to the banks of Lake Michigan and the low-lying farmlands across the state, the Land of Lincoln is prone to substantial flooding.
The only thing that can save your property, belongings and financial wellbeing from said flooding is an Illinois flood insurance policy. It protects your property, belongings and, well, your future in many different instances of floods, including damage from overflowing bodies of water like lakes, rivers, ponds and streams.
Think that last year's snowstorm was bad? Homeowners and renters who were in the direct path of melting snow come spring had it much worse. They were hit twice: once by the blizzard and again by floodwaters from the excessive amount of snowmelt. The only thing that protected them was their flood insurance policy.
You don't want to wait too long to get your policy, either. Flood insurance policies take 30 days to go into effect after purchasing. Given that FEMA predicts most of the state's homes will incur one flood every 100 years, it's better to get a policy sooner rather than run your luck dry.
What Flood Insurance Covers in Illinois
☘ Your home's physical structure and its foundation, meaning the essential pieces that make up your home, are covered by flood insurance. This can be anything from flooring and drywall to built-in cabinets and electrical wiring.
☘ Flood insurance can help pay to repair or replace your personal belongings that were damaged or destroyed directly by flooding. This coverage extends to things like TVs, computers and other electronics to furniture and clothes.
☘ When floodwaters enter a home, they tend to damage or destroy a handful of appliances in your home. Luckily, flood insurance can help replace many of those appliances, like your HVAC unit, water heater, dishwasher and much more.
How Much Is Flood Insurance in Illinois?
The average cost of flood insurance in Illinois is about $600 per year — which is a whole lot less than it would cost to repair just 1 inch of floodwaters that get into your home. Illinois flood insurance works in conjunction with home insurance to protect perils such as overflowing rivers, lakes, ponds and other things.
Flood Insurance Illinois Requirements
Though flood insurance isn't required by law in the Land of Lincoln, owing money on your mortgage usually means your lender will require you to show proof of an active Illinois flood insurance policy. Even if you own your home outright, maintaining a policy indefinitely is a better choice.
Much of Illinois is within some portion of FEMA's 100-year floodplain, so the agency predicts nearly every home in the state will sustain flood damage at least once every 100 years. It's a good idea to take a look at a flood insurance rate map in Illinois to get a bigger picture of how susceptible your home actually is.
How to Get Flood Insurance in Illinois
Clovered partners with many of the state's top flood insurance companies to provide you with multiple options for coverage. The best way to get flood insurance in Illinois is to call one of our many friendly licensed agents so they can quickly add a policy to your home insurance!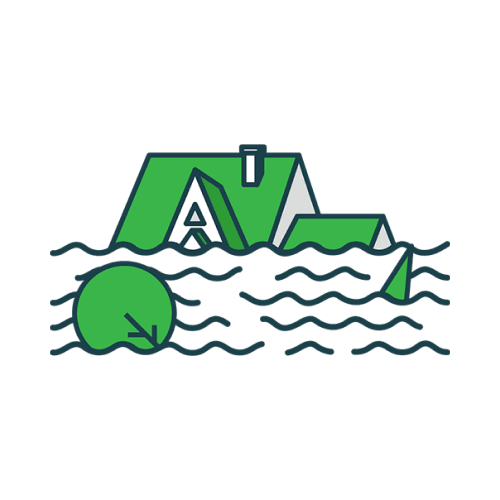 Stay Above Water With Flood Insurance
Do you want to pay for costly and common flood damage yourself or have an insurance policy pick up the tab?
The editorial content on Clovered's website is meant to be informational material and should not be considered legal advice.