Flood Insurance in Illinois
Flood
/
Flood Insurance in Illinois
Although you might not think you need it, getting flood insurance in Illinois would be wise. The unfortunate truth is flooding can happen to anyone, and most people don't realize it before it's too late.
Floods are the most common and costly natural disaster. According to the Federal Emergency Management Agency (FEMA), just one inch of water can cause $25,000 of damage.
This is thousands higher than the average home insurance claim. A flood insurance policy provides peace of mind. Keep reading to learn average rates and valuable tips to find the best flood insurance in Illinois.
How Much Is Flood Insurance in Illinois?
The average cost of flood insurance in Illinois is $1,039 annually. But, the average rate is increasing statewide to $1,697 per year under the National Flood Insurance Program's new rating methodology.
The NFIP has over 15,000 policies in force in Illinois. It's the largest flood insurance provider in the state and the country. The NFIP is unique because it's run by the government, making the flood insurance marketplace very different from other common insurance products like auto or home insurance.
Due to their size and reporting requirements, the numbers for average flood insurance rates in Illinois we'll be analyzing come from the NFIP.
The table below illustrates the average cost of flood insurance in Illinois by county before and after the NFIP's Risk Rating 2.0 takes effect. The NFIP overhauled the way it calculates risk to more accurately reflect a policyholder's flood risks. Unfortunately, average flood rates in Illinois increased as a result.
Average Cost of Flood Insurance in Illinois
County
Adams
Alexander
Bond
Boone
Brown
Bureau
Calhoun
Carroll
Cass
Champaign
Christian
Clark
Clay
Clinton
Coles
Cook
Crawford
Cumberland
De Witt
Dekalb
Douglas
Dupage
Edgar
Effingham
Fayette
Ford
Franklin
Fulton
Gallatin
Greene
Grundy
Hancock
Hardin
Henderson
Henry
Iroquois
Jackson
Jasper
Jefferson
Jersey
Jo Daviess
Johnson
Kane
Kankakee
Kendall
Knox
La Salle
Lake
Lawrence
Lee
Livingston
Logan
Macon
Macoupin
Madison
Marion
Marshall
Mason
Massac
Mcdonough
Mchenry
Mclean
Menard
Mercer
Monroe
Montgomery
Morgan
Moultrie
Ogle
Peoria
Perry
Piatt
Pike
Pulaski
Putnam
Randolph
Richland
Rock Island
Saline
Sangamon
Schuyler
Scott
Shelby
St. Clair
Stark
Stephenson
Tazewell
Union
Vermilion
Wabash
Warren
Washington
Wayne
White
Whiteside
Will
Williamson
Winnebago
Woodford
Policies in Force
56
80
204
51
204
30
57
17
80
134
16
204
9
26
43
4,595
16
204
14
106
83
1,331
8
8
204
204
32
23
22
9
115
29
204
24
83
204
86
204
11
46
39
204
473
239
71
25
170
1,396
13
67
140
30
67
10
660
8
19
42
60
204
602
89
7
11
102
204
58
25
107
227
8
17
91
13
6
94
204
488
41
140
8
13
204
613
8
38
93
26
44
204
19
204
8
36
115
807
93
390
84
Current Cost
$849
$833
$947
$1,037
$947
$958
$809
$808
$780
$988
$953
$947
$653
$1,065
$1,009
$1,063
$692
$947
$877
$1,201
$1,388
$886
$641
$664
$947
$947
$713
$816
$1,019
$1,047
$1,494
$938
$947
$978
$878
$1,092
$1,170
$947
$946
$1,482
$780
$947
$1,156
$1,683
$1,229
$955
$1,000
$1,070
$1,075
$998
$1,225
$891
$1,050
$636
$958
$931
$932
$861
$734
$947
$1,313
$1,053
$844
$994
$1,033
$947
$945
$882
$1,229
$931
$749
$1,023
$699
$660
$879
$763
$947
$857
$685
$999
$643
$1,182
$947
$814
$745
$898
$930
$964
$921
$947
$626
$947
$672
$881
$845
$1,110
$747
$1,376
$916
Risk-Based Cost
$1,869
$1,067
$1,415
$1,437
$1,415
$1,193
$2,635
$1,787
$1,711
$1,877
$1,639
$1,415
$852
$1,692
$1,893
$1,345
$1,835
$1,415
$1,300
$2,019
$2,265
$1,392
$1,444
$1,133
$1,415
$1,415
$885
$2,721
$2,035
$1,967
$3,151
$1,864
$1,415
$4,428
$1,417
$2,209
$1,737
$1,415
$983
$2,327
$2,047
$1,415
$1,752
$3,670
$2,635
$1,290
$2,922
$1,623
$1,900
$1,819
$2,481
$1,113
$2,353
$909
$1,603
$1,223
$2,116
$2,073
$1,224
$1,415
$2,478
$1,780
$2,053
$2,181
$1,442
$1,415
$1,853
$1,026
$2,365
$1,242
$1,536
$2,071
$4,933
$935
$1,264
$1,633
$1,415
$1,319
$885
$1,462
$2,606
$2,363
$1,415
$1,319
$1,353
$2,141
$1,877
$978
$1,408
$1,415
$1,127
$1,415
$1,010
$1,075
$1,231
$2,276
$1,027
$2,663
$1,426
RR 2.0 rates were in place for all new NFIP policies starting on October 1, 2021. RR 2.0 rates began to take effect for existing policyholders on April 1, 2022, but it may take some time to realize your total new risk-based premium, depending on the size of your increase because the NFIP capped rate increases at 18% per year.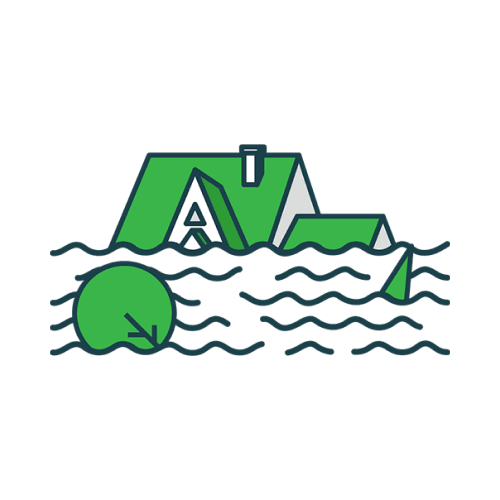 Stay Above Water With Flood Insurance
Do you want to pay for costly and common flood damage yourself or have an insurance policy pick up the tab?
Counties With Cheap Flood Insurance in Illinois
The average cost of flood insurance will increase in every county in Illinois under RR 2.0. Once the rates take full effect, the cheapest flood insurance in Illinois will be found in:
Macoupin ($909)

Pulaski ($935)

Union ($978)

Jefferson ($983)

Wayne ($1,010)

Moultrie ($1,026)

Williamson ($1,027)

Alexander ($1,067)

White ($1,075)
Although average rates are increasing, you may experience a lower premium than the listed average, depending on your home and location. You won't know your exact premium until you get a quote. And, if you're unhappy with your NFIP premium, you may be able to find an alternative on the private flood insurance market, which we'll go over in more detail later.
What Does Flood Insurance in Illinois Cover?
Flood insurance financially covers your home and personal property from flooding damage. Flood damage is usually classified as damage from rushing or rising waters originating from outside of your home, such as storm surges, mudslides, and coastal erosion.
Building Coverage
Building coverage in flood insurance financially protects the physical structure of your home, including the foundation, walls, electrical, plumbing, HVAC, and more. Basement coverage is limited in most policies, though.
Contents Coverage
Contents coverage in flood insurance covers your clothing, furniture, appliances, electronics, and other personal contents in your home.
How to Get the Best Flood Insurance in Illinois
While the NFIP is the most popular provider, the best flood insurance in Illinois for you may be from a private flood insurance company. Private flood insurers can offer higher limits and more coverage options than the NFIP can, although it isn't available for everyone.
The government is the primary flood insurance provider in the United States, responsible for between 75% to 90% of all policies, depending on your sources. FEMA administers the policies and runs the program at a loss in an attempt to keep flood insurance available and relatively affordable for everyone.
Yet, it's a tough task. The program is hundreds of millions in debt and will likely never bring in more than it spends paying out costly flood claims. And, to keep prices down, it can only offer building limits of up to $250,000 and contents limits of up to $100,000 for single-family homes.
The private flood insurance market is small but growing as technology advances. You should compare rates from a few private flood insurance companies in addition to the NFIP to see if you can save money.
Private Flood Insurance in Illinois
Depending on your provider, private flood insurance carriers can offer much higher building and coverage limits, reaching into the millions if necessary. Private companies can also provide replacement cost protection for your belongings and other additional coverage options like loss of use.
Loss of use coverage can cover living expenses you incur if you're forced to move out of your home after a devastating flood. While you must temporarily relocate, your insurer can cover your groceries, gas, lodging, and more.
NFIP policies typically have a 30-day waiting period before coverage activates. This timeframe is often much smaller with private companies.
However, private flood insurance isn't available everywhere. And, if your property is deemed too risky, you may be denied coverage. The NFIP doesn't reject anyone and won't non-renew you unless you stop paying your premiums. A private company can raise your premiums or decide to non-renew or cancel your policy yearly, depending on their business needs.
Flood Insurance Companies in Illinois
Some private flood insurance companies in Illinois include:
Neptune

TypTap

Lloyd's of London
There are more private carriers that may be available to you. Consider reaching out to an independent insurance agent who partners with these companies for more information.
Private companies can also sell NFIP policies. Since the NFIP is so large, it entered into a partnership with certain carriers that can sell and service policies, while the NFIP provides financial backing only. Note that when you get flood insurance from one of these companies, you won't get different rates when you shop around. Companies that sell NFIP policies through the Write Your Own (WYO) program still abide by NFIP rates and policy limits.
Flood insurance companies in Illinois that write NFIP policies are:
Allstate

American Commerce

American Family

American National

American Strategic

Assurant

Auto-Owners

Farmers

Hartford

Liberty Mutual

Privilege Underwriters

QBE Insurance

Selective Insurance

USAA

Wright National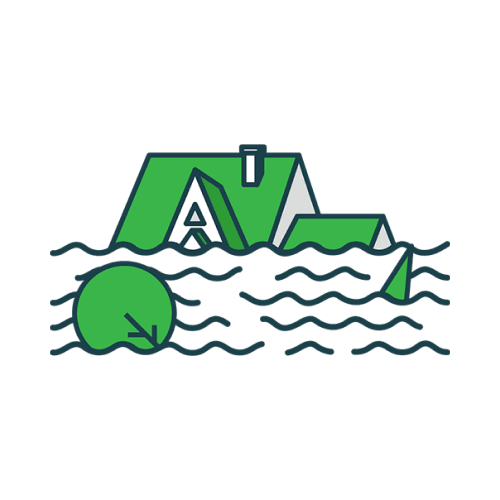 Stay Above Water With Flood Insurance
Do you want to pay for costly and common flood damage yourself or have an insurance policy pick up the tab?
Factors Determining the Cost of Flood Insurance in Illinois
Flood insurance rates in Illinois will be $1,697 per year under the NFIP's RR 2.0. Several variables shape your flood insurance premiums, such as your policy details, home location, and dwelling features.
Naturally, your insurance will cost more if you have higher policy limits. For example, a policy with $175,000 in building coverage and $50,000 in contents coverage generally costs less than a policy with a maximum of $250,000 and $100,00 in coverage. Bigger, more expensive homes need more coverage.
Additionally, specific construction features of your home play a role in your premiums. For instance, masonry homes tend to have lower flood premiums than frame homes since brick and concrete withstand floodwaters better.
Your home's location is also important. Homes near lakes or rivers in Illinois will likely have higher premiums than landlocked homes. Also, elevated homes tend to have lower premiums than homes at or below sea level.
FEMA maintains maps that determine flood risk for locations around the nation. Homes in high-risk flood zones, called Special Flood Hazard Areas (SFHAs), almost always have higher rates since they're the most prone to flooding. You can see if your home is in a flood zone with FEMA's Flood Map Service Center.
Is Flood Insurance Required in Illinois?
Lenders require homeowners in high-risk flood zones to maintain flood insurance for the life of their loan. This is because homeowners insurance doesn't cover flooding. If a flood destroyed your house, your lender could recover the money it invested in your property through your flood insurance policy.
How to Get a Flood Insurance Quote in Illinois
Now that you can better identify your coverage needs and budget, it's time to get quotes. At Clovered, we'd happily help you with your Illinois flood insurance quotes.
You can submit our online quote form with some information about yourself and your property, and one of our licensed agents will get back to you with your flood insurance options. As an independent insurance agency, we'll shop you with some of the best flood providers in the state and the NFIP.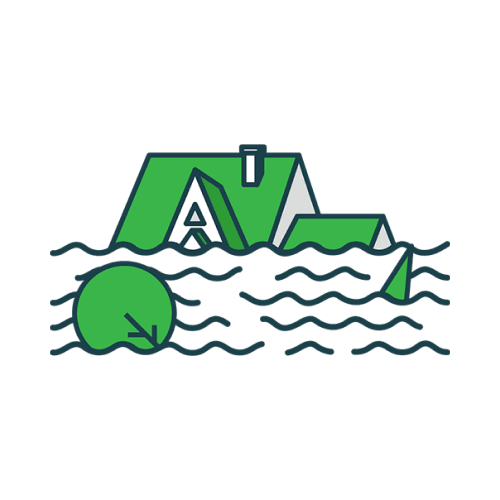 Stay Above Water With Flood Insurance
Do you want to pay for costly and common flood damage yourself or have an insurance policy pick up the tab?
The editorial content on Clovered's website is meant to be informational material and should not be considered legal advice.