Flood Insurance in New Jersey
Flood
/
Flood Insurance in New Jersey
Owning a home is an achievement in New Jersey, the nation's most densely populated state. All homeowners should protect the property they've worked so hard to attain. One threat often overlooked is floods, which homeowners insurance doesn't cover.
On top of standard flash flooding from thunderstorms, New Jersey is vulnerable to nor'easters, hurricanes, and tropical storms that can bring devastating storm surges with them.
You should consider purchasing a separate flood insurance policy. Below, we break down the information you need to know to find the best flood insurance in New Jersey.
How Much Is Flood Insurance in New Jersey?
The average cost of flood insurance in New Jersey is $2,129 annually under the National Flood Insurance Program. This rate is up from $1,081 before 2021 – a 96% increase -because the NFIP instituted a new rating methodology.
The NFIP is the largest flood insurer in the country, with over five million policies nationwide and 72,000 single-family home flood policies in New Jersey.
The NFIP isn't a traditional insurance company, though. The government created the program in 1968 with the goal of offering a subsidized flood insurance product to as many citizens as possible. The Federal Emergency Management Agency (FEMA) manages and administers the NFIP.
In 2021, the program overhauled how it calculates rates, ushering in a new methodology called Risk Rating 2.0 that the NFIP stats more accurately reflects and prices property's flooding risk. Unfortunately, RR 2.0 rates increased costs for most policyholders.
Due to its size and reporting requirements as a government program, the program's premiums are the best representation of average flood insurance costs in New Jersey. The table below depicts New Jersey flood insurance rates by county before and after RR 2.0 premiums take full effect.
Average Cost of Flood Insurance in New Jersey
County
Atlantic
Bergen
Burlington
Camden
Cape May
Cumberland
Denver
Essex
Gloucester
Hudson
Hunterdon
Mercer
Middlesex
Monmouth
Morris
Ocean
Passaic
Salem
Somerset
Sussex
Union
Warren
Policies in Force
7,722
3,209
1,697
908
10,393
259
675
1,862
554
559
460
1,004
1,779
9,406
1,652
23,868
1,460
1,062
1,137
134
2,439
239
Current Cost
$1,026
$1,365
$1,303
$994
$973
$925
$1,303
$1,134
$1,088
$1,621
$1,825
$1,332
$1,174
$962
$1,581
$964
$1,826
$1,017
$1,441
$952
$1,310
$1,864
Risk-Based Cost
$1,899
$2,167
$2,666
$1,471
$1,937
$1,244
$2,156
$1,682
$1,921
$2,680
$3,982
$2,814
$2,065
$1,900
$2,604
$2,266
$3,162
$1,395
$2,385
$2,324
$1,924
$3,569
RR 2.0 rates took effect for all new NFIP policies starting October 1, 2021. But, for existing policyholders, the program began phasing in the new premiums starting April 1, 2022. Rate increases are capped at 18% annually, so if your premiums are going up, it may take some time to realize your full RR 2.0 premium, which is why the current insurance cost is lower than the RR 2.0 insurance cost.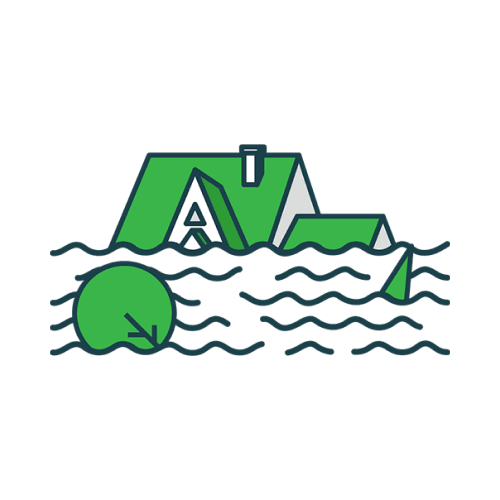 Stay Above Water With Flood Insurance
Do you want to pay for costly and common flood damage yourself or have an insurance policy pick up the tab?
Where Is the Cheapest Flood Insurance in New Jersey?
Under RR 2.0, the counties with the cheapest flood insurance in New Jersey annually are:
Cumberland ($1,244)

Salem ($1,395)

Burlington ($1,471)

Essex ($1,682)

Atlantic ($1,899)
Despite flood insurance in every county increasing on average, over 24,000 NFIP policyholders will actually see their premiums go down under RR 2.0.
However, over two-thirds of existing NFIP policyholders in New Jersey will see some sort of increase under RR 2.0 The most costly flood insurance in the state can be found in Passaic, Warren, and Hunterdon counties. All three areas have average flood premiums of over $3,000 per year.
What Does Flood Insurance in New Jersey Cover?
Flood insurance covers your home and belongings from flood damage. If your property is damaged in a flood, your insurer can reimburse you for damaged items. Commonly covered instances of flood damage include storm surges, mudslides, coastal erosion, and sometimes flash floods from thunderstorms.
Flood insurance policies are typically divided into two sections based on the coverage they provide:
Building Coverage
Building coverage in flood insurance covers your home's physical structure and components, such as the walls, flooring, ceilings, water heater, wiring, plumbing, and more.
Contents Coverage
Contents coverage in flood insurance financially protects your belongings, like electronics, furniture, clothing, tools, art, bicycles, and more.
NFIP policies typically have limited coverage for basements. Basements are especially prone to flood damage since they're below ground. NFIP plans won't cover furniture and most installations in finished basements.
How to Get the Best Flood Insurance in New Jersey
The NFIP is the most popular option for coverage, but you may want to consider a private flood insurance company policy when looking for the best flood insurance in New Jersey. Private companies have certain upsides for flood coverage, such as higher policy limits.
FEMA Flood Insurance in New Jersey
It's estimated that the NFIP writes about 90% of flood insurance policies nationwide. FEMA flood insurance in New Jersey is limited in coverage but has advantages in availability and affordability.
As a government offering backed by FEMA, the NFIP isn't trying to make a profit, which enables the program to 1) have a primary goal of providing coverage (not making money) and 2) run at a deficit every year.
The NFIP is available in most communities and may be the only option for policyholders in the most flood-prone areas of the state, where private flood insurance companies in New Jersey either charge very high premiums to counteract the heightened risk or may not offer coverage at all.
But, the NFIP is hundreds of millions in debt. Due to its financial constraints, NFIP policies have a maximum of $250,000 in building coverage and $100,000 in contents coverage for single-family homes. This means that if your house is worth more than $250,000 (or you have more than $100,000 worth of belongings), an NFIP policy won't be able to cover your home fully.
Private Flood Insurance in New Jersey
Private flood insurance companies in New Jersey can offer policies with higher coverage limits and may have competitive rates depending on your location.
Depending on the carrier, private flood insurers often offer plans with building coverage limits over $1 million and contents limits of a few hundred thousand or more if needed. Private companies can also provide additional protection not included in NFIP policies, like loss of use coverage.
Loss of use coverage can cover your living expenses if you're forced to move out of your home after a flood makes it unlivable. Your insurer can reimburse you for food, lodging, groceries, and more while you're displaced through loss of use coverage.
Private policies have other potential perks, like shorter waiting periods and fewer deductibles than NFIP policies. But, they may be more expensive, especially in flood-prone areas.
And, private companies can raise your rates more than the NFIP, and they can non-renew you if your home is deemed too risky at some point. FEMA flood insurance in New Jersey will never non-renew you unless you stop paying.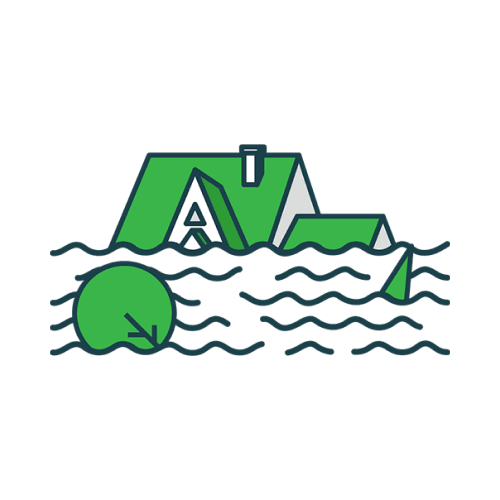 Stay Above Water With Flood Insurance
Do you want to pay for costly and common flood damage yourself or have an insurance policy pick up the tab?
Rate Factors of the Average Flood Insurance Cost in New Jersey
The average cost of flood insurance in New Jersey is $2,129 annually under RR 2.0, the 13th highest premium of all states. This is just an average, though. Several factors about your home influence rates and make your insurance cheaper or more costly, such as your location and elevation.
Location: insurers examine your distance from flooding sources. Naturally, homes closer to bodies of water have greater chances of flooding.
According to FEMA, the counties with the most properties at risk of storm surge damage in New Jersey are:
Cape May (99.6%)

Ocean (97.1%)

Salem (96%)

Monmouth (86%)

Hudson (84.8%)

Atlantic (75.1%)

Cumberland (65.6%)
FEMA also creates flood maps for the country and categorizes areas based on flood risk. Homes in high-risk flood zones, known as Special Flood Hazard Areas (SFHAs), have the greatest chances of experiencing severe flood damage and have higher insurance premiums.
Many SFHAs are near water bodies, but it's not always the case. You can be in a SFHA due to local drainage issues or historical flood data. You can see a New Jersey flood insurance rate map at FEMA's Flood Map Service Center.
Elevation: insurers note your home's elevation because homes built higher off the ground or above sea level are less likely to flood.
Home characteristics: features of your home are also important for flood insurance premiums. Construction materials, foundation type, and existing flood mitigation features can raise or lower rates. For example, masonry homes made of brick or concrete tend to withstand floodwaters better than wooden frame homes and often have lower flood insurance premiums as a result.
Is Flood Insurance Required in New Jersey?
Mortgage lenders want a way to protect their investment when they put money down on homes. It's standard practice for lenders to require homeowners in SFHAs to carry flood insurance for the life of the loan. If the house gets destroyed by a flood, the homeowner and lender can recoup their money through the flood insurance policy.
Banks accept NFIP and private coverage as long as the policy limits meet the home value (or reach the NFIP maximum, if needed).
How to Get a Flood Insurance Quote in New Jersey
You should compare flood insurance quotes in New Jersey from the NFIP and private companies when looking for coverage to make sure you're getting the best deal and coverage possible. As an independent insurance agency, we want to make this process easy for you.
At Clovered, we were built with one main goal: to simplify insurance. We want to help you find the coverage you need at the price you want. We provide some easy ways to get flood insurance quotes in New Jersey.
You can quote entirely online with our flood insurance form. It takes just a few minutes to fill out with information about yourself and your property, and you'll hear back from our team with your flood insurance options as soon as possible.
If you'd rather speak to a licensed agent over the phone for your quote, feel free to give us a call at 833-255-4117 during business hours. You can also email us at agent@clovered.com with any questions.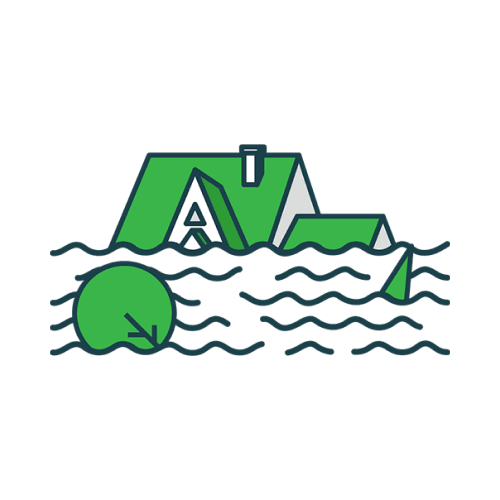 Stay Above Water With Flood Insurance
Do you want to pay for costly and common flood damage yourself or have an insurance policy pick up the tab?
The editorial content on Clovered's website is meant to be informational material and should not be considered legal advice.