New Jersey Flood Insurance
Flood
/
New Jersey Flood Insurance
New Jersey's juxtaposition in the Northeast United States leaves it in a very unique place. The state can be hit by hurricanes in the fall, freezing temperatures and massive snowstorms in the winter and torrential rainfall during the spring and summer seasons. With many streams and ponds scattered across the state, each peril could lead to flooding, which only a New Jersey flood insurance policy can protect you from.
It protects your home and belongings from covered perils like overflowing streams and ponds if they cause direct damage. Water is amazing when it's in the right place, like the ocean, pool or local swimming hole. But when it's displaced, water damage from flooding is one of the most costly natural disasters in the United States.
What Flood Insurance Covers in New Jersey
New Jersey flood insurance takes 30 days to kick in after purchasing, so you need to act quickly before it's too late. Also keep in mind that just 1 inch of floodwaters cause about $25,000 worth of damage and that most flood damage occurs in low- to medium-risk flood zones, as documented by FEMA. 
☘ Your home's physical structure and its foundation, meaning the essential pieces that make up your home, are covered by flood insurance. This can be anything from flooring and drywall to built-in cabinets and electrical wiring.
☘ Flood insurance can help pay to repair or replace your personal belongings that were damaged or destroyed directly by flooding. This coverage extends to things like TVs, computers and other electronics to furniture and clothes.
☘ When floodwaters enter a home, they tend to damage or destroy a handful of appliances in your home. Luckily, flood insurance can help replace many of those appliances, like your HVAC unit, water heater, dishwasher and much more.
How Much Is Flood Insurance in New Jersey?
Since much of New Jersey sits within some designation of FEMA's 100-year floodplain, which means nearly every home in the state is at risk of enduring flood damage at least once every 100 years, New Jersey flood insurance is above the national average at about $1,000 per year.
Flood Insurance New Jersey Requirements
Flood insurance in New Jersey isn't required by law, but it may be required by your lender. Since the premium prices are reasonable, every homeowner in the Garden State should always maintain an active flood insurance policy to protect their belongings.
How to Get Cheap Flood Insurance in New Jersey
Many companies compete for their chance to sell you a flood insurance policy, but at Clovered, we're on your side. We partner with many of the state's top insurers so we can compare policies to get the best one for you.
Just call one of our many licensed agents and we'll be happy to help you find a policy in minutes that meets your coverage needs and your wallet's needs.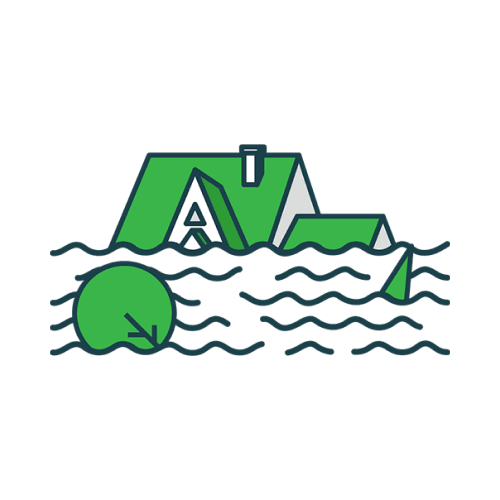 Stay Above Water With Flood Insurance
Do you want to pay for costly and common flood damage yourself or have an insurance policy pick up the tab?
The editorial content on Clovered's website is meant to be informational material and should not be considered legal advice.