Flood Insurance in Pennsylvania
Flood
/
Flood Insurance in Pennsylvania
Although the state has no Atlantic coastline and barely touches the Great Lakes, Pennsylvania has one of the highest flooding rates of any state in the nation.
Your home is at risk even if you're not in a federally designated flood zone, as the Federal Emergency Management Agency (FEMA) reports that over one in four flood insurance claims it receives come from properties outside high-risk areas.
Flood coverage provides valuable financial protection and peace of mind. If you're looking for the best flood insurance in Pennsylvania, read below for essential information about average rates and coverage options.
How Much Is Flood Insurance in Pennsylvania?
The average cost of flood insurance in Pennsylvania is $2,060 annually under the National Flood Insurance Program. Before 2021, the average rate was around $1,075, but the NFIP raised average premiums nationwide under Risk Rating 2.0.
The NFIP is the largest flood insurance provider in the country (and Pennsylvania), but it's not a traditional insurance company. The NFIP is a program offered by the federal government through FEMA. It aims to subsidize flood insurance nationwide for as many people as possible.
This is easier said than done. When the NFIP reworked its premium calculation method around 2021 to have insurance rates more accurately reflect flooding risk for all properties, the average cost of flood insurance in Pennsylvania increased in every county.
This overhaul is termed Risk Rating 2.0. The table below shows Pennsylvania flood insurance rates before and after RR 2.0 premiums take full effect.
Average Cost of Flood Insurance in Pennsylvania
County
Adams
Allegheny
Armstrong
Beaver
Bedford
Berks
Blair
Bradford
Brooke
Bucks
Butler
Cambria
Cameron
Carbon
Centre
Chester
Clarion
Clearfield
Clinton
Columbia
Crawford
Cumberland
Dauphin
Delaware
Elk
Erie
Fayette
Forest
Franklin
Fulton
Greene
Huntingdon
Indiana
Jefferson
Juniata
Lackawanna
Lancaster
Lawrence
Lebanon
Lehigh
Luzerne
Lycoming
Mckean
Mercer
Mifflin
Monroe
Montgomery
Montour
Northampton
Northumberland
Perry
Philadelphia
Pike
Potter
Schuylkill
Snyder
Somerset
Sullivan
Susquehanna
Tioga
Union
Venango
Warren
Washington
Wayne
Westmoreland
Wyoming
York
Policies in Force
196
1,142
151
131
145
494
339
242
310
1,951
235
225
55
94
163
706
23
122
189
322
148
389
780
840
60
224
176
13
155
16
46
129
126
95
41
537
528
53
192
267
2,355
459
103
43
97
261
1,747
68
397
238
125
969
140
70
388
125
185
38
118
115
155
72
120
303
114
501
129
443
Current Cost
$1,236
$999
$1,204
$1,069
$1,258
$1,132
$943
$1,096
$1,159
$1,147
$1,147
$850
$999
$1,127
$1,045
$1,088
$945
$883
$1,186
$1,274
$983
$1,291
$1,444
$974
$1,129
$814
$1,083
$1,075
$1,015
$917
$1,583
$881
$1,027
$875
$1,180
$1,057
$1,176
$1,300
$1,046
$1,206
$787
$1,240
$943
$786
$1,158
$1,099
$1,048
$916
$1,364
$1,117
$1,403
$910
$971
$1,032
$1,076
$1,208
$895
$1,249
$1,248
$1,210
$1,374
$1,028
$1,042
$1,355
$1,194
$1,028
$1,338
$1,239
Risk-Based Cost
$2,175
$1,810
$3,636
$2,386
$3,125
$1,803
$1,530
$2,957
$1,891
$2,147
$2,438
$1,392
$1,951
$1,650
$1,573
$1,624
$3,761
$1,556
$1,849
$2,083
$1,904
$2,388
$2,401
$1,321
$2,760
$1,816
$2,460
$4,505
$1,637
$2,188
$3,688
$1,778
$1,892
$2,260
$2,452
$3,252
$2,292
$3,102
$2,313
$1,832
$1,683
$2,745
$1,675
$1,953
$1,889
$1,976
$1,817
$1,326
$2,706
$1,747
$2,738
$1,368
$2,451
$2,184
$1,962
$1,991
$2,028
$3,426
$3,372
$2,528
$2,416
$2,663
$3,293
$2,701
$2,847
$2,126
$4,475
$2,282
The current cost of insurance doesn't reflect RR 2.0 rates yet because the NFIP is phasing the rates in gradually. RR 2.0 rates became effective for new NFIP policies on October 1, 2022. For existing policyholders, RR 2.0 rates have been weaned in since April 1, 2022, with the NFIP limiting annual rate hikes to 18%. Consequently, existing policyholders may need time to realize their RR 2.0 premium fully.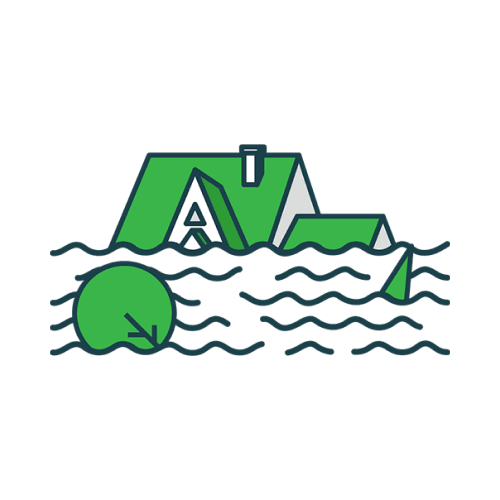 Stay Above Water With Flood Insurance
Do you want to pay for costly and common flood damage yourself or have an insurance policy pick up the tab?
Where Is the Cheapest Flood Insurance in Pennsylvania?
Under RR 2.0, the cheapest flood insurance in Pennsylvania per year will be found in the following counties:
Delaware ($1,321)

Montour ($1,326)

Philadelphia ($1,368)

Cambria ($1,392)

Blair ($1,530)

Clearfield ($1,556)

Centre ($1,573)
Over 10,000 policyholders will see a decrease under RR 2.0, with over 2,600 of those experiencing a reduction of over $100 per month. However, about 25,00 policyholders will incur increased Pennsylvania flood insurance rates under the new methodology.
What Does Flood Insurance in Pennsylvania Cover?
Flood insurance in Pennsylvania provides coverage for buildings and personal property against flood damage, which is typically caused by storm surges, mudslides, coastal erosion, and, in some cases, flash floods from heavy rain.
There are two main components of flood insurance coverage:
Building Coverage
Building coverage in flood insurance protects the physical structure of your home, including flooring, walls, plumbing, wiring, and more.
Contents Coverage
Contents coverage in flood insurance covers your belongings, such as clothing, furniture, electronics, tools, jewelry, and more.
Flood insurance companies often limit their coverage of basements, and NFIP policies may not fully cover belongings and features in finished basements.
How to Get the Best Flood Insurance in Pennsylvania
To find the best flood insurance in Pennsylvania, comparing rates and coverage options from both the NFIP and private flood insurance companies is recommended. Private insurers may offer higher policy limits and more flexible coverage options, such as additional protection for loss of use and replacement cost coverage for personal property.
The NFIP is the largest provider in the country, but you don't need to buy your plan directly from the government.
The NFIP partners with some private companies and allows them to write and service the policies in their names. The companies handle policy claims and servicing, while the federal government underwrites and funds the plans.
As a result of this agreement, called the Write Your Own Program, you can get NFIP flood insurance in Pennsylvania from private companies.
Flood Insurance Companies in Pennsylvania
Pennsylvania flood insurance companies that participate in the WYO program and offer NFIP coverage are:
Allstate

American National

American Strategic

Assurant

Auto Owners Insurance

Farm Family Casualty

Farmers

Hartford

Homesite

Liberty Mutual

National General

NFIP Direct Servicing Agent

NGM Insurance

Pacific Specialty Insurance

Philadelphia Contributionship

Philadelphia Indemnity

Pilgrim Insurance

Privilege Underwriters

QBE Insurance Corporation

Selective Ins. Co. Of America

Universal North America Insurance Company

USAA

Windsor Mt. Joy

Wright National.
Since all these providers offer NFIP coverage, you won't experience different rates or policy coverages if you shop around with these carriers. FEMA sets all NFIP parameters; these companies just distribute and service the plans.
Private Flood Insurance in Pennsylvania
You can get flood insurance separate from the government in Pennsylvania. There are private flood insurance companies that write their own policies, often with higher limits than NFIP plans. However, they may not be available or affordable everywhere in the state.
Since private companies have more flexibility on where and when they offer coverage, they can up alter their coverage options more freely. Many private flood insurance companies have plans with building limits over $1 million and contents limit of $500,000 or more if needed.
Private firms can also include additional coverage, such as loss of use, in their policies. Loss of use coverage can reimburse you for expenses you incur if you're ever forced to move out of your house after suffering significant damage from a flood. Loss of use coverage can cover groceries, gas, temporary lodging, and more.
You can shop around with private flood insurance companies in Pennsylvania to see who has the best rates and coverage options for your budget and needs. However, your options may be limited in some areas, especially high-risk flood zones, where it might not be profitable for a private company to write plans.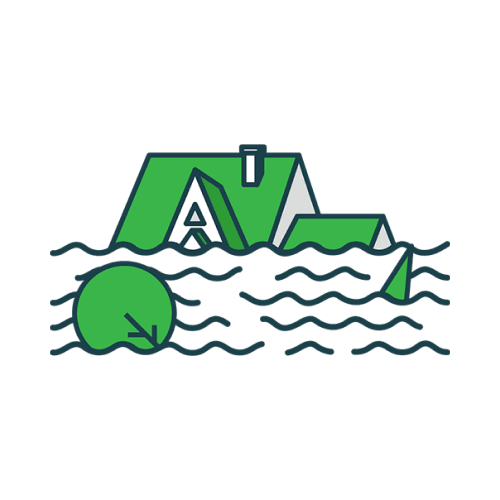 Stay Above Water With Flood Insurance
Do you want to pay for costly and common flood damage yourself or have an insurance policy pick up the tab?
Pennsylvania Flood Insurance Cost Factors
While the average cost of flood insurance in Pennsylvania is about$2,060 per year, you may pay more or less than this depending on a few factors about your home. Properties at greater risk of flooding have higher insurance rates.
Companies will examine your location when calculating rates. Homes in FEMA-designated high-risk flood zones generally have higher premiums. FEMA categorizes flood zones based on the level of flood risk. Properties in high-risk flood zones, called Special Flood Hazard Areas, typically have higher premiums than properties in moderate- or low-risk zones. You ca
On flood maps, SFHAs begin with A or V and are often found near bodies of water. Philadelphia, Bucks, and Delaware counties have properties susceptible to storm surges largely due to Delaware and other nearby rivers around the capital city, increasing rates for people in these areas. You can check your flood zone with a Pennsylvania flood insurance rate map on FEMA's website.
Companies also note your home's elevation. Homes built at higher elevations, such as on elevated foundations, may qualify for lower premiums as they are less susceptible to flood damage. Houses higher relative to nearby water sources can have lower premiums.
The type of construction and the materials used in building the property can impact Pennsylvania flood insurance rates, too. Properties with flood-resistant building materials and mitigation measures, such as flood vents and sump pumps, may be eligible for lower premiums.
Is Flood Insurance Required in Pennsylvania?
While flood insurance is generally not required by law in Pennsylvania, homeowners with mortgages on homes in high-risk flood zones will likely be required to purchase flood insurance.
Lenders normally accept NFIP and private flood insurance coverage as long as the policy limits meet your home's value. If you have an NFIP policy, this applies up until the maximum of $250,000, if necessary.
How to Get a Flood Insurance Quote in Pennsylvania
Comparing flood insurance quotes in Pennsylvania is crucial to finding the best coverage and saving on premiums. Utilizing online tools like Clovered's flood insurance quote form or speaking with a licensed agent can help you explore your options and make an informed decision.
You can be on your way to comparing rates quickly and easily online by submitting our flood insurance quote form. Once you answer some basic questions about yourself and your property, our team will get back to you as soon as possible with your flood insurance quotes in Pennsylvania.
You can also chat with one of our licensed agents over the phone for your quote. Call us at 833-255-4117 during business hours, or email us at agent@clovered.com. We'd be happy to help you find the right coverage.
Getting Flood Insurance in Philadelphia
Flood insurance in Philadelphia costs about $1,368 annually under the NFIP. Flooding from rivers, groundwaters, excessive runoff, and basement backups are all possible in Philadelphia, so don't overlook the importance of the right insurance coverage.
Most properties in Eastwick are in a high-risk flood zone. Additionally, parts of South Philly, Port Richmond, Northern Liberties, and Germantown are prone to surface flooding and sewer backups.
Properties lining the Delaware and Schuylkill Rivers are also likely in SFHAs, as are properties along Byberry, Cobbs, Darby, Indian, Pennypack, Poquessing, Tacony-Frankford, Wissahickon and Wooden Bridge Run creeks.
You should consider flood insurance in Philadelphia sooner rather than later. The city reports that climate change may also make flooding consequences worse. Compare quotes from private companies and the NFIP to find a good deal and save money on Philadelphia's best flood insurance.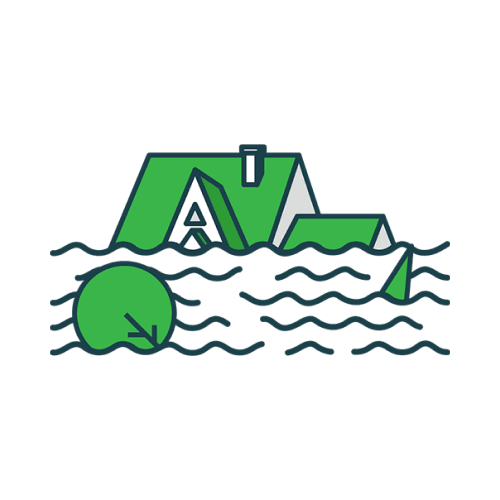 Stay Above Water With Flood Insurance
Do you want to pay for costly and common flood damage yourself or have an insurance policy pick up the tab?
The editorial content on Clovered's website is meant to be informational material and should not be considered legal advice.