Flood
/
Virginia Flood Insurance
From its amazing ocean shores to its dazzling riverside streams, lakes and ponds, Virginia is teeming with water inside its borders. But all that water, mixed with hurricane season and heavy rains in the fall, spring and summer, can cause some serious strains on the confines of all that natural water. Each year it leads to flooding in the state, which can only be protected by Virginia flood insurance.
Flood insurance in Virginia covers the structure of your property as well as the belongings you keep inside your home and on your property. With Clovered, protecting your financial wellbeing from floods has never been easier.
What Does Flood Insurance in Virginia Cover?
From heavy snowfall in the winters to hurricane and rainy season, Virginia faces a lot of risk from flood damage. Contrary to popular belief, that flooding isn't covered by a standard home insurance policy. You'll need a Virginia flood insurance policy in place to protect your things.
☘ Your home's physical structure and its foundation, meaning the essential pieces that make up your home, are covered by flood insurance. This can be anything from flooring and drywall to built-in cabinets and electrical wiring.
☘ Flood insurance can help pay to repair or replace your personal belongings that were damaged or destroyed directly by flooding. This coverage extends to things like TVs, computers and other electronics to furniture and clothes.
☘ When floodwaters enter a home, they tend to damage or destroy a handful of appliances in your home. Luckily, flood insurance can help replace many of those appliances, like your HVAC unit, water heater, dishwasher and much more.
What's the Average Cost of Flood Insurance in Virginia?
Despite the state's risk of flooding, the average cost of flood insurance in Virginia is just under $750 per year. While that's below the national average, your price will depend on a multitude of factors, including the value of your home, amount of coverage you need and prior claims history.
How to Get Virginia Flood Insurance
With Clovered, you can call one of our many licensed agents today at 833-255-4117 so they can pair you with a Virginia flood insurance policy that fits your needs — and your budget.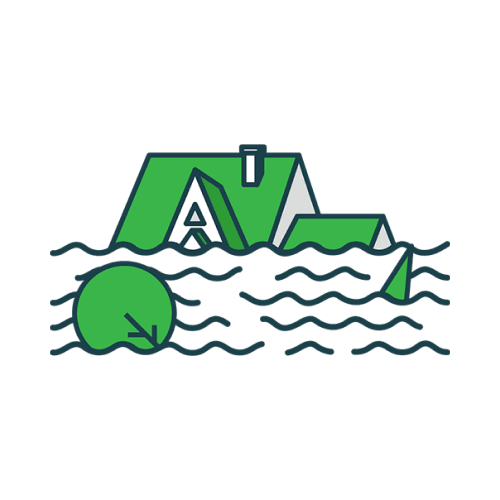 Stay Above Water With Flood Insurance
Do you want to pay for costly and common flood damage yourself or have an insurance policy pick up the tab?
The editorial content on Clovered's website is meant to be informational material and should not be considered legal advice.