Flood Insurance in Virginia
Flood
/
Flood Insurance in Virginia
Virginia's location on the Atlantic coast means much of the eastern part of the state is vulnerable to flooding from hurricanes, tropical storms, and coastal erosion. But, even inland regions can flood. Anywhere it rains in Virginia, it can also flood.
Homeowners insurance never covers flood damage, and the state estimates that only 3% of Virginians have flood insurance. Without flood insurance, you face the potential of covering costly flood damage out of pocket.
Keep reading to learn the important details of flood insurance in Virginia so you can protect your property, including average rates, cost factors, and lender requirements.
How Much Is Flood Insurance in Virginia?
The average cost of flood insurance in Virginia is $1,077 annually under the National Flood Insurance Program, up from $743 before 2021. Although the NFIP's Risk Rating 2.0 raised rates statewide by 44% on average, Virginia remains among the cheapest states for flood insurance in the country.
The NFIP is the largest flood insurer in the country, but it's not a typical insurance company. The NFIP is a government program administered by the Federal Emergency Management Agency (FEMA).
The NFIP has over five million policies nationwide. Starting in 2021, the program recalculated how it calculates premiums to reflect the flooding risks of covered properties better. Unfortunately, floods are very common and getting more costly to cover, which resulted in average flood premiums increasing nationwide.
The table below shows flood insurance rates in Virginia by county before and after RR 2.0 premiums take effect.
Average Cost of Flood Insurance in Virginia
County
Accomack
Albemarle
Alexandria City
Alleghany
Amelia
Amherst
Appomattox
Arlington
Augusta
Bath
Bedford City
Bedford
Bland
Botetourt
Bristol City
Brunswick
Buchanan
Buckingham
Buena Vista City
Campbell
Caroline
Carroll
Charles City
Charlotte
Charlottesville City
Chesapeake City
Chesterfield
Clarke
Colonial Heights City
Covington City
Craig
Culpeper
Cumberland
Danville City
Dickenson
Dinwiddie
Emporia City
Essex
Fairfax City
Fairfax
Falls Church City
Fauquier
Floyd
Fluvanna
Franklin City
Franklin
Frederick
Fredericksburg City
Giles
Gloucester
Goochland
Grayson
Greene
Greensville
Halifax
Hampton City
Hanover
Harrisonburg City
Henrico
Henry
Highland
Hopewell City
Hudson
Isle Of Wight
James City
King And Queen
King George
King William
Lancaster
Lee
Lexington City
Loudoun
Louisa
Lynchburg City
Madison
Manassas City
Manassas Park City
Martinsville City
Mathews
Mecklenburg
Middlesex
Montgomery
Nelson
New Kent
Newport News City
Norfolk City
Northampton
Northumberland
Norton City
Nottoway
Orange
Page
Patrick
Petersburg City
Pittsylvania
Poquoson City
Portsmouth City
Powhatan
Prince Edward
Prince George
Prince William
Pulaski
Radford City
Rappahannock
Richmond City
Richmond
Roanoke City
Roanoke
Rockbridge
Rockingham
Russell
Salem City
Scott
Shenandoah
Smyth
Southampton
Spotsylvania
Stafford
Staunton City
Suffolk City
Surry
Sussex
Tazewell
Virginia Beach
Warren
Washington
Waynesboro City
Westmoreland
Williamsburg City
Winchester City
Wise
Wythe
York
Policies in Force
1,891
143
676
93
6
26
6
463
143
13
521
62
28
96
7
7
79
521
16
23
56
14
16
521
58
5,028
548
33
46
49
29
47
8
30
10
20
17
145
89
2,900
120
101
7
31
14
61
77
63
58
916
36
13
49
7
6
5,775
146
28
531
26
13
19
521
242
657
30
41
54
348
19
9
500
521
35
24
42
6
521
772
23
234
94
53
77
1,159
5,333
276
443
521
521
65
86
8
37
15
2,032
2,008
30
11
54
764
42
8
19
232
45
153
200
64
218
34
118
29
83
53
99
189
385
45
659
27
29
100
11,463
107
62
60
281
32
41
76
39
2,053
Current Cost
$796
$823
$802
$1,074
$1,063
$1,687
$720
$555
$1,077
$1,256
$838
$915
$1,223
$1,085
$621
$734
$1,005
$838
$662
$624
$649
$869
$733
$838
$884
$654
$803
$1,082
$1,086
$1,326
$1,074
$682
$913
$870
$1,684
$675
$913
$1,097
$636
$626
$731
$768
$1,912
$614
$655
$948
$797
$751
$1,372
$878
$740
$1,075
$798
$848
$1,221
$743
$631
$772
$702
$1,109
$1,191
$698
$838
$618
$670
$943
$697
$1,447
$939
$953
$733
$716
$838
$928
$1,030
$711
$596
$838
$1,045
$810
$900
$1,131
$1,004
$948
$548
$671
$701
$883
$838
$838
$624
$1,282
$1,351
$629
$713
$979
$613
$586
$862
$647
$749
$1,170
$581
$686
$595
$989
$907
$1,117
$1,171
$1,295
$1,053
$1,404
$1,060
$1,530
$868
$824
$684
$682
$766
$548
$783
$981
$1,027
$671
$1,417
$909
$1,517
$1,026
$578
$700
$1,169
$1,007
$947
Risk-Based Cost
$1,383
$1,308
$1,306
$3,325
$3,005
$3,530
$1,220
$675
$2,416
$2,798
$1,153
$1,793
$1,853
$1,868
$898
$1,564
$2,099
$1,153
$2,574
$674
$759
$2,157
$1,072
$1,153
$1,317
$720
$1,258
$1,728
$1,401
$2,749
$2,975
$1,615
$1,138
$1,114
$2,575
$1,153
$1,186
$1,669
$736
$790
$826
$1,567
$3,131
$713
$797
$2,446
$1,282
$1,020
$2,644
$1,370
$1,292
$1,863
$2,592
$2,284
$2,045
$872
$882
$895
$926
$2,407
$2,609
$863
$1,153
$755
$862
$2,022
$1,023
$2,586
$1,789
$1,621
$1,540
$979
$1,153
$1,629
$3,173
$969
$1,120
$1,153
$1,742
$1,631
$1,557
$2,045
$2,710
$2,003
$590
$761
$1,126
$1,987
$1,153
$1,153
$720
$2,987
$4,114
$722
$1,119
$1,718
$644
$797
$936
$814
$1,059
$2,928
$1,010
$3,250
$723
$1,751
$1,090
$1,757
$3,413
$3,012
$2,158
$1,895
$2,848
$3,832
$1,425
$1,309
$1,030
$1,025
$1,030
$599
$1,124
$1,231
$2,084
$947
$2,351
$2,127
$1,977
$1,905
$654
$819
$2,296
$1,532
$1,918
RR 2.0 rates became effective for all new NFIP policies starting October 1, 2021. Existing policyholders have been experiencing RR 2.0 rates gradually since April 1, 2022. Since most people are seeing their premiums rise, FEMA capped rate increases at 18% per year. So, depending on the increase size, it might take some time for current policyholders to realize their new RR 2.0 premium fully.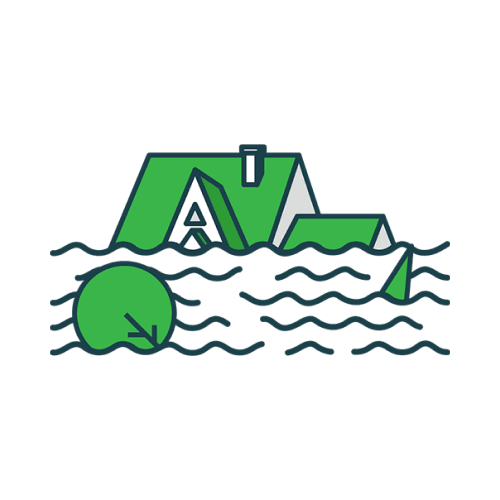 Stay Above Water With Flood Insurance
Do you want to pay for costly and common flood damage yourself or have an insurance policy pick up the tab?
Where Is the Cheapest Flood Insurance in Virginia?
The cheapest flood insurance in Virginia per year under RR 2.0 can be found in:
Newport News ($590)

Suffolk ($599)

Portsmouth ($644)

Williamsburg ($654)

Campbell ($674)

Arlington ($675)
The average cost of flood insurance increased in every county under RR 2.0. But, that doesn't mean some people won't see their premiums drop. Over 32,000 single-family house flood policyholders will see premiums decrease. Over 4,900 people's rates will lower by over $100 every month. There are only five states with cheaper average flood insurance than Virginia.
Yet, over 47,000 people will see their premiums go up in the state. The cost of flood insurance in Virginia is influenced by many factors that we'll break down later.
What Does Flood Insurance in Virginia Cover?
Flood insurance in Virginia is designed to provide financial protection against damage caused by flooding events. Common flooding events include storm surges, coastal erosion, mudslides, and flash floods from heavy rain.
If floodwaters from these instances damage your home, your insurer can reimburse you for the damage. The coverage flood insurance policies provide are often broadly categorized into building and contents coverage.
Building Coverage
Building coverage in flood insurance guards the physical structure and components of your home, such as the foundation, walls, flooring, water heater, wiring, plumbing, and more.
Contents Coverage
Contents coverage in flood insurance covers personal belongings, such as furniture, electronics, clothing, jewelry, tools, and more.
Note that under the NFIP, coverage for basements is limited. Plans typically include coverage for essential equipment like the HVAC, electrical, major appliances, and plumbing systems located in the basement. However, personal belongings and any improvements made to finished basements, from furniture to flooring, are usually excluded.
How to Get the Best Flood Insurance in Virginia
We recommend checking plans from private flood insurance companies in addition to the NFIP when looking for the best flood insurance in Virginia. Private carriers can offer higher coverage limits, although their rates may not always be competitive.
The NFIP can't afford to provide full coverage to all policyholders. The program isn't designed to run like a standard company. With the goal of providing coverage to as many people as possible ad not making a profit, the program is run at a loss annually and has racked up hundreds of millions in debt.
As a result, NFIP policies have fixed limits of $250,000 for building coverage and $100,000 for contents coverage for all single-family homes, leaving houses valued over $250,000 inadequately insured.
Private flood insurance companies have the potential to offer higher policy limits and more extensive coverage options compared to NFIP policies, though their availability and affordability might not be consistent throughout the state.
Private insurers have greater flexibility since they can control their risk exposure and decide which properties they can afford to cover. This flexibility often translates to higher building limits. Depending on the carrier, private flood insurance policies can offer building limits of $1 million or more, and contents coverage of well over $100,000. They can also supply additional coverages and more policy add-ons if needed.
It can't hurt to shop around from private flood companies in your area to see who has the best rates and coverage options. You might find a good deal with better protection.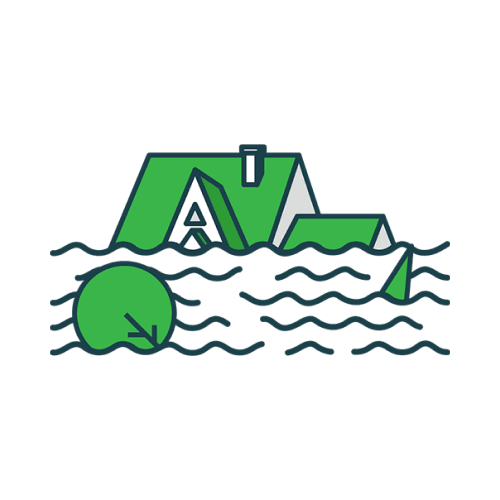 Stay Above Water With Flood Insurance
Do you want to pay for costly and common flood damage yourself or have an insurance policy pick up the tab?
Factors Affecting Flood Insurance Cost in Virginia
Flood insurance from the NFIP in Virginia is rising from $743 on average to $1,077 annually, but many factors affect your rates. Insurance companies use these factors, such as location and elevation, to assess the risk associated with a property and determine the premium amount.
Location: The location of your property within a designated flood zone is a crucial factor. Properties in high-risk flood zones, such as Special Flood Hazard Areas (SFHAs), are more susceptible to flooding and may have higher insurance premiums compared to properties in moderate or low-risk zones.
Counties with the most policyholders at risk of storm surge damage in the state, according to FEMA, are:
Mathews (99.7%)

Accomack (98.1%)

Northumberland (97.5%)

Essex (97.2%)

King and Queen (96.7%)

Middlesex (94.9%)

Lancaster (94.8%)

Gloucester (94.7%)
Virginia also has several independent cities not in counties that have significant flooding risk from storm surges, such as Hampton, Poquoson, Richmond, Portsmouth, Norfolk, Virginia Beach, and Chesapeake.
Elevation: Higher elevations may lead to lower premiums, as they are less likely to experience severe flooding.
Home characteristics: The type of construction and materials used for your property can affect the flood insurance cost in Virginia. Buildings that are constructed to withstand flooding or have flood-resistant materials may have lower premiums. Older buildings may have higher premiums since they might not meet current building codes or have the latest flood-resistant features.
Policy details: The amount of coverage you choose for your property and its contents will impact the premium. Higher coverage limits will result in higher premiums. The deductible is the amount you agree to pay out of pocket before your insurance coverage kicks in. Higher deductibles may lead to lower premiums, while lower deductibles may result in higher premiums.
Is Flood Insurance Required in Virginia?
While flood insurance isn't mandated by law in Virginia, mortgage lenders can require homeowners in certain areas to carry flood insurance as part of the loan agreement.
Mortgage lenders want to make sure their investment is protected in some way when they put money down on a house. They don't want to risk losing it all in a catastrophe.
Should You Get Flood Insurance in Virginia?
It's wise for all homeowners to consider flood insurance in Virginia Beach, and people in low or moderate-risk flood zones may have notably lower premiums, making flood insurance a cost-effective investment.
Some people try to purchase flood insurance when they find out a hurricane or tropical storm is on the way so they have protection. You should know that NFIP policies have a 30-day waiting period from when you buy to when coverage becomes active. Some private companies may have shorter waiting periods, but they may also temporarily stop writing new policies in the run-up to a storm.
So, you should be proactive and get flood insurance in Virginia well ahead of when you think you might need it. You shouldn't rely on FEMA disaster assistance after a flood, either. Many forms of FEMA aid take time to distribute, and you have to pay back loans and grants they give in many cases. Flood insurance is a more straightforward and comprehensive protection plan.
How to Get Flood Insurance Quotes in Virginia
You should compare quotes from private companies and the NFIP when getting flood insurance quotes in Virginia. Plans from private companies can have different rates and coverage options, so you should compare several to see which company has the best deal.
Our team at Clovered can help you get flood insurance quotes in Virginia. As an independent insurance agency, we partner with some of the top flood insurance companies in Virginia. You can compare rates from providers in your area online by filling out our flood insurance quote form.
It takes only a few minutes to fill out with some information about yourself and your property, and our agents will respond as soon as possible with your coverage options.
If you'd rather quote with a licensed agent over the phone, call us at 833-255-4117 during business hours. You can also send us an email at agent@clovered.com requesting more information.
What to Know About Flood Insurance in Virginia Beach
Virginia Beach is the most populous city in Virginia and the Mid-Atlantic. Flood insurance rates in Virginia Beach are about $947 annually under the NFIP, over $100 below the state average of $1,077 per year.
The program reports that nearly 97% of policyholders in Virginia Beach are at risk of damage from storm surges, and over 17% are at risk of coastal erosion flood damage. This is related to the city's location on the Atlantic coast, with many waterfront and waterfront-adjacent properties.
Virginia Beach's relatively affordable flood premiums may be partly due to the city's status within FEMA's Community Rating System. The CRS is a classification system where FEMA rewards cities that take measures to mitigate and prevent flood damage through local policy and community awareness.
The system rates cities from 1 to 10 and gives discounts on flood insurance premiums, with one being the best and having the highest discount.
Virginia Beach's floodplain management efforts have earned the city a Class 7 CRS rating, which qualifies policyholders in Special Flood Hazard Areas (SFHAs) for a 15% premium discount. Residents in low or moderate-risk zones can receive a 5% annual premium discount from the NFIP.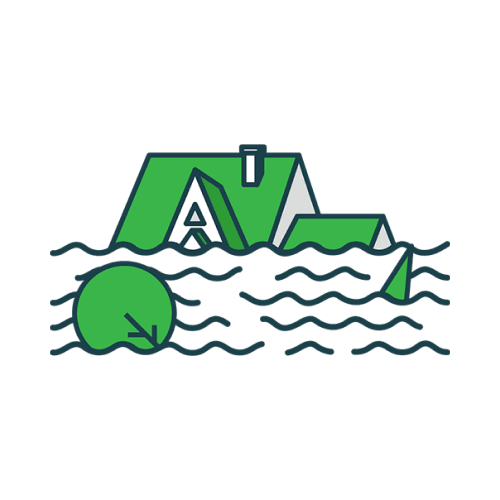 Stay Above Water With Flood Insurance
Do you want to pay for costly and common flood damage yourself or have an insurance policy pick up the tab?
The editorial content on Clovered's website is meant to be informational material and should not be considered legal advice.