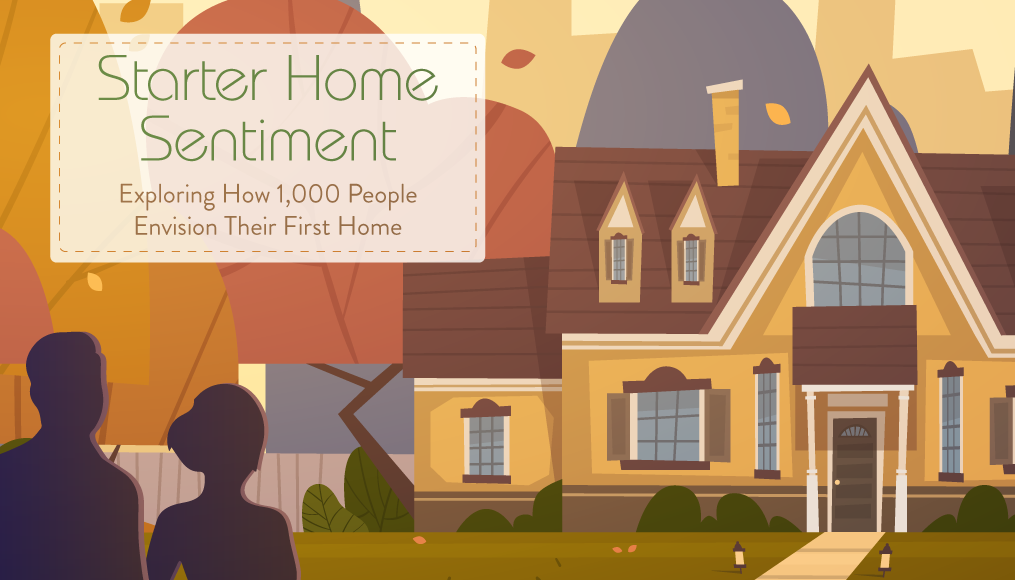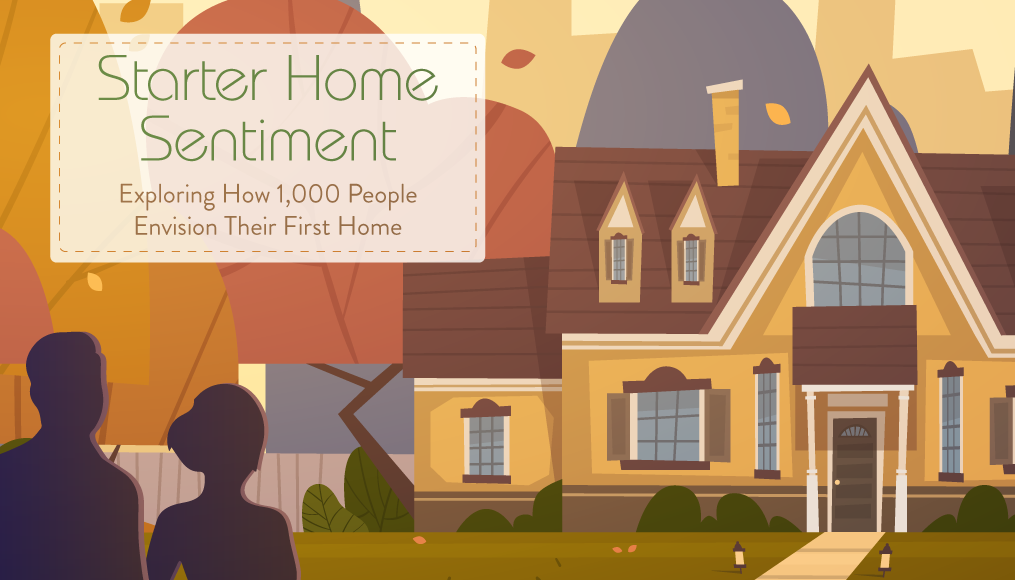 Starter Home Sentiment: Exploring How People Envision 1st Home
By: Sean McCahill
11 min read
It's a commonly touted statistic that millennials aren't buying houses. While there's a certain level of truth to that sentiment, it doesn't tell the whole story.
Compared to their parents and grandparents at their age, fewer millennials are homeowners, but millions of younger people have invested in their own property – and they might not be the starter houses you'd expect.
Despite living with their parents longer than any generation before them, putting off marriage for an increased time span, and sometimes struggling to find their dream jobs, millennials are going from perennial renters to owners of what might be their forever homes.
So how is the idea of a starter home changing, and what are first-time homebuyers looking for in a house? We surveyed over 1,000 people about their first homes, which features and amenities mattered most, and how market prices impacted homeownership. Keep reading to see what we learned.
Starting Off with a Bang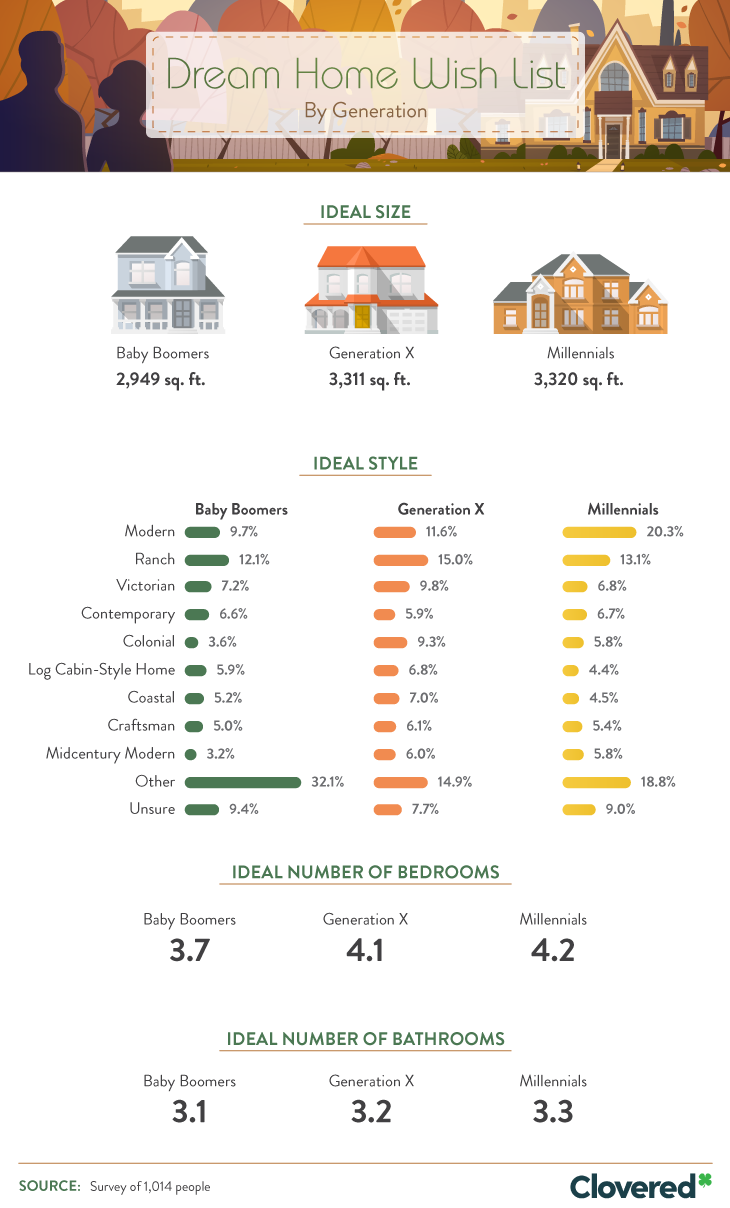 Pulling the trigger on your first home can be a nerve-wracking experience. Considering it's the biggest purchase most people will make in their lifetimes, it's OK to be a little worried about the home-buying process. Most experts say it's important not to let emotion rule your decision on the quest for the perfect place.
Still, that doesn't mean you shouldn't go in without a few expectations. When asked about their ideal starter homes, millennials had higher expectations than older (and potentially more seasoned) homeowners.
Compared to baby boomers who opted for a house with just 1,400 square feet and preferred a ranch-style home, millennials wanted a 1,700-square-foot dream space with more modern designs. The average size of a newly built home in 2016 was 2,687 square feet compared to roughly 2,000 square feet in 1990.
Putting Down Roots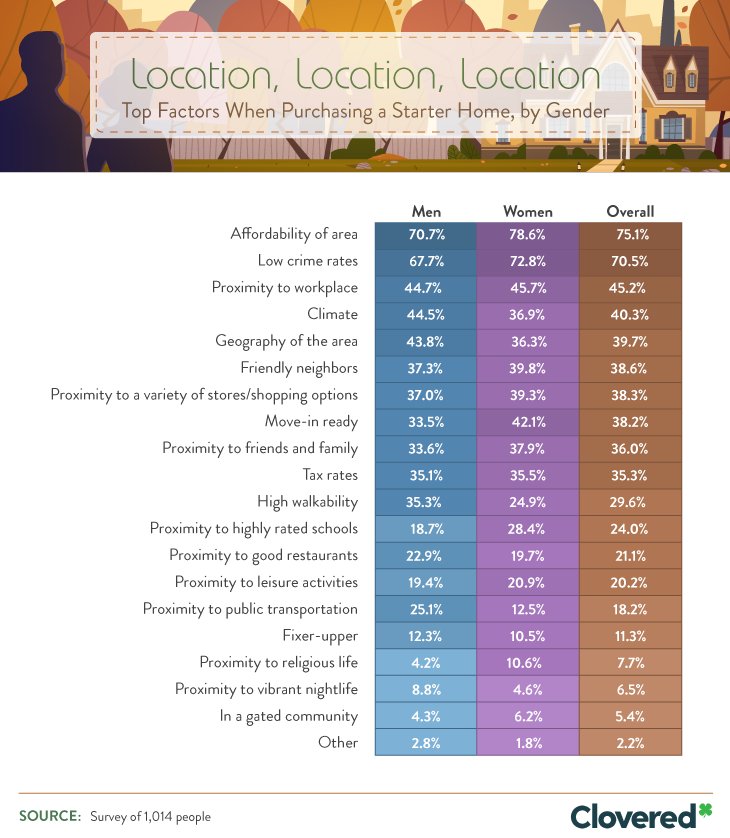 There's an adage that nothing matters more when you're buying a home than "location, location, location." Even if you're looking to buy on a budget, most experts advise buying the worst house in the best neighborhood over the best house in the worst neighborhood.
For both men and women, the affordability of an area was more important than the crime rates in that city or neighborhood. Amenities and features can play a major role in a home's asking price, but the one factor you can't change is the value of the suburb.
Proximity to the workplace was not as pressing a concern for most people. Less than half of both men and women said this factor was a top priority in deciding where to live. The least touted top factors when it came to proximity were purchasing a starter home close to places of worship (7.7 percent) or near an active nightlife (6.5 percent).
Ranking Household Amenities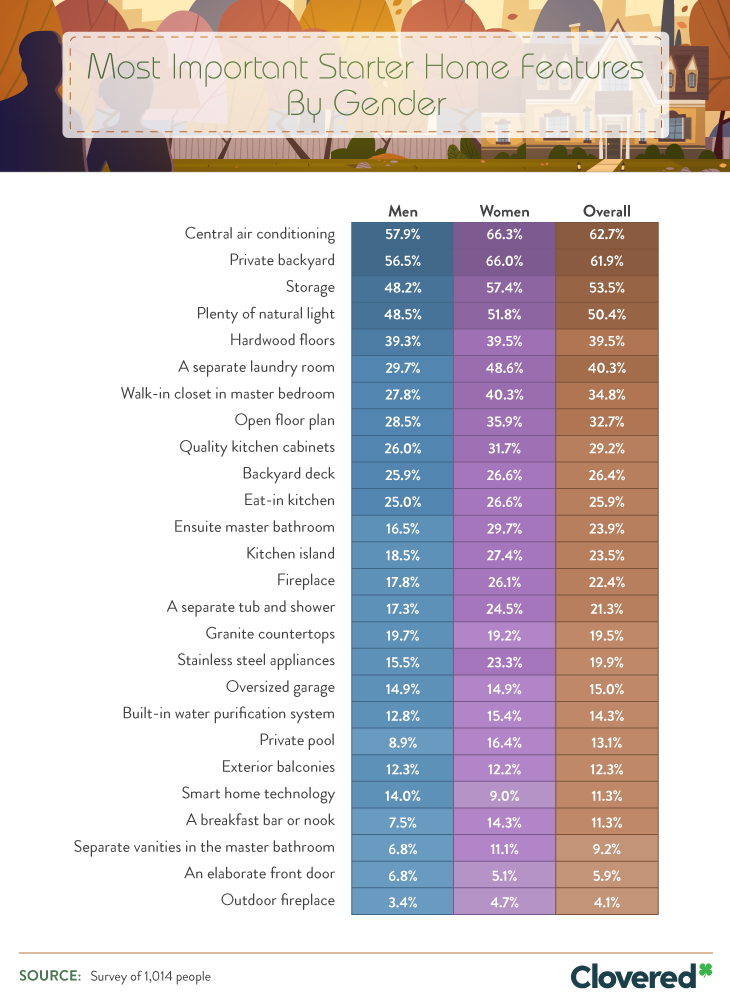 It's hard to deny the emotional aspect of buying a home. When you're touring potential listings and trying to decide where you want to raise your family or put down roots, you're fantasizing about what life in that home could be like.
Instead of thinking about where the house is located or how much you'll have to pay in property taxes, it's the tangible features of a home that really help sell it for most people.
For both men and women, central air conditioning ranked as the most important feature for their starter home. A private backyard, storage space, and plenty of natural lighting were other inspiring features for most prospective buyers.
While women were typically more excited by most of the available amenities, men were nearly 56 percent more likely to be interested in smart home technology. When it came to the countertops, front doors and exterior balconies, men also rated these factors a bit more important than their counterparts.
Laying Down the Cash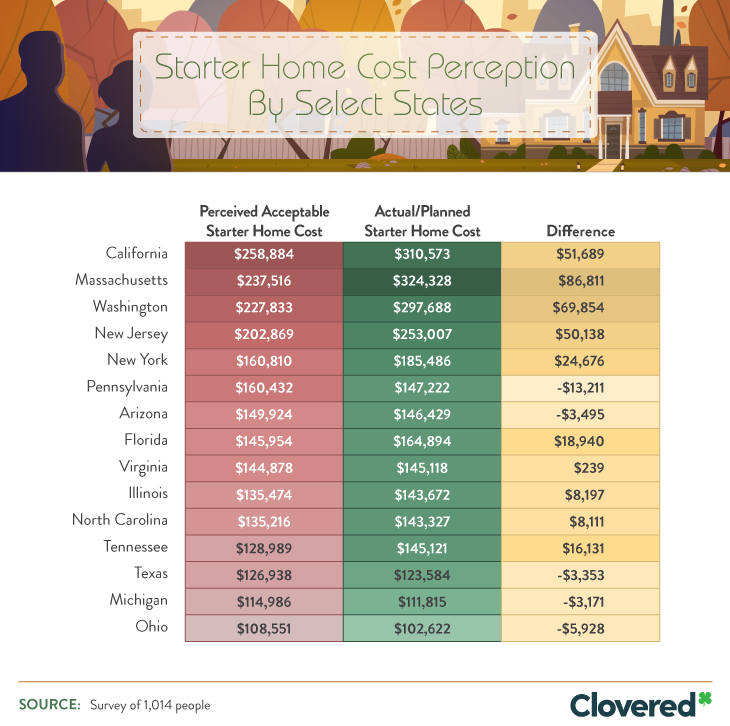 Mortgage lenders and financial experts agree that if you're looking to buy a home, you should set your maximum mortgage payment at 28 percent of your total household income. While you can always go under budget, it's important to remember that regular home upkeep has to be factored into your monthly expenses.
Unfortunately, in some parts of the country, it's harder to set a budget and stick with it. In California, one of the most expensive states in the country, people agreed the appropriate price for a starter home was just under $259,000 on average but typically spent more than $310,000 instead.
Massachusetts and Washington also ranked among the most expensive areas for starter homes when comparing the price people considered acceptable to pay and actually paid: between $69,000 and $87,000.
In contrast, buying a starter home in Pennsylvania, Texas, Michigan, Arizona, and Ohio could cost you between $3,000 and $13,000 less than expected.
Consequences of Costs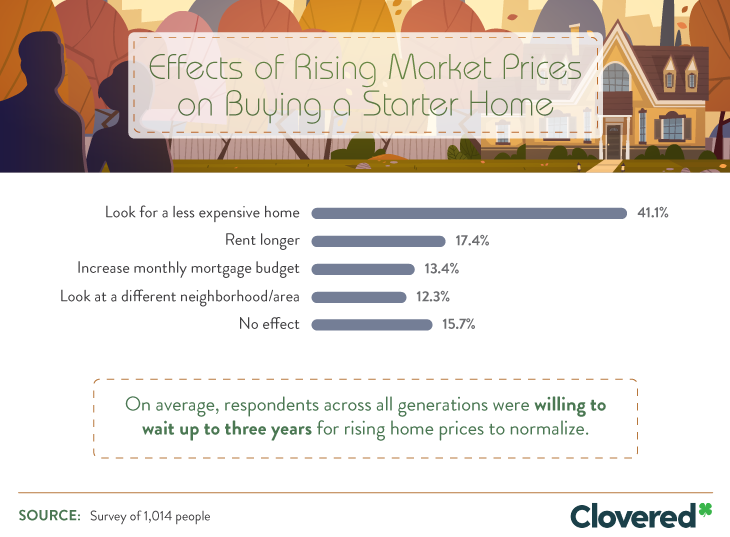 The number of affordable houses available is declining, and the average home price is expected to climb (4.3 percent in 2019 and another 3.6 percent in 2020), so getting all of your home must-haves at a rate you can afford might be easier said than done.
In response to the fluctuating market, we asked people how the rising cost of a new house might influence their buying decisions. Respondents were willing to wait three years, on average, for the housing market to stabilize before settling down.
Roughly 41 percent were willing to buy a less expensive home, and 17 percent said they would rent longer.
Sticking Around A While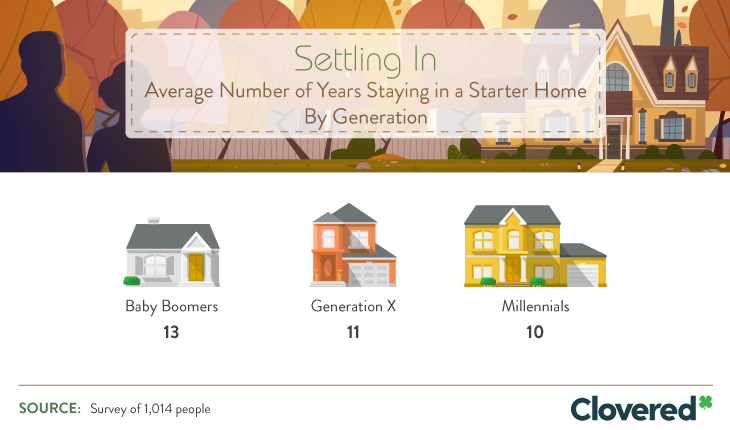 No matter how excited you are to move, there's a very real possibility that eventually you'll outgrow or need to relocate from your starter home. The average person moves more than 11 times over their lifetime, and that means that as much as you love your current home, the odds are you won't stay there forever.
Considering millennials are looking for bigger and more expensive homes as first-time homebuyers, you might expect them to stick around longer. Compared to baby boomers who stayed in their starter home for 13 years, Gen Xers only lived in their first house for 11 years, and millennials pulled up stakes after a decade.
Thinking Outside the Box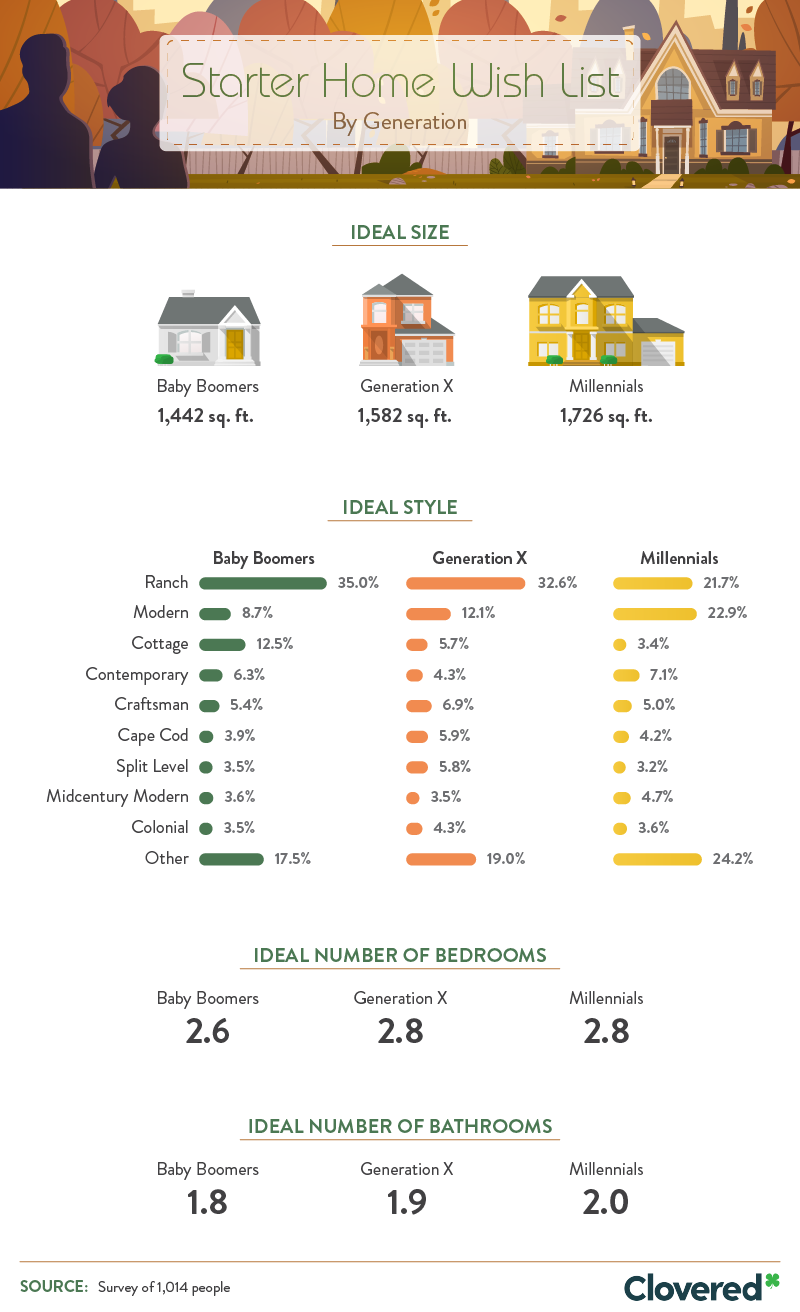 Your first home and dream home probably isn't the same. While you might think about how much house you can afford as a first-time homebuyer, or how far away the neighborhood is from where you work, your dream home lets you fantasize about all the things you want without any of the pesky logistics.
Gen Xers and millennials dreamt about the biggest homes with the most bedrooms and bathrooms. With roughly 3,300 square feet, younger Americans wanted bigger homes than baby boomers polled. And while ranch-style homes were the most popular style for Gen Xers, millennials preferred the clean lines and minimalist layout of a modern abode instead.
House Goals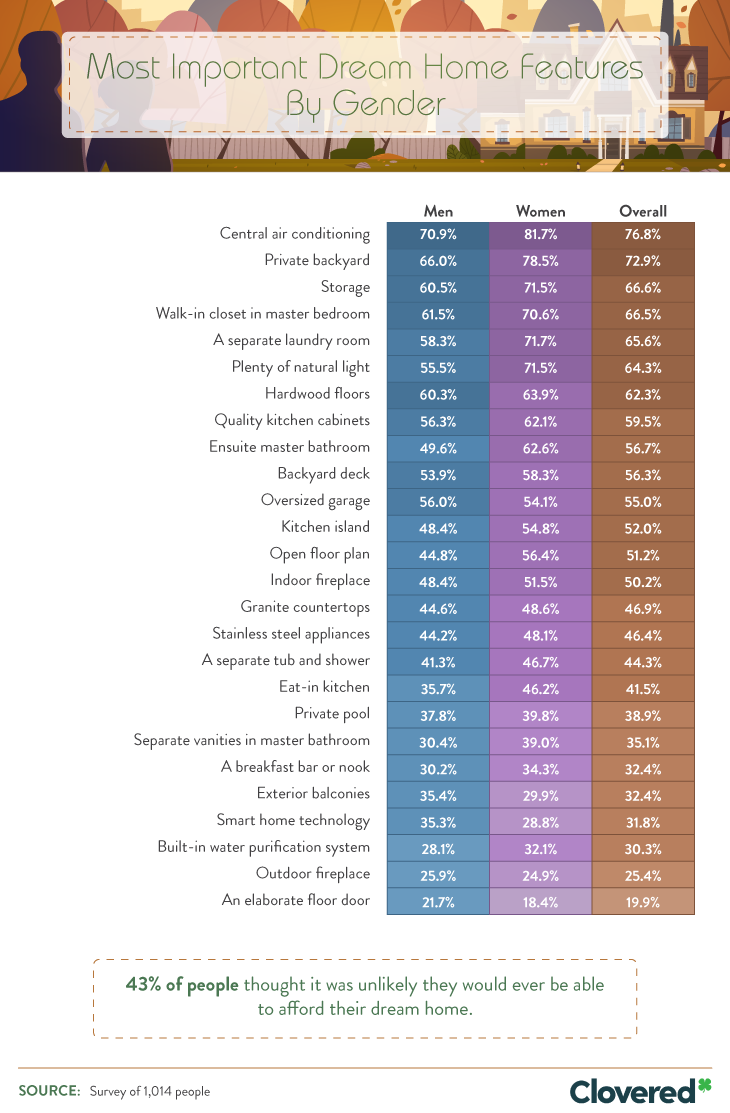 If you've spent any amount of time watching a DIY design or home improvement show, you might think all dream homes tend to look the same. Whether it's as all-encompassing as an open concept design or as simple as a shiplap accent wall or decked-out ensuite, there's nothing wrong with dreaming a little when it comes to thinking about your ultimate fantasy abode.
As we found, a majority of Americans might be dreaming of something a little less complex for their dream homes. For both men and women, the most desirable feature was having central air conditioning. The benefits of having your own in-house cooling system may seem obvious, but there are also a few cons to central AC.
Not only do you need enough space to store the unit, but opting for central air conditioning also means giving up the ability to control the temperature in each room. Still, roughly 82 percent of women and 71 percent of men still voted for central AC as the most desirable feature in their dream home.
For women, having a private backyard, a separate laundry room, storage space, and a healthy amount of natural light topped the list of must-have amenities. And while men mostly agreed with these wants, they were more passionate about things like an oversized garage, exterior balconies, smart home technology, and having an outdoor fireplace compared to women surveyed.
Making Your House a Home
The housing market is changing, and what people are looking for in a starter home is changing right along with it. While previous generations might have looked for smaller, less expensive properties to start their journey as homeowners, millennials looking to transition from renters to buyers have a slightly different plan in mind.
Even if they aren't planning on living in starter homes for very long, they still want bigger, more grandiose homes to call their own.
No matter what your dream home looks like, our mission at Clovered is to ensure you get the protection you deserve. Whether you need coverage as a homeowner or renter, we're here to make sure you get the protection you need at the best rates possible.
With a team of licensed professionals, we'll help you compare premiums from a variety of lenders and break down every element of your insurance policy so that you know exactly what you're paying for.
Methodology
We collected responses from 1,014 people using Amazon's Mechanical Turk. 53.4 percent of participants were female, and 46.6 percent were male. Participants ranged in age from 18 to 82 with a mean of 36.5 and a standard deviation of 11. Participants included those who had purchased a home and those who were planning to purchase a home in the future.
Participants were excluded if they never planned on purchasing a home or were clearly not paying attention (e.g., failed attention-check question or entered obviously inconsistent data). We weighted the data to 2017 BLS data for age and gender of Americans. Statistical testing was not performed.
Data rely on respondent self-reporting. Self-reported data may present a variety of issues. These issues include, but are not limited to, exaggeration, selective memory, telescoping, and attribution. Not all states could be analyzed for this study. Only states with sample sizes of 26 respondents or more were used.
Trending

Views

3.4K

Shares
Clovered Email Alerts
Get Clovered insights in your inbox.
Please enter email address.
Invalid Email Address.