What Is Force-Placed Insurance?
Insurance 101
/
What Is Force-Placed Insurance?
Cue force-placed insurance.
What Is Force-Placed Insurance?
Force-placed insurance, also called lender-placed insurance, is a type of policy that a lender can impose on you when you fail to meet their minimum insurance requirements for protecting your (and their) asset.
Force-placed insurance is typically seen on home loans and car loans. When you get a loan for your property, the contract you sign with your lender usually allows them to get insurance for you if your policy lapses, or if you don't have enough insurance to satisfy the lender's requirements.
Since the lender gets force-placed insurance for you, it's typically in the lender's best interest. It doesn't sufficiently protect you or your liability. It's also more expensive than if you got a policy on your own.
Let's take a closer look at force-placed insurance for both automobiles and homes, and how you can remove it in both scenarios.
Force-Placed Auto Insurance
If you don't maintain full coverage, your auto lender generally will issue you force-placed insurance. This stipulation is normally part of the loan agreement you signed when you agreed to lease or finance your vehicle.
It's important to realize that you can have a policy that satisfies the minimum state-required amount of insurance, but it doesn't satisfy your lender's requirements. For instance, a liability-only car insurance policy won't suffice if you've financed your vehicle.
What Does Force-Placed Auto Insurance Cover?
Force-placed auto insurance puts the needs of the lender first, which means it mainly provides coverage that protects the value of your vehicle: collision coverage and comprehensive coverage. Together, they're called full coverage. You may be given the minimum amount of liability coverage.
Full coverage protects your vehicle in case of damage. You (the driver) don't have to pay out-of-pocket costs to fix damage to your car no matter how you sustained the damage, whether it's from a crash (solo or multi-vehicle), severe weather (floods, hurricanes, and hail), theft, or vandalism. Full protection allows an insurance company to pay for repairs to your car, which means both you and your lender don't lose out on your investment in your vehicle.
A large part of car insurance that force-placed insurance doesn't emphasize, though, is liability coverage. Liability coverage is what prevents you from having to pay out-of-pocket to fix the damages you may cause others in a car accident.
For example, if you crash into a vehicle and send the two people in that car to the hospital, liability insurance allows your provider to cover the costs of not only the injured party's medical expenses, but also the damage you caused to their car.
Since liability insurance is so important to protect other drivers on the road, almost every state in America requires its drivers to have some minimum amount of it. When you get an auto insurance policy for yourself, you usually choose the amount of liability coverage you want. You can opt for the state-mandated minimum, but it's not unusual to choose higher limits.
If your lender imposes force-placed auto insurance on you, it may reduce the liability coverage you had, or possibly not include any at all. Understand that you may want or need to find enough liability coverage to not only legally operate your vehicle in the state's eyes, but also enough to adequately protect yourself from paying for injuries and property damage in case you cause an accident.
Forced Placed Auto Insurance Regulations
Your lender can issue force-placed auto insurance if:
Your car insurance lapses

You cancel your car insurance during the life of the loan

Your car insurance doesn't meet the lender's minimum requirements

Your lender doesn't have proof of your car insurance

You switch car insurance carriers, and your lender doesn't get notified
Your insurance company is usually required to tell your lender if you cancel or lapse on your policy during the life of your loan because your lender is listed on your car insurance as a lienholder or payee.
You're better off if your situation falls under one of the last two bullet points. For instance, you might switch car insurance carriers, but either forget to notify your lender, or someone at your lending company doesn't update your insurance info for you. If this is the case, you can fix the problem with a phone call or the sending of proof of insurance.
But, even if you believe you've been given lender-placed auto insurance by error, you shouldn't neglect to pay it. It's easier to pay the first premium and correct the issue later than to deal with the consequences of not paying the expected amount. If you've had proper insurance the whole time, you're likely to get a refund.
Before actually receiving force-placed insurance, you should get communications from your lender ahead of time informing you that you need to show proof of insurance. It should also include an estimate of the cost of insurance, where you'll notice that it's rather expensive.
How to Remove Force-Placed Auto Insurance
To remove force-placed auto insurance, you need to get a car insurance policy that satisfies your lender's requirements. Then, send proof of your insurance to your lender.
If your coverage lapsed, you're not required to get insurance from your initial carrier again. You can choose car insurance from any company you'd like. In fact, to get the best rate, you should compare policies from multiple providers. You'll be able to see who has the coverage you need at the price that works for you.
Force-Placed Home Insurance
When you get homeowners insurance, your policy usually comes with many different aspects of protection. Two important ones, personal property coverage and liability coverage, may be omitted from force-placed insurance.
Yet, it often costs more than a regular policy. Premium payments could double, and the costs get added to your monthly mortgage payments. If you receive force-placed home insurance, it's in your best interest to get it removed as soon as possible.
You may receive force-placed insurance on your home if you:
Cancel your homeowners insurance policy

Let your homeowner's insurance policy lapse

Don't renew your homeowners insurance and fail to get new coverage

Your current coverage doesn't satisfy your lender's requirements (not enough coverage)
To remove force-placed home insurance, you need to get your own policy. Be sure to insure your home to its value to satisfy your mortgage lender. Again, it's important to get multiple quotes to know you're getting a good deal for your plan. Send proof of insurance to your lender or bank when you've secured it.
It's also important to know that the law states a financial institution needs to notify you at least 45 days in advance before charging you for force-placed insurance. Thus, you have time to get your own coverage before accepting lender-placed insurance.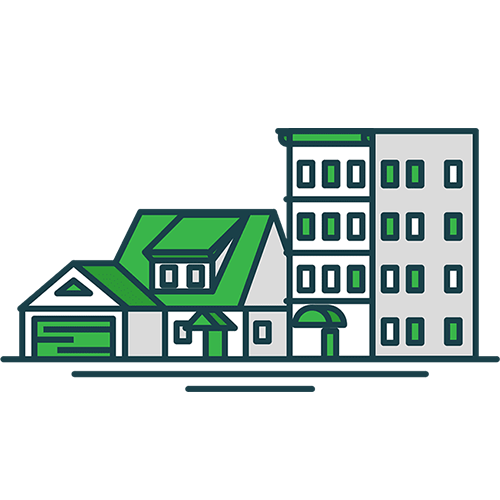 Home Protection Is Just a Click Away
We partner with the nation's top home insurance companies so you can get an excellent policy at an affordable price.
The editorial content on Clovered's website is meant to be informational material and should not be considered legal advice.
Similar Articles