The Ultimate Guide for Understanding Vacant Home Insurance
Insurance 101
/
The Ultimate Guide for Understanding Vacant Home Insurance
If you plan on leaving your home empty for an extended period of time, you've probably got other things on your mind than insurance. However, you might not know that a standard homeowners insurance policy won't cover a vacant home. You need a specific type of coverage.
Let's take a look at everything you need to know about vacant home insurance, like when you need it, what vacant home insurance covers, and how much it costs.
What Does Vacant Home Insurance Cover?
Vacant home insurance covers the structure of a residence that's vacant. To be considered "vacant" in insurance, a place needs to be not lived in for an extended time, usually at least a month, and be devoid of most personal belongings.
Vacant home insurance usually only focuses on the structure of your house since you won't be living in it, thus not needing the other forms of coverage that protect you personally. The main threats to a vacant home are vandalism and weather-related perils, which most insurers will cover.
But not every provider offers vacant home insurance because an empty house is simply a greater insurance risk. Empty homes are more likely to be vandalized since they're easier targets than occupied ones. Also, since no one is living at the residence, a potential problem could go unreported for a long time and cause a lot of damage.
For example, if a pipe breaks and leaks water all over the floor of a vacant house, it might not be reported until someone happens to stop by or sees overflowing water from outside. If a pipe bursts in a home with people living in it, it'll likely be noticed immediately and cause much less damage, which is better for both the insurer and homeowner.
Vacant home policies vary by company and not every provider will insure a vacant home. Some companies offer vacant home insurance as an endorsement instead of a separate policy. For the ones that do deal with vacant houses, though, many different building types can qualify as vacant. A house, condo, or townhouse can be considered vacant, as well as properties undergoing significant remodels or renovations (that you're not living in) and houses for sale. 
When Do You Need Vacant Home Insurance?
The most common scenarios that call for vacant home insurance are the following:
A house for sale that you no longer live in

A house undergoing a major renovation/remodel

A rental property that's between tenants

A vacation house that's empty most of the year
If a house is sitting empty because it's going to be demolished soon, there's not much of a need to insure it. Most companies won't accept it, either. 
Insurance Requirements for Vacant Homes
For a home to be considered vacant by an insurer, it must be empty for at least 30 or 60 days (depending on the provider) and have an insufficient amount of personal belongings inside that are normally needed to live. 
A general requirement of homeowners insurance is that you're living in the property that's insured. If you've demonstrated that your property is vacant to an insurance company while having a regular home insurance plan, your provider may deny a claim, lower your coverage, or cancel your policy altogether. 
If you need to insure a vacant home, you'll need a policy specifically for that. A regular homeowners plan wouldn't suffice. Vacant home insurance policies are generally more flexible with the time length of the plan because homes aren't designed to be vacant forever. Some vacant home insurance policies are for three months, six months, or a year.
If you currently have a standard homeowners insurance policy and plan to vacate your house, you should let your insurance provider know immediately. They'll inform you if you can add a vacancy endorsement to your current policy or what other courses of action you need to take.
It's important to remember that vacant home insurance likely won't cover damage from floods or earthquakes. Standard home insurance doesn't cover these either. 
How Much is Vacant Home Insurance?
The cost of vacant home insurance varies due to many factors, but it's generally more expensive than standard homeowners insurance. Compared to a regular plan, it's possible you could be paying twice as much for vacant home insurance.
To get an exact price, you'd have to get a quote. But the factors that affect the cost of a plan are similar around the industry. The age and size of your home, your credit and claims history, and the amount of coverage you choose all usually influence the cost of home insurance.
For vacant house insurance, in particular, the presence of a security system or carbon monoxide and smoke alarms could reduce your rate. Also, if someone will be stopping by your vacant home periodically to watch it and perform upkeep, you should inform your insurer. They might give you a discount for this.
How to Get Vacant Home Insurance Quotes
As mentioned earlier, not every company will insure a vacant house. If you're looking for a provider that understands the needs of vacant home insurance, Foremost Insurance Group is a great option. They specialize in vacant homes and include protection from vandalism in their coverage.
But, to be sure you're getting the best rate for vacant house insurance, it's best to do your homework. With the Clovered quote engine, you can compare premiums from top providers in the country for a plan tailored to your needs.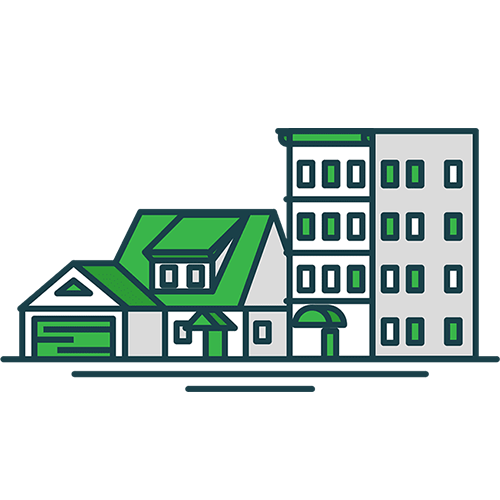 Home Protection Is Just a Click Away
We partner with the nation's top home insurance companies so you can get an excellent policy at an affordable price.
The editorial content on Clovered's website is meant to be informational material and should not be considered legal advice.
Similar Articles