What Is Builder's Risk Insurance?
Insurance 101
/
What Is Builder's Risk Insurance?
Home construction is a costly and time-consuming effort. It's hard enough to stay under budget and stick to timelines. The last thing you'd want to happen is something out of your hands to ruin all the work you've tried so hard to control, coordinate and supervise.
Builder's risk insurance can financially protect you from disaster when renovating or remodeling a house. It's different from regular home insurance, and it's available to homeowners and business owners. Let's break it down.
What Does Builder's Risk Insurance Cover?
A builder's risk insurance policy is designed for homes under construction. It can apply to homes being completely rebuilt from the ground up or ones undergoing any degree of renovation. It financially protects the physical structure of the house. Some common perils this type of plan protects against include:
Fire and lightning damage

Wind and hail damage

Theft and vandalism

Explosions

Vehicle damage
For example, if there's a gas leak overnight that causes a fire, if a tornado wipes out your house during construction, or if vandals break in and damage the walls, windows, or floors, you'd be covered.
Some builder's risk policies include coverage for equipment, building materials and fixtures that you own, while some providers require you to purchase this as an add-on to your policy. Having this protection is vital. It would protect tools and the other items lying around the worksite that you're going to use or install.
It's important to note that water damage is excluded from builder's risk plans. Also, theft by employees isn't covered, only theft from other parties.
The time frame of a builder's risk policy is usually flexible. You might not take a whole year to flip a house, so it's possible to get a plan with a three- or six-month time frame. Also, if you finish your renovations before the policy is up, look into the possibility of getting your premium prorated so you get refunded for the time you don't use.
How Much is Builder's Risk Insurance Coverage?
A builder's risk policy can be at least twice as costly as a home insurance policy for a comparable house. A general rule of thumb for builder's risk insurance is for every $100,000 of coverage you get, it will cost $1,000 per year. For example, a builder's risk plan for a $300,000 house could cost $3,000 annually, although you might not need a plan for the whole year.
How Much Builder's Risk Insurance Do I Need?
When getting builder's risk coverage, you should get enough to protect the home for its after-repair value. Most houses that are going to be flipped are dilapidated fixer-uppers that aren't worth much as they are. That's why you bought it in the first place. If you insure it for its replacement cost, you'd be covering a fraction of what it stands to cost after you finish renovating it.
If your house was destroyed or damaged near the end of the project, you wouldn't want your insurer to reimburse you for what it was worth at the start. That wouldn't reflect the work and money you've put into it. You want to be covered for the after repair value.
You might see the costly price tag of builder's risk insurance and wonder if you can skimp on it to save money. This is dangerous. If a fire, hurricane, or other disaster wipes out the structure of the home mid-flip, it would be devastating to lose it all or be underinsured.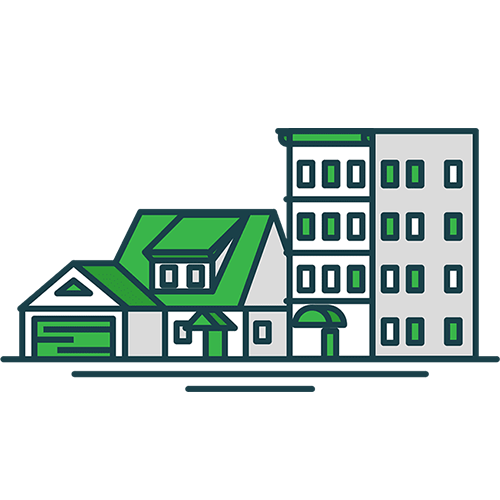 Home Protection Is Just a Click Away
We partner with the nation's top home insurance companies so you can get an excellent policy at an affordable price.
The editorial content on Clovered's website is meant to be informational material and should not be considered legal advice.
Similar Articles