Homeowner
/
Do I Have to Add My Dog to My Homeowners Insurance?
Do I Have to Add My Dog to My Homeowners Insurance?
24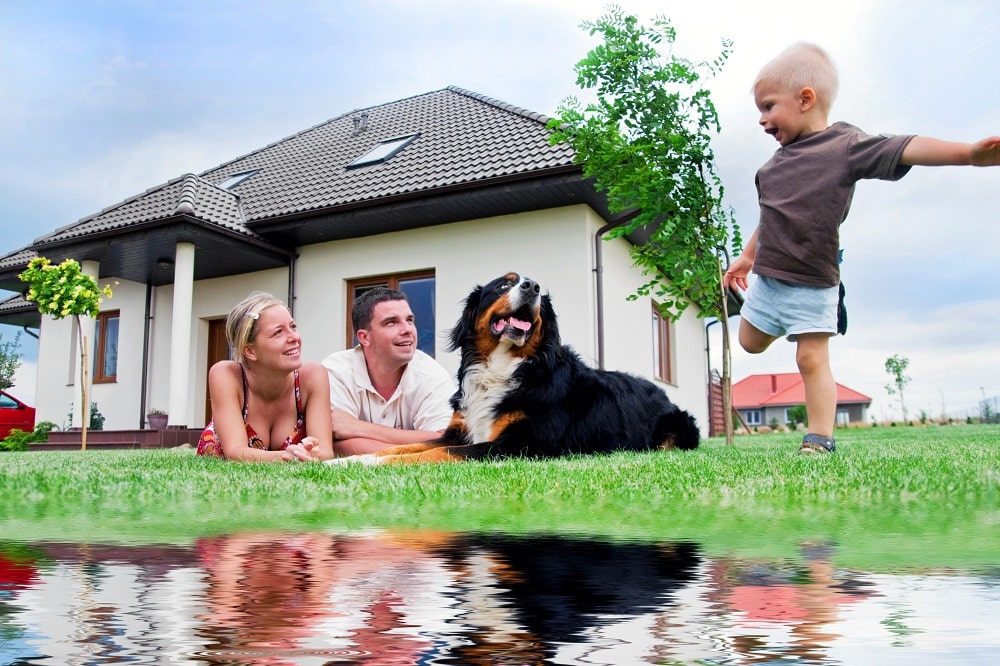 Most owners would do anything for their furry friend. Research shows that between 57% and 67% of American households own pets, and there are about 90 million dogs in the United States. It's safe to say plenty of families have a member that barks.
Just like with the rest of the people in your family, it's necessary to have your dog on your policy. While it may increase your premium because dogs can pose a liability risk for things like dog bites, your homeowners insurance will likely cover dog-related incidents. Let's take a closer look at how your policy will help you with your dog.
Do I Have to Add My Dog to My Homeowners Insurance?
Yes, you have to add your dog onto your homeowners insurance policy to make sure your furry friend is properly covered for anything that may occur. Dogs are a big part of your home and, unfortunately, a big part of the home insurance claims history.
From dog bites to accidental damage, homeowners insurance may protect your dog, but it has to be added to your policy.
Does Homeowners Insurance Cover Dog Bites?
It provides a set amount of money to pay for medical expenses and lawsuits due to accidents that occur on your property or damages you or your family causes someone, including a bite from the furry member of your family.
Typically, the minimum amount of personal liability coverage is $100,000. If your dog claim costs more than that, you'll be responsible for the excess charges yourself. The average dog bite claim in 2019 was just over $44,000, so you will likely not have to worry. However, if a serious injury and a lawsuit are involved, that number could easily break the $100,000 mark.
If you don't have them on your policy and an unfortunate incident occurs, your homeowners policy wouldn't cover the claim and you'd be responsible for paying the medical bills and legal expenses yourself.
Different areas of the United States also have different ways to determine who is at fault in a dog-bite incident. Some places deem the owner automatically responsible in a bite case, while others must make the victim prove the owner knew the dog was dangerous. It would be wise to review your area's dog statutes and negligence laws to find out which applies in your area.
Dog Breeds Homeowners Insurance Won't Cover

It is important to note that pit bulls are not one specific breed, but a group of breeds that insurance providers tend to watch out for and may not provide coverage for. Pit bulls include the American Pit Bull Terrier, the American Staffordshire Terrier, the Staffordshire Bull Terrier and any cross-breeding of those dog types.
Insurance Companies That Don't Discriminate Dog Breeds
Some insurance companies are friendlier than others when it comes to covering these restricted breeds. For example, instead of outright denying coverage due to a dangerous breed, some companies evaluate on a case-by-case basis.
It's also important to keep an eye on legislation in your area that could affect your dog ownership or policy coverage. It can vary on the state and local level.
For example, Pennsylvania and Michigan have passed laws making it illegal for insurers to deny coverage due to specific dog breeds. Additionally, Ohio requires people who own a dog that's deemed vicious to purchase at least $100,000 of liability coverage.
It's never a good idea to hide your dog from your insurance company. Doing so could invalidate your policy and make you solely responsible for medical bills and damages caused by your dog.
How to Get Dog-Friendly Homeowners Insurance Get a Quote
Compare multiple policies to get the coverage you need at the price you want.
Sign up for our newsletter to get the latest updates.
Please enter email address.
Invalid Email Address.
Similar Articles