How to File a Home Insurance Claim
Insurance 101
/
How to File a Home Insurance Claim
How to File a Home Insurance Claim
It's nice to have homeowners insurance, but we don't necessarily want to utilize it. Unfortunately, things happen out of our control, and sometimes we need help financially to deal with them. This is where a good insurance policy can be a life-saver.
The process for filing an insurance claim can seem overwhelming at first. Thankfully, the process is fairly straightforward. And remember, your insurance company is there to help you. This guide breaks down when you should file a homeowners claim and how it's done.
How to File a Home Insurance Claim
There are a variety of reasons you might be filing an insurance claim with your homeowners carrier. From an injury on your property to a burglary or storm damage, filing a claim starts with reading through your insurance policy to identify the parameters laid out about your coverage.
1. File a Police Report If Necessary
If the damage to your home is the result of a burglary or vandalism, contact the local authorities immediately. Get a police report and notate the names of any police officers who visit your home in case they become necessary during the process of filing a home insurance claim.
You may want to ask for a written police report before the officers leave your property to verify you have all the necessary documentation on hand so you can provide it to your insurer.
2. Document and Protect Your Property
When filing a homeowners insurance claim, you should document the damage in a detailed manner. The more information you have on hand and provide to your insurer, the greater your chances of a sufficient payout.
Take photos and videos of the damage, and keep track of minor repairs or replacements you make immediately after the incident in case you need to mitigate the damage. This protects any part of your property that hasn't already been damaged. This could include putting up a temporary tarp over a window to prevent further damage from water, mold, or things like it.
The more things you document, the more information you can provide to the adjuster and your insurance company, which can only help you.
Receipts for damaged property can also be helpful. The structural damage to your home may seem obvious to your insurance company, but they won't know which possessions have been damaged unless you provide a list for them when filing an insurance claim.
If you have to move out due to the serious damage your home has incurred, keep track of expenses for a hotel stay, gas, food, and more. This could be covered, and you could be reimbursed for them, under the additional living expenses section of your policy.
3. Initiate the Claim with Your Insurance Company
Now it's time to start the homeowners insurance claim with your provider. Get in touch with your insurance company. This is a great opportunity to ask any lingering questions about your policy or to get guidance on starting any minor repairs to your property. They'll advise you on the appropriate next steps and let you know when it's safe to begin mending the damage to your home.
They'll also send you the claim forms that you can begin filling out. These will usually involve some personal information, and you'll need to describe the loss you've experienced. Make sure you write down the claim number provided by your insurance company and the names of anyone you speak with about the incident.
4. Schedule Time with Your Home Insurance Adjuster
Next, your insurance company will assign an adjuster to act as your go-to resource throughout the process. In most cases, they'll schedule an appointment with you to assess the damage to your property in person.
They should see your home as close to its original condition after the incident as possible. The adjuster's job is to inspect and document all of the damage done to your home, so try to only clean up what's necessary before they arrive.
Your home insurance adjuster is there to help you and serve as your primary link to your provider. Friendly interactions will help in making the whole process go smoothly. If you're filing a liability claim, the adjuster may want to get in touch with the relevant doctors and lawyers. They may ask you for their contact information.
5. Receive Your Payment and Close Your Claim
In some cases, you may receive reimbursement on the spot for your home insurance claim. Other times, it could take longer to get paid, especially for large-scale damage.
If you have a mortgage on your home and you're filing for property damage, the insurer may make your repayment out to you and your mortgage company. Your lender might want to handle the payment to dole out the money throughout the home repair process. If you're filing a liability claim, the injured party will likely receive the payment.
When Should You File a Homeowners Claim?
You should only file a claim when you believe the damage is covered by your policy. Typical homeowners insurance plans include damage from 16 covered perils as well as liability coverage. If you've experienced a loss as a result of any of these discussed forms of damage, your insurer is likely to cover it.
Recognize your deductible and your policy limits. If the amount of damage you've experienced is less than or only slightly more than your deductible, it probably isn't worth it to file a claim. Also, if you've already filed multiple claims in the past few years, you may want to hold off on filing another if you can. Filing too many claims will make you a higher risk to the insurance company, and they will raise your rate.
Also, check your policy to see the time frame you have to file a claim, as it varies by state and insurer. For instance, you may have to file your claim within one year of sustaining the damage. Typically, the sooner you file a claim, the better.
Help With Insurance Claims
Your adjuster and provider are there to help you when making an insurance claim. If you don't understand something, don't hesitate to ask questions. You may also want to consult with local contractors or builders to get an idea of how much it could cost to repair your property so you're better informed.
Sometimes, there's no exact timetable for your claim to be paid out, as construction could take months. Maintain communication with your provider. The more information you give to them, the more they can help you.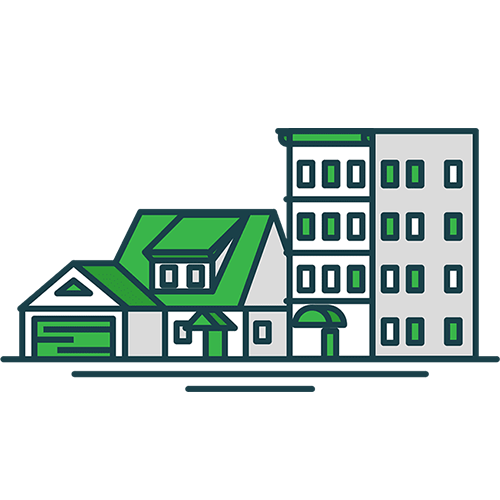 Home Protection Is Just a Click Away
We partner with the nation's top home insurance companies so you can get an excellent policy at an affordable price.
The editorial content on Clovered's website is meant to be informational material and should not be considered legal advice.
Similar Articles