Does My Car Insurance Cover Rental Cars?
Auto
/
Does My Car Insurance Cover Rental Cars?
If you've ever searched for a rental car online, found a price that fits within budget and then are asked if you'd like to pay $19.99 (or some other number you really don't want to shell out) per day for insurance, you know the struggle is real.
But do you even need to purchase that extra insurance for rental cars to cover it? Don't you already have insurance on your own vehicle? Right now, you may be asking yourself, "Do I need rental car insurance coverage?"
While rental car companies often offer ridiculously high amounts of coverage that make you feel all cozy inside and like you're getting a steal, you may not actually need that coverage.
So why pay for something you don't need (and may already have)? Buckle up, because this is everything you need to know about rental cars and auto insurance coverage!
Understanding Your Own Auto Insurance Coverage
If you have a car that's already paid off, you may only be on the hook with your auto insurance company for liability insurance. But if you haven't paid off your vehicle or you have a lease, you're probably somewhat familiar with the following coverages (because you have all of them)!
Liability coverage helps to pay for medical bills or damage you cause to another person's property or vehicle. Every auto insurance policy will come with a few set numbers: bodily injury limits per person and per accident and property damage limit per accident.
So if you have $50,000 in property damage per accident and $50,000 in bodily injury per person and $100,000 bodily injury per accident, those are the maximum amounts your insurance company will pay toward a claim.
Comprehensive coverage helps pay to repair or replace your vehicle if it a covered peril was involved. So if a fire burns your car to a crisp, a natural disaster damages the engine or if a thief makes off with your vehicle, comprehensive coverage will become your best friend.
Collision will help pay to repair or replace your vehicle if it's damaged in an accident. If the other driver is at fault and doesn't have enough liability coverage, your comprehensive coverage can kick in and pick up the remainder.
However, if you're at fault for the accident, you will solely rely on comprehensive coverage to repair or replace your vehicle. If you don't have this coverage, you'll be stuck paying out of pocket to repair the damages or get a new car.
Understanding Rental Auto Insurance Coverage
When you're renting a car, you'll often be asked if you'd like to pay an extra $19.99 or so to include insurance on the vehicle. You thought you were getting the car for 7 days at $8 per day? Think again! Or should you think again?
Paying for that extra insurance coverage quickly puts the vehicle out of reach and makes you contemplate booking a different trip in which a rental car isn't needed. But, if you have auto insurance on your own vehicle and are renting the vehicle within the same country, you're in luck!
Check out these types of insurance rental car companies offer and if you need them or not.
Liability coverage within a rental company's auto insurance policy is the exact same as your own. Although it may have higher or lower limits, depending on the amount of coverage you choose. But do you even need to purchase it?
If you're renting a vehicle within the same country your auto insurance is located in, your personal car insurance will cover the liability portion, so you don't need to purchase extra coverage.
Collision/Loss Damage Waiver
While the collision damage waiver (CDW) and loss damage waiver (LDW) aren't technically auto insurance options, they are what help pay to repair or replace the vehicle you rented if your rental car is damaged or stolen.
There are some stipulations to this because only the authorized driver may be behind the wheel at the time of an accident and it must be within the allotted reservation window. So if you're running 30 minutes late to drop off the car and you get in an accident, the CDW and LDW won't cover you.
However, if you have collision and comprehensive coverage within your own auto insurance policy, you'd likely be covered for this anyway. So, if you have collision coverage and you're renting a car in the country your auto insurance policy is in, you don't have to purchase CDW or LDW.
But if you don't have collision and comprehensive coverage on your own policy, we highly recommend you purchase the CDW or LDW, return the car at the allotted time and only allow the registered drive to operate the vehicle.
If you travel with valuable items (or even if you don't), personal effects coverage can be used to repair or replace items in your possession if they're damaged, destroyed or stolen while in the rental vehicle. Personal effects coverage usually has a $500 limit.
However, your own insurance could have you covered again. Many people don't realize that home insurance (homeowners, renters, and condo) actually protects your items when they're away from your property, too.
If you have home insurance, you wouldn't need to purchase personal effects coverage. Plus, your own home insurance will likely have a higher limit anyway!
Personal accident coverage within an auto rental company's provided policy will cover medical expenses to the passengers of the rental car. But, again, if you have liability coverage within your own auto insurance policy, you won't need this coverage anyway.
Understanding Your Credit Card Rental Car Insurance Coverage
Many credit card companies offer credit card rental car insurance through premier travel credit cards. They typically offer primary coverage (which can pay a claim without getting your auto insurance company involved) and secondary coverage (which may reimburse you for any deductible or fees that aren't covered).
Since each credit card has its own limitations, and there are way too many to list here, we recommend you consult your credit card company before renting a vehicle to see if your covered and what your coverage limits are.
The good thing about credit card's rental auto insurance is that it sometimes extends to rentals made abroad.
While all this information is geared toward helping you save money and making sure you're properly insured in your rental car, each auto insurance and rental car company has their own stipulations. We recommend consulting each before you make your purchase decision.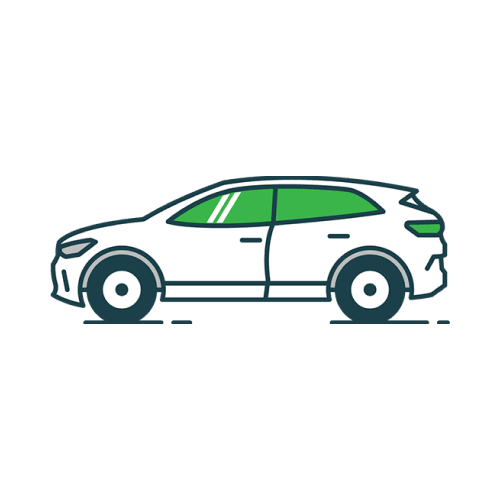 Ready to Save Money on Auto Insurance?
Rethink your auto insurance premium with a free quote from the nation's top companies.
The editorial content on Clovered's website is meant to be informational material and should not be considered legal advice.
Similar Articles