Flood
/
Florida Flood Insurance
Contrary to popular belief, flooding isn't covered by home insurance policies, so you must purchase a separate Florida flood insurance policy to adequately cover your home, belongings and peace of mind. Flooding is also the most common and costly natural disaster on earth — especially in the Sunshine State, where water is seemingly everywhere you look.
Most of Florida is within some region of FEMA's 100-year floodplain, which means nearly every property in Florida is expected to sustain some sort of flood damage at least once every 100 years. By not investing in Florida flood insurance, you're running a pretty hefty risk.
But what exactly does flood insurance cover and not cover? Since there are many misconceptions out there, we'll break down these points, explain the difference between Florida's state vs private flood insurance and much more!
Remember, Florida flood insurance also takes 30 days after the purchase date to go into effect, so don't wait until the rainy or hurricane season to purchase your policy. Remember, just a half-inch of floodwater can cause up to $20,000 in damage. What are you waiting for? Call our agents today at 833-255-4117
What Does Flood Insurance in Florida Cover?
Many people think their home insurance policies will swoop in to save the day if floodwaters affect their home, but that's simply not the case. Flooding is not covered by home insurance, so a Florida flood insurance policy must be purchased separately in order to remain adequately covered.
Florida flood insurance can help protect your home and personal belongings from incidents like overflowing rivers or bodies of water, torrential rains that seep in through the ground and many other instances involving liquid perils. Here's what's covered:
☘ Your home's physical structure and its foundation, meaning the essential pieces that make up your home, are covered by flood insurance. This can be anything from flooring and drywall to built-in cabinets and electrical wiring.
☘ Flood insurance can help pay to repair or replace your personal belongings that were damaged or destroyed directly by flooding. This coverage extends to things like TVs, computers and other electronics to furniture and clothes.
☘ When floodwaters enter a home, they tend to damage or destroy a handful of appliances in your home. Luckily, flood insurance can help replace many of those appliances, like your HVAC unit, water heater, dishwasher and much more.
How Much Is Flood Insurance in Florida?
The cost of flood insurance in Florida is only about $600 per year, but it also depends on how much coverage you maintain, how close your home is to the nearest bodies of water and what it sits in with FEMA's 100-year floodplain.
Given the average cost of homeowners insurance in the Sunshine State, which is consistently one of the most expensive states in the U.S., the price of flood insurance in Florida is basically a steal. No matter what anyone says, it's worth the investment. Especially if you consider a single flood claim could pay for a lifetime's worth of premiums.
Do I Need Flood Insurance in Florida?
In Florida, you're not required by law to purchase flood insurance, but your mortgage lender could require it if you still owe money on your home mortgage. But, if a flood occurs and damages your home, you do need flood insurance to file a claim — and you will have had to purchase it at least 31 days before the damage occurred.
Flood Insurance Florida Requirements
Even though there are no requirements to maintain flood insurance in Florida other than those put in place by your mortgage lender, it's worth knowing that nearly 20 percent of all flood claims in the state are filed in low-risk to moderate-risk areas.
How to Get Florida State vs Private Flood Insurance
In Florida, you have two options for flood insurance coverage. The first is through a private company like Clovered. We partner with the best flood insurance companies in Florida to make sure each of our policyholders has the option to add a Florida flood policy to their home insurance.
The next option is through the government's National Flood Insurance Program, which is offered on a case-by-case, state-by-state basis. Government flood policies are typically last-resort options for homes that are in high-risk zones or homeowners that can't afford to shell out money for a private policy.
With Clovered, you can call one of our many licensed agents today at 833-255-4117 so they can pair you with a Florida flood insurance policy that fits your needs — and your budget.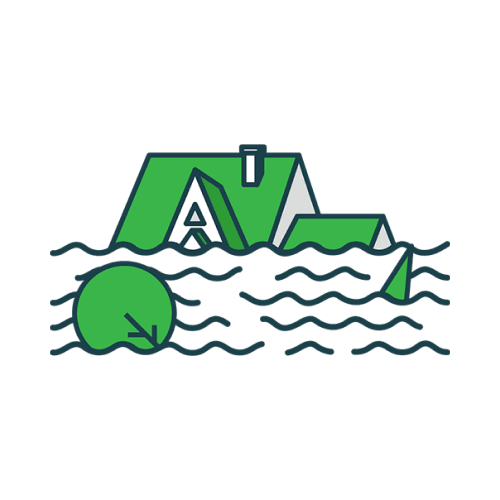 Stay Above Water With Flood Insurance
Do you want to pay for costly and common flood damage yourself or have an insurance policy pick up the tab?
The editorial content on Clovered's website is meant to be informational material and should not be considered legal advice.