Flood Insurance in Florida
Flood
/
Flood Insurance in Florida
One of Florida's biggest attractions is its water. Lined with dreamy coastline, crisscrossed by canals, and dotted with lakes both natural and man-made, the state boasts some of the best water access in the country that provides endless fun for residents and homeowners.
Unfortunately, Florida's water can also cause destructive damage, making flood insurance in Florida a necessity for millions of residents.
In this comprehensive guide, we break down what you need to know about Florida flood insurance so you can find the best and cheapest coverage, including Federal Emergency Management Agency (FEMA) rates, lender requirements, and much more.
How Much Is Flood Insurance in Florida?
The average cost of flood insurance in Florida is currently $958 per year. With FEMA implementing its new Risk Rating 2.0, the average flood insurance cost in Florida will change to $2,213 per year, approximately a 131% increase statewide. Despite this jump, some policyholders will see their premiums go down. Individual rates will increase or decrease depending on many factors.
As of 2022, over 597,000 flood insurance policies are in effect in Florida from the National Flood Insurance Program (NFIP), the country's largest flood insurance provider – administered by FEMA. About 90% of all residential flood insurance policies in the United States are through the NFIP.
As a result of its monumental size and comprehensive reporting as a government program, the average flood insurance rates in Florida we will be discussing are based on NFIP numbers.
The table below lists every Florida county with its average current cost of flood insurance from the NFIP. Next, the table depicts the average Florida flood insurance cost under the NFIP's new pricing system, Risk Rating 2.0.
The NFIP overhauled its rate calculation and, as a result, will change premiums for many policyholders. RR 2.0 began applying to new flood policies in 2021 and has been phased in for existing policies since 2022.
Average Cost of Flood Insurance in Florida
County
Alachua
Baker
Bay
Bradford
Brevard
Broward
Calhoun
Charleston
Charlotte
Citrus
Clay
Collier
Columbia
Desoto
Dixie
Duval
Escambia
Flagler
Franklin
Gadsden
Gilchrist
Glades
Gulf
Hamilton
Hardee
Hendry
Hernando
Highlands
Hillsborough
Holmes
Indian River
Jackson
Jefferson
Lafayette
Lake
Lee
Leon
Levy
Liberty
Madison
Manatee
Marion
Martin
Miami-Dade
Monroe
Nassau
New York
Okaloosa
Okeechobee
Orange
Osceola
Palm Beach
Pasco
Pinellas
Polk
Putnam
Santa Rosa
Sarasota
Seminole
St. Johns
St. Lucie
Sumter
Suwannee
Taylor
Thomas
Union
Volusia
Wakulla
Walton
Washington
Policies in Force
1,456
95
8,675
224
21,211
55,113
39
5,576
17,537
2,581
3,444
31,603
363
208
164
17,388
7,207
5,509
1,268
51
96
110
986
21
51
395
1,958
525
32,718
43
8,511
57
45
63
2,173
46,373
1,756
353
5,576
38
13,984
1,901
6,827
92,983
12,002
4,658
5,576
5,828
706
7,447
4,539
42,431
11,507
37,236
3,829
520
8,140
19,470
4,029
15,497
6,273
1,947
233
240
5,576
23
13,296
680
5,691
66
Current Cost
$645
$763
$774
$739
$668
$756
$864
$1,083
$1,428
$1,492
$760
$1,053
$741
$872
$1,262
$710
$828
$757
$1,664
$810
$858
$646
$1,044
$615
$719
$769
$1,066
$544
$1,132
$847
$866
$834
$752
$873
$641
$1,285
$709
$1,725
$1,083
$679
$1,064
$579
$788
$829
$1,759
$757
$1,083
$797
$717
$606
$613
$695
$1,096
$1,538
$600
$953
$723
$1,138
$633
$798
$696
$563
$762
$1,518
$1,083
$820
$717
$1,627
$729
$755
Risk-Based Cost
$875
$1,007
$1,726
$983
$2,367
$1,254
$1,643
$1,465
$3,687
$3,147
$1,289
$3,980
$1,119
$1,474
$1,945
$1,612
$1,886
$2,372
$5,195
$1,677
$1,187
$1,584
$2,507
$1,311
$866
$1,298
$2,070
$598
$2,550
$1,275
$2,773
$1,338
$880
$1,174
$825
$3,965
$1,221
$3,328
$1,465
$1,102
$2,114
$659
$2,235
$1,611
$4,622
$1,870
$1,465
$2,030
$1,422
$707
$671
$1,191
$1,753
$3,258
$651
$1,783
$1,269
$2,439
$843
$1,984
$1,709
$615
$1,154
$2,847
$1,465
$1,245
$1,337
$3,092
$1,501
$1,054
RR 2.0 rates were enacted on October 1, 2021, for new NFIP policies. For existing NFIP policyholders, RR 2.0 rates began to take effect on April 1, 2022, but, depending on the size of your increase, it may take some time to realize your full, new risk-based premium since raises are capped at 18% per year.
Places With Cheap Flood Insurance in Florida
The counties with the lowest flood insurance cost in Florida are Highlands, Sumter, and Marion counties, with average premiums at or below $579 per year.
Polk, Orange, Osceola, Hamilton, Seminole, Lake, Alachua, and Glades counties are also good spots for relatively cheap flood insurance in Florida, averaging between $600 and $650 annually, well below the state average of $958.
These rates won't hold, though. While policyholders in some zip codes will see their premiums go down, the average cost of flood insurance in Florida is expected to increase in every county under RR 2.0.
In total, under RR 2.0, over 141,000 policyholders will see their premiums decrease by more than $10 per month, while over 207,000 people will have premiums increase by over $10 per month in Florida.
With RR 2.0 rates in full effect, the counties with the cheapest flood insurance in Florida on average will be:
Highlands ($598)

Sumter ($651)

Marion ($659)

Osceola ($671)

Orange ($707)
Remember that these flood insurance rates in Florida are averages, and you can experience higher or lower premiums depending on your coverage limits, location, and more, which we'll review in detail.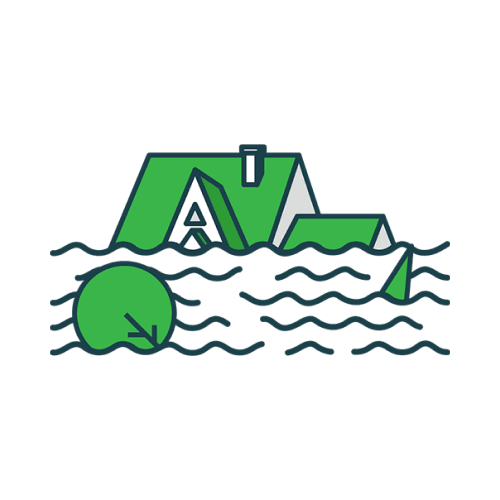 Stay Above Water With Flood Insurance
Do you want to pay for costly and common flood damage yourself or have an insurance policy pick up the tab?
What Does Flood Insurance Cover in Florida?
Flood insurance covers your home's structure and the belongings inside your house from floodwaters. Mudslides, sudden erosion, and storm surges from hurricanes and tropical storms can cause flooding. The coverage in flood insurance policies is typically divided into two sections: building and contents coverage.
Building Coverage
Flood insurance financially protects the structure of your home, including its foundation and permanent fixtures such as walls, flooring, and built-in appliances.
Contents Coverage
Flood insurance covers your personal belongings like furniture, electronics, clothing, and more. Your provider will reimburse you if these items get damaged by floodwaters.
How to Get the Best Florida Flood Insurance
You don't have a lot of wiggle room if you go with NFIP coverage. Your maximum policy limits can only be $500,000 for building coverage and $250,000 for your belongings, regardless of your home's replacement cost.
This is because the government funds the NFIP and runs at a loss. The program can't afford to fully accommodate all policyholders, especially those in high-risk flood zones with very expensive homes with a high chance of suffering property damage, like many of Florida's waterfront mansions.
As a result, the coverage you receive from the NFIP may not be enough to fully cover your home and belongings. If you need higher limits, the best flood insurance in Florida for your circumstances may be through a private company.
Private flood insurers are growing in availability and popularity thanks to new technology. Private flood insurers can offer higher limits and more coverage options than the NFIP in Florida. For example, a private company can offer increased limits for other structures and personal property.
Some private companies also have shorter waiting periods and other perks that we'll explain in detail a little later. Consider getting quotes from private flood insurers to see if they fit your budget and better suit your property and coverage needs.
Best Flood Insurance Companies in Florida
You can purchase flood insurance through many private companies in Florida. Some companies can offer excess flood coverage to plug NFIP coverage gaps, while others will provide whole policies independent of the NFIP. Some of the best flood insurance companies in Florida are:
AIG Property Casualty

American Integrity Insurance Company of Florida

American National Property & Casualty

American Southern Home Insurance

American Strategic Insurance Corporation

American Traditions Insurance

Berkeley Insurance

Centauri Specialty Insurance

Cincinnati Insurance

Edison Insurance

Federal Insurance (Chubb)

Florida Peninsula

Homeowners Choice

Kin

National General

Progressive

Safe Harbor Insurance

SafePoint Insurance

Security First

Southern Oak

Tower Hill

Typ Tap

US Coastal Property & Insurance

Zurich American (Wright Flood)
Note that some providers may have several companies they write under. For example, although only Tower Hill is listed, the company owns Tower Hill Preferred, Tower Hill Prime, Tower Hill Select, and Tower Hill Signature Insurance companies, all with flood insurance offerings.
In addition to completely privately funded insurance, you can get NFIP coverage through a private company due to the NFIP's partnership with private carriers. The private insurer will handle your claims and customer service in these cases, while the NFIP only provides financial backing. There are more flood insurance companies in Florida other than those listed above that offer this type of NFIP-backed coverage through the Write Your Own program.
So, you can get flood insurance directly from the NFIP, through a private company on behalf of the NFIP, or complete coverage from a private insurer.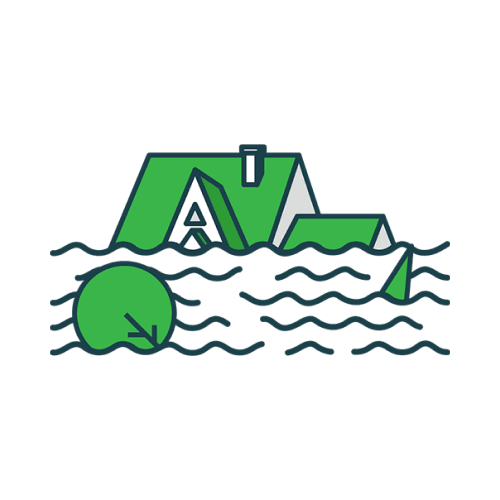 Stay Above Water With Flood Insurance
Do you want to pay for costly and common flood damage yourself or have an insurance policy pick up the tab?
What to Know When Getting Private Flood Insurance in Florida
Private flood insurance in Florida can offer higher limits and additional coverages not included in NFIP policies. They may also have shorter waiting periods to get a policy.
The private flood market is estimated to cover under 10% of all residential flood insurance policies, but the industry is growing as technology improves and some residents unhappy with new RR 2.0 rates may look for other options.
Private flood insurance in Florida often has higher possible policy limits. NFIP policies have a maximum of $250,000 in dwelling coverage, while some private carriers offer dwelling limits of up to $1 million or $5 million.
Similarly, while NFIP policies have a maximum of $100,000 in contents coverage, private companies can offer much more. You may also be able to purchase certain extra coverage, like protection against water backup or full replacement cost coverage for belongings.
Another perk of private flood insurance in Florida is that you can get it more quickly. There is a 30-day waiting period for NFIP policies. Private carriers will start your policy in less time.
Historically, another perk of private coverage was not always needing an elevation certificate. However, under RR 2.0, the NFIP no longer requires an elevation certificate for your home when getting coverage, although you can submit one if it lowers your insurance cost.
Factors That Affect the Cost of Flood Insurance in Florida
The average flood insurance cost in Florida is $958 per year, but it will climb to $2,213 per year once FEMA's RR 2.0 rates take full effect. Many factors affect your premium that can cause it to increase or decrease.
According to FEMA, RR 2.0 was conceived to create rates that more accurately reflect property owners' flood risk. Unfortunately for Florida residents, this means a lot of increases since most of the state is near water. The recent flooding and storm surge caused by Hurricane Ian as far inland as Orlando evidenced such risk in areas previously thought to be fairly safe from flooding.
While the NFIP's previous methodology before RR 2.0 focused on geographic area and elevation, FEMA states the new risk-based premiums are more encompassing. Factors that affect the cost of flood insurance in Florida include:
Likelihood of flooding incidents in your area

Home characteristics

Home replacement cost

Elevation and distance from nearby water

Flood mitigation measures
Generally, homes closer to possible flooding sources, like the coast or rivers, are more at risk than inland homes. As a result, houses near the water tend to have higher premiums. Hurricanes and tropical storms can batter Florida's coasts and bring tremendous amounts of rushing water.
Also, homes closer to the ground or below sea level generally have higher premiums than elevated houses since lower homes can be more easily affected by rising floodwaters.
Homes with higher replacement costs can sustain damage that costs more to fix. As a result, such houses need higher limits and will have higher premiums.
FEMA will also examine storm surge, coastal erosion, inland flooding, and tsunami risk to help determine premiums. Homes at greater risk of any of these flooding sources will have higher insurance rates. In Florida, the counties with the highest storm surge risk, according to FEMA, are:
Broward (100%)

Collier (100%)

Escambia (100%)

Flagler (100%)

Hendry (100%)

Martin (100%)

St. Lucie (100%)

Brevard (99.9%)

Miami-Dade (99.9%)

Palm Beach (99.9%)

Charlotte (99.8%)

Monroe (99.8%)
How Much Is Flood Insurance in Florida Zone AE?
FEMA maintains detailed maps that break up states and counties into different zones based on flood risk. Zone AE is a common high-risk flood zone in Florida, officially known as a special flood hazard area (SFHA). Many zones starting with A or V are these high-risk zones.
While the exact cost of flood insurance in Florida AE flood zones will vary, rates will generally be higher because high-risk zones have higher premiums. Flood insurance in an AE flood zone will almost always cost more than in a low-risk area.
Properties right along the Atlantic and Gulf coasts, rivers, and the Intracoastal are likely in AE flood zones. Also, almost all of the Florida Keys are in high-risk zones such as VE or AE.
Is Flood Insurance Required in Florida?
Your mortgage lender will require you to have flood insurance if you're in an SFHA. Additionally, Citizens, the largest home insurer in Florida, is requiring all its policyholders with wind coverage to get flood insurance by 2027 at the latest.
Mortgage lenders typically require homeowners in high-risk flood zones to get flood insurance. Banks accept either NFIP or private coverage as long as the plan sufficiently covers the property's replacement cost. Lenders require this coverage to protect their investment in your property. Since homeowners insurance doesn't cover flood damage, your lender would recoup the value of your home from the flood insurance policy.
In addition to standard lender requirements, Citizens, the state-run insurer of last resort in Florida, is requiring flood insurance for all its policyholders. People getting new policies in FEMA-designated flood zones had to get flood insurance by April 1, and policy renewals must get flood coverage by July 1, 2023.
If you're not in a flood zone, Citizens is phasing in flood insurance requirements depending on your property value:
January 1, 2024, for property valued at $600,000 or more.

January 1, 2025, for property valued at $$500,000 or more.

January 1, 2026, for property valued at $400,000 or more.

January 1, 2027, for all other residential policies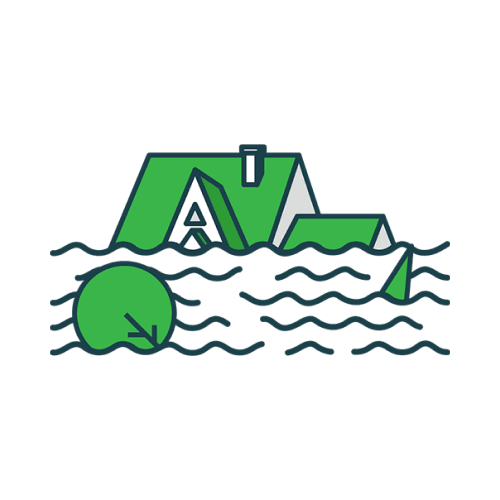 Stay Above Water With Flood Insurance
Do you want to pay for costly and common flood damage yourself or have an insurance policy pick up the tab?
If Not Required, When Do You Need Flood Insurance in Florida?
Purchasing flood insurance in Florida isn't a bad idea — even when you're not required. FEMA reports every county in Florida is subject to inland flooding, and many counties have storm surge and coastal erosion risks. About 25% of all NFIP flood insurance claims come from outside high-risk flood zones, so the chances of flooding are never far off.
Homeowners insurance doesn't cover flood damage. The only way to fully protect your property from floodwaters is with flood insurance. It can't hurt to compare quotes from both the NFIP and private insurers to see if you can get a policy without stretching your wallet.
Your need for flood insurance largely depends on your location. Recognize your flood zone, and remember that it's subject to change. You can check your flood zone by inputting your address into FEMA's Flood Map Service Center.
How to Get a Flood Insurance Quote in Florida
Digesting all of this information about flood insurance in Florida may be easier with the help of an agent. We're Clovered, an independent property insurance agency headquartered in South Florida. We're very familiar with what it takes to protect your home in the Sunshine State, and we'll gladly help you with your Florida flood insurance quote.
You can submit our flood insurance quote form that will help you compare several providers' policies. All you need to do is input some basic personal and property information like desired coverage amounts and flood zone and one of our licensed agents will get back to you with your possible Florida flood insurance quotes.
You can also call us at 833-255-4117 during business hours to speak to an agent for help getting a flood insurance policy in Florida. And, feel free to email us at agent@clovered.com with any questions.
We want to make the process of getting flood insurance easy for you. Turn to Clovered to save time and money while complying with Florida flood insurance requirements.
Florida Flood Insurance Calculator
If you're unsure exactly how much flood insurance you need, consider your home's replacement cost and the value of your belongings. Policy limits should reflect the value of your property and contents.
The table below is a type of Florida flood insurance calculator that can tell you what you're likely to pay, given your home's replacement cost. For about two-thirds of Florida residents, your flood insurance will cost between $653 and $1,423 annually.
Flood Insurance Policy Distribution by Premium
Annual Cost
$0 – $1,000
$1,000 – $2,000
$2,000 – $3,000
$3,000 – $4,0000
$4,000+
Replacement Cost
$472,282
$492,438
$529,933
$545,517
$975,143
Policies in Force
248,602
133,224
69,458
42,870
103,813
% in Force
42%
22%
12%
7%
17%
Average Premium
$653
$1,423
$2,457
$3,468
$8,996
The table breaks groups into intervals per thousand dollars in premium. According to the table, 42% of policyholders in Florida, who have an average home replacement cost of about $472,000, will pay under $1,000 per year for flood insurance. Their exact average is about $653 annually.
As you can see, nearly two-thirds of Florida homeowners (64%) pay under $2,00 per year for flood insurance. The final row of the table shows how very expensive homes make up a minority of policies but have the highest premiums by far.
In addition to this Florida flood insurance calculator, there are some tips you can follow to ensure you have sufficient flood coverage.
Get policy limits as close to your replacement cost as possible. You don't want to be underinsured if your house sustains flood damage. Floods are more common than you think and incredibly costly to remediate. You should always be sure that all your personal property is accounted for in your policy. Make a home inventory list to value your items and avoid overpaying.
Adjust your deductible. A deductible is the monetary amount damage must exceed before you can file a claim for your insurer to cover the costs. For example, if you have a $1,000 deductible, you must suffer at least $1,000 in flood damage before your carrier can step in to help.
You can raise your deductible to lower your premiums. Raising your deductible reduces the chances that your insurer is on the hook for flood damage. Common deductibles from the NFIP start at $1,000 and can go up to $10,000.
However, be aware that your lender may set a maximum amount for your deductible. Also, NFIP policies have two separate deductibles, one each for building and contents coverage. In a flood where both are affected, you'll have to pay both deductibles. Private insurers can offer different deductible options and may only have one deductible.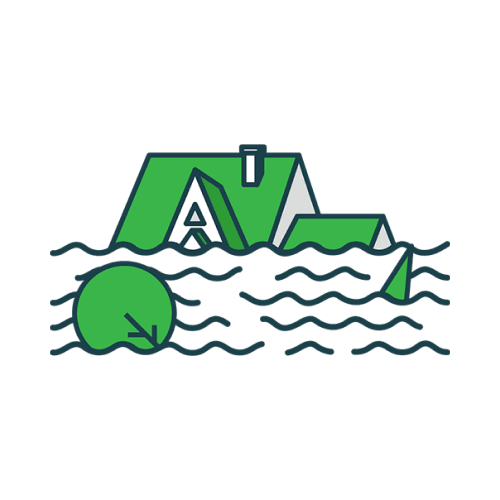 Stay Above Water With Flood Insurance
Do you want to pay for costly and common flood damage yourself or have an insurance policy pick up the tab?
The editorial content on Clovered's website is meant to be informational material and should not be considered legal advice.