What Is a Flood Elevation Certificate & Why Do You Need It?
Flood
/
What Is a Flood Elevation Certificate & Why Do You Need It?
Flood insurance is pretty easy to find since the government offers it, but it's not always so easy to navigate. An important part of getting flood insurance is acquiring a flood elevation certificate for your property. You don't always need one, but it may help save you money on flood insurance rates.
Let's take a look at what you need to know about flood insurance elevation certificates.
What Is a Flood Elevation Certificate?
A flood elevation certificate is a document that's authorized and used by the Federal Emergency Management Agency (FEMA) to influence flood insurance rates and flood zone maps around the country. The certificate contains information about the characteristics of your house that determine how it would react to potential flood damage.
It shows structural details about your house like its size, amount of openings, whether it's located in a flood zone or not, and its elevation. On a flood certificate, the elevation of your house is compared to the Base Flood Elevation (BFE) of your area. The BFE is the level of water that FEMA expects to see in your area if you experience a serious flood. 
Thus, the elevation of your house is a great influence on your flood insurance premium. Generally, the higher your house is above the BFE, the lower risk you have of flood damage, so the less you pay for flood insurance.
A flood insurance certificate can be used to determine your flood insurance rate, to verify you're following local ordinances and regulations, or to request a change in flood zone designation from FEMA.
If your property is in a high-risk flood zone and you have a mortgage, your lender will require you to get flood insurance. If you get your insurance through the National Flood Insurance Program (NFIP), which many people do, you'll need a flood elevation certificate to do so.
You may not need a certificate if you're getting a flood policy from a private insurer, but it can never hurt to have one. Having an updated certificate could qualify you for lower rates or be grounds to change your food risk.
Flood certificates usually aren't required for insurance in low- or moderate-risk flood zones.
How to Get a Flood Elevation Certificate
To go about getting a flood elevation certificate, you should first find out if one already exists for your property and try to get a hold of it. To do this, look up how to contact your city's floodplain official. Floodplain managers or departments keep track of flooding maps and policies in your town. They may have a copy of your property's flood elevation certificate.
Additionally, if you're buying a property, be sure to ask the previous owner, builder, or manager if he or she has the floodplain certificate. Someone likely had to receive one somewhere along the line, so you could get a copy of it through them also.
If you can't find an existing one, you can have a certified land surveyor, engineer or architect come to your property and complete one. 
How Much Does an Elevation Certificate Cost?
As with most insurance-related products, the cost of a flood elevation certificate varies greatly depending on a variety of factors. The size, location, and structure of the property all influence how much an inspection would cost to receive. For example, it would generally be more expensive to get a flood certificate for a large commercial building than for a single-family home.
Some features of your home affect the cost of getting one, too. Having an elevator, basement, attached garage, or any built-in elevation changes would likely hike up the price of a typical inspection at least slightly.
How Long Does It Take to Get a Flood Elevation Certificate?
Unfortunately, the amount of time it takes to get a flood elevation certificate varies, too. It will probably take a few days. Don't bet on getting one overnight. How quickly you receive your certificate after an inspection can depend on the size of your property and how busy the surveyor is.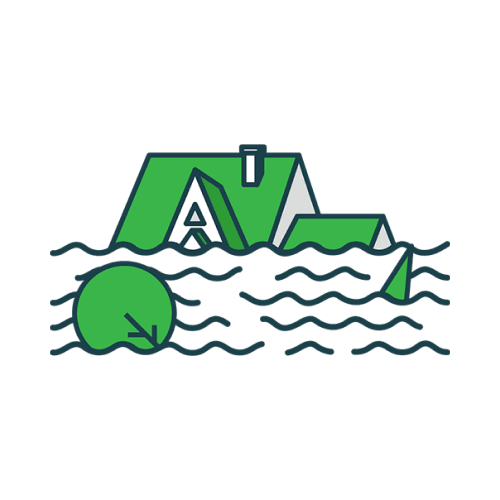 Stay Above Water With Flood Insurance
Do you want to pay for costly and common flood damage yourself or have an insurance policy pick up the tab?
The editorial content on Clovered's website is meant to be informational material and should not be considered legal advice.