Why Is Flood Insurance Separate From Homeowners Insurance?
Flood
/
Why Is Flood Insurance Separate From Homeowners Insurance?
If you're required to get flood insurance, it might feel redundant that you have to get a separate policy to protect your house from floods. You spend hundreds or thousands each year for homeowners insurance that's supposed to protect your home from damage.
But, floods aren't covered by homeowners insurance, with good reason. Read below to find out why flood insurance is separate and whether it's not possible to get home insurance with flood coverage included.
Why Is Flood Insurance Separate?
Simply put, flood insurance is separate from homeowners insurance because floods are too expensive for insurers to cover in standard policies while keeping premiums affordable. Floods are extremely costly and very common. Including them in home insurance policies would raise rates substantially for nearly everyone.
The Federal Emergency Management Agency (FEMA) is the government's primary response team when floods devastate areas. They're also the largest flood insurance provider in the United States by far.
Since they have so much experience dealing with floods, they publish much of the information we know about floods. We'll reference many statistics and definitions from them below in our detailed explanations of why flood insurance is separate from home insurance.
Floods Can Happen Anywhere
Floods aren't always catastrophic events. They happen almost daily depending on where you live, and they're not only confined to coastal states or places around bodies of water. FEMA defines a flood as "a general and temporary condition of partial or complete inundation of 2 or more acres of normally dry land area."
A single, powerful rainstorm could cause the above conditions in some cases, especially when coupled with poor infrastructure systems or favorable geographic conditions. Unlike tornadoes or hurricanes that only affect certain regions often during certain seasons, floods can happen anywhere in any state at any time.
Several phenomena can cause floods. According to FEMA, floods can be caused by the overflow of inland or tidal waters, rapid accumulation or runoff of surface waters, mudslides, or the collapse or subsidence of land along the shore of a body of water that exceeds anticipated cyclical levels.
It's hard for home insurers to assess flood risks for all properties accurately. Flood zones and local environments change over time, so a company would continually need to be updating and monitoring susceptibility. FEMA undertakes this large-scale and costly job. They maintain and update flood zone maps for the whole country.
But, floods occur outside flood zones often. FEMA reports that over 20 percent of flood insurance claims come from outside high-risk flood areas, so even restricting policies to homes outside designated flood zones wouldn't fully solve the problem.
Floods are very costly to remediate. FEMA states that one inch of floodwater can cause up to $25,000 in damage. In comparison, the average home insurance claim costs about $13,962, according to the Insurance Information Institute.
Premiums are meant to offset the cost of potential losses. So, if premiums had to offset the possible cost of flood claims in addition to standard home insurance claims, premiums would undoubtedly increase for most policyholders.
Historically, floods have been an issue in the United States ever since people began gathering in communities and cities. As cities and populations grew, flooding became a problem on the federal, state, and local levels since zoning, laws, private businesses, public use, and the scope of the government came into play.
Eventually, Congress passed the National Flood Insurance Act. Since then, the National Flood Insurance Program (NFIP), administered by FEMA, has been the largest flood insurance provider in the United States. The NFIP doesn't make money. Since floods are so costly and common, the NFIP runs at a loss every year.
Almost no home insurer would want to cover properties in flood zones if floods were included in homeowners insurance because they're too much of a risk. The chances of a flood are too great, and most providers wouldn't want to take the chance of covering a property that's almost certain to be flooded during the life of the policy.
Instead, more private flood insurance companies are offering coverage with the advent of new technology and underwriting techniques. Many have larger coverage limits than the NFIP at competitive prices. These flood insurance companies don't offer home insurance coverage in their flood policies. They must focus on flooding only.
How Can You Get Home Insurance With Flood Coverage?
While you can't get home insurance with full flood coverage, there are some aspects of home insurance and optional endorsements you can get that cover several types of water damage. You could say that home insurance covers floods that originate or manifest from inside your house.
Water damage from sewage backup isn't covered by default, but you might be able to purchase a water backup endorsement from your provider. This could cover water backing up into your home from sump pumps, sewage lines, and other drains.
These are about the only ways to add flood insurance to a homeowners policy unless your provider also partners with a flood insurance company like the NFIP or a private carrier. Then, they may help you get a flood insurance plan.
Depending on how they partner with the flood insurer, your original agent or carrier may still handle your flood insurance claim if you file one. But, another company will likely be paying out the claim. For instance, if your agent helps you get a flood policy with the National Flood Insurance Program, the federal government pays out your flood claims.
Getting Flood and Homeowners Insurance Quotes
While you may not be able to get one policy of home insurance with flood coverage, we can help you find both home and flood insurance and handle your claims in both instances. At Clovered, we partner with several of the country's top home and flood insurance providers, and we can help you find policies with the coverage you need at the price you want.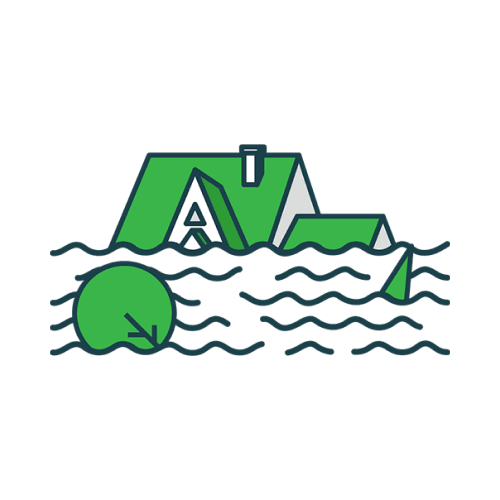 Stay Above Water With Flood Insurance
Do you want to pay for costly and common flood damage yourself or have an insurance policy pick up the tab?
The editorial content on Clovered's website is meant to be informational material and should not be considered legal advice.
Similar Articles