Flood Insurance in Maryland
Flood
/
Flood Insurance in Maryland
The Atlantic coast is a crucial part of Maryland's identity as a state. Unfortunately, living near the water makes homes and properties susceptible to flooding.
You may be in a flood zone even if your home isn't on the Chesapeake or another body of water. Floods can and do happen anywhere, and homeowners insurance doesn't cover the damage.
A dedicated flood insurance policy is the only way to protect your property from flood damage. We break down the information you must know about flood insurance in Maryland, including average rates, cost factors, and more.
How Much Is Flood Insurance in Maryland?
The average cost of flood insurance in Maryland is $742 annually under the National Flood Insurance Program's new rating methodology. This average increased from $608 before the new calculations, resulting in an 18% rise in premiums statewide.
Although no one likes higher prices, an 18% average increase is on the lower end compared to many states under the NFIP's new rating system. And, some policyholders will see decreases in premiums depending on their location and other factors.
The NFIP is the largest flood insurer in the country. It differs from most insurance providers in that it's not a company. The NFIP is a government program administered by the Federal Emergency Management Agency (FEMA).
The NFIP has over 21,000 active single-family home policies in Maryland. It began changing how it calculates its rates in 2021 to evaluate property flooding risk nationwide more accurately. As a result, most policyholder's premiums increased under their new system, called Risk Rating 2.0.
The table below shows average Maryland flood insurance rates by county before and after RR 2.0.
Average Cost of Flood Insurance in Maryland
County
Allegany
Anne Arundel
Baltimore City
Baltimore
Calvert
Caroline
Carroll
Cecil
Charles
Dorchester
Frederick
Garrett
Harford
Howard
Kent
Montgomery
Prince George's
Queen Anne's
Somerset
St. Mary's
Talbot
Washington
Wicomico
Worcester
Policies in Force
109
3,285
461
2,121
497
92
130
334
440
893
372
46
362
541
304
1,554
1,591
1,128
817
766
1,317
189
351
3,955
Current Cost
$799
$548
$553
$579
$616
$638
$860
$732
$630
$562
$662
$972
$652
$463
$578
$485
$578
$574
$564
$720
$553
$823
$580
$742
Risk-Based Cost
$1,304
$571
$602
$642
$776
$696
$1,275
$874
$826
$581
$832
$1,489
$797
$474
$609
$521
$732
$593
$620
$948
$562
$1,216
$643
$1,130
RR 2.0 premiums became effective for any new NFIP policy bound after October 1, 2021. For existing policyholders whose rates would change, the NFIP began to phase in RR 2.0 rates starting April 1, 2022. Rate increases are capped at 18% per year, so it may take some time to realize your new premium, depending on the amount it rises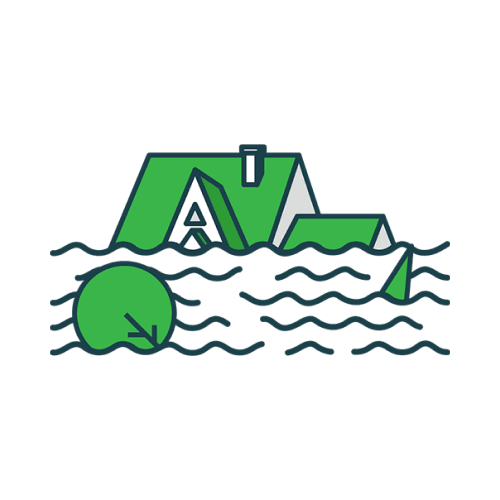 Stay Above Water With Flood Insurance
Do you want to pay for costly and common flood damage yourself or have an insurance policy pick up the tab?
Where Is the Cheapest Flood Insurance in Maryland?
Some locations in Maryland felt less of the effects of rising flood costs than others. RR 2.0 increased annual flood costs for every county on average. The cheapest flood insurance in Maryland under the new rates can be found in:
Howard County ($474)

Montgomery County ($521)

Talbot County ($562)

Dorchester County ($581)

Queen Anne's County ($593)
It's also worth noting that Anne Arundel, Dorchester, Howard, Queen Anne's, and Talbot counties had relatively small increases, with average annual rates rising under $30.
What Does Flood Insurance in Maryland Cover?
Flood insurance in Maryland covers your home and belongings from flood damage. FEMA defines a flood as a "condition of partial or complete inundation of 2 or more acres of normally dry land area," typically caused by:
Mudslides

Coastal erosion

Accumulation of heavy rains

Storm surges
Flood insurance policies have two coverage sections:
Building Coverage
Building coverage in flood insurance covers your home's physical structure, including the foundation, walls, flooring, water heaters, countertops, and other permanent fixtures. Coverage for basements is limited.
Contents Coverage
Contents coverage financially protects your belongings in your home, such as clothes, electronics, furniture, jewelry, art, and more.
How to Get the Best Maryland Flood Insurance
The NFIP is the most popular option for flood insurance, but it isn't your only option. The best flood insurance in Maryland for your circumstances may come from a private carrier. Private flood insurance companies can offer cheaper coverage at competitive rates.
The NFIP's operation as a government-backed product means it can't function like a standard company. The government makes NFIP flood coverage available to everyone and tries to keep prices relatively low, even in the most flood-prone areas.
As a result, the program always loses more in flood damage claims in Maryland and nationwide than it brings in premiums. It's hundreds of millions in debt. These constrictions limit the NFIP's ability to cover all customers fully. All NFIP policies have strict policy limits of $250,000 in building coverage and $100,000 in contents coverage.
Private Flood Insurance in Maryland
Private flood insurance companies are able to offer policies with higher coverage limits and more coverage options. For instance, many private flood carriers will insure your building for $1 million or more, and they can cover personal property for $500,000 or more.
Also, private flood insurers can provide additional coverage, such as replacement cost property coverage. Flood insurance policies from the NFIP cover contents at actual cash value, meaning the NFIP will deduct depreciation before replacing damaged items. The older an object is, the less you'll get for it. Also, certain valuable items like art and jewelry have sub-limits, so they're not usually covered for their total value.
Flood insurance plans from private carriers can offer replacement cost coverage, meaning your provider will reimburse you what you paid for a damaged item, no matter its age.
Private companies can also offer loss of use coverage to cover living expenses if you're forced to move out of your home after a flood. NFIP policies never cover loss of use.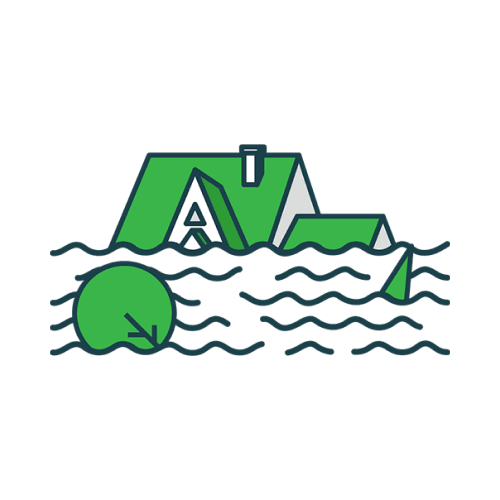 Stay Above Water With Flood Insurance
Do you want to pay for costly and common flood damage yourself or have an insurance policy pick up the tab?
Factors Affecting the Cost of Flood Insurance in Maryland
Flood insurance in Maryland costs about $742 per year under the NFIP. Several factors affect this average, and you may pay less or more than this depending on your home's variables, such as:
Distance to flooding sources

Elevation

Replacement cost

Building occupancy

Construction type
Distance to water sources is a primary factor in determining premiums. Houses closer to lakes, rivers, or the coast have higher chances of flooding and will likely have higher flood insurance rates. FEMA determines flood maps for the country, and areas designated as high-risk flood zones, also known as Special Flood Hazard Areas (SFHAs), have the highest flood insurance rates.
Many SFHAs are on the coast or near water. You can check your property's flood zone on a flood insurance rate map for Mayland, provided by FEMA.
As a coastal state, Maryland has plenty of homes and areas at risk of flooding from storm surges. According to FEMA, the counties with the highest number of properties exposed to storm surge are:
Somerset (99.9%)

Dorchester (98.8%)

Worcester (97.6%)

Queen Anne's (96.7%)

Talbot (96.7%)

Kent (94.1%)
Elevation is also critical. To insurers, elevation means your first-floor height and the elevation of the land around your home. Houses on top of hills are less likely to flood than homes at the bottom of hills. Also, houses built higher off the ground are less likely to suffer flood damage, often resulting in lower flood insurance premiums.
Carriers will also examine the materials with which your house is built. Masonry homes tend to withstand floodwaters better than frame homes, so brick and concrete houses may have lower rates. Replacement cost, the cost to rebuild your home after damage, also plays a role. Homes that cost more to build need more insurance.
Is Flood Insurance Required in Maryland?
When mortgage lenders put money down on homes with mortgages, they require the homeowner to get home insurance to protect their investment. Homeowners insurance doesn't cover flood damage. So, banks will also require homeowners to maintain flood insurance for homes in SFHAs.
Thus, if a flood was to destroy the home, the homeowner and lender could recoup their investments through the flood insurance policy. Lenders typically accept NFIP and private flood coverage as long as it covers the home's replacement cost (or reaches the NFIP maximum).
How to Get Flood Insurance Quotes in Maryland
You should compare quotes from private flood companies before turning to the NFIP. If you need flood insurance. Clovered, an independent insurance agency, can help you get flood insurance quotes in Maryland. We make comparing policies and saving money easy since we work with some of the country's top private flood insurance carriers.
You can use our online flood insurance quote form to get a quote. Just fill out the form with some basic information about yourself and your property, and one of our agents will get back to you with your flood insurance options.
If you'd rather chat with a licensed agent over the phone for a quote, please call us at 833-255-4117 during business hours. You can also email us with any questions at agent@clovered.com. Our expertise is property insurance, and we'd love to help you with your flood insurance quote in Maryland.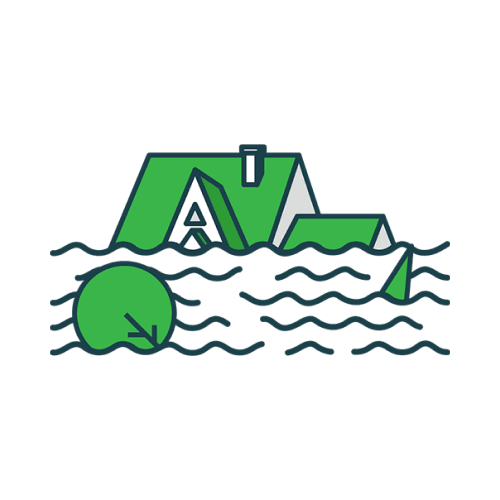 Stay Above Water With Flood Insurance
Do you want to pay for costly and common flood damage yourself or have an insurance policy pick up the tab?
The editorial content on Clovered's website is meant to be informational material and should not be considered legal advice.