Flood
/
Maryland Flood Insurance
Since Maryland sits on the Atlantic seaboard and much of the state is within low-lying regions near water, it makes for a splendidly beautiful place to be! It also makes nearly the entire state susceptible to flooding. Whether you're a homeowner, renter or landlord in the Old Line State, each person needs to have Maryland flood insurance to properly protect their home and belongings from potential flood damage.
Many people aren't aware their home insurance policy doesn't cover flood damage. Even more people aren't aware that flooding is the most common and one of the most costly natural disasters in the United States. But getting flood insurance in Maryland can be your saving grace because it provides protection for the structure of homeowners' property and the belongings kept inside, like TVs, computers and clothes.
What Does Flood Insurance in Maryland Cover?
Since flooding is the most common natural disaster in the U.S., it's imperative that everyone in Maryland keeps adequate flood insurance to protect their property and belongings. If a covered peril occurs, such as snowmelt or heavy rains causing rivers, lakes, ponds and streams to flood, Maryland flood insurance is the last line of protection between the damages and your wallet.
☘ Your home's physical structure and its foundation, meaning the essential pieces that make up your home, are covered by flood insurance. This can be anything from flooring and drywall to built-in cabinets and electrical wiring.
☘ Flood insurance can help pay to repair or replace your personal belongings that were damaged or destroyed directly by flooding. This coverage extends to things like TVs, computers and other electronics to furniture and clothes.
☘ When floodwaters enter a home, they tend to damage or destroy a handful of appliances in your home. Luckily, flood insurance can help replace many of those appliances, like your HVAC unit, water heater, dishwasher and much more.
How Much Is Flood Insurance in Maryland?
Even though Maryland is susceptible to floodwaters in nearly every square inch of the state, Maryland flood insurance rates average just $550 per year. Depending on your coverage needs and where you live in the state, you could pay significantly less than that, too.
How to Get Maryland Flood Insurance
Getting Maryland flood insurance is easy with Clovered. We've teamed up with some of the state's top insurers so we can provide residents of the Old Line State with the best coverage at the best prices. Simply call us today to get a quote on your home. We mitigate the flood insurance rate map in Maryland to determine your risk and can provide cheaper rates if you're out of the high-risk flood zone.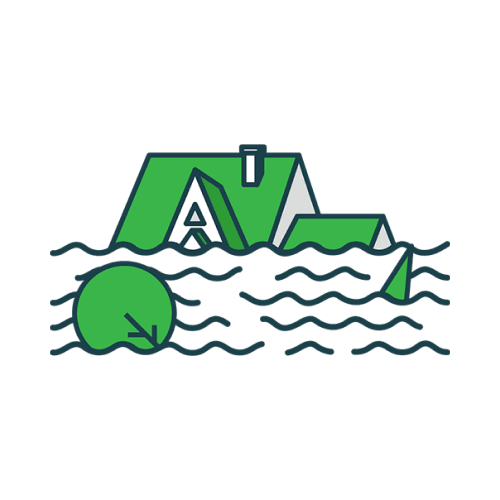 Stay Above Water With Flood Insurance
Do you want to pay for costly and common flood damage yourself or have an insurance policy pick up the tab?
The editorial content on Clovered's website is meant to be informational material and should not be considered legal advice.