Massachusetts Flood Insurance
Flood
/
Massachusetts Flood Insurance
As the Massachusetts snow seemingly gets deeper every year and the rains continue to fall, The Bay State's unique juxtaposition in the world of natural water and flood claims grows every year. It's the reason Massachusetts flood insurance premiums are among the highest in the country at just over $1,250 per year.
When you consider the season of snowmelt and heavy rainfall both come in early spring, this creates a tight tension on bodies of water, both flowing and standing stagnant. The Charles River, cutting through downtown Boston, is just one of the many rivers that seem to fill up at this time each year.
And if you don't have a Massachusetts flood insurance policy in effect at least 30 days before floodwaters cause damage to your home and belongings, you could be stuck paying for the damages out of your own pocket.
Let Clovered help you secure a policy for private flood insurance in Massachusetts. Private policies are typically far below the average cost of flood insurance in Massachusetts because many of the state's policies are high-priced policies issued by the federal government. By getting a quote today, you could protect your home and belongings at a fraction of the cost of your neighbors.
What Flood Insurance Covers in Massachusetts
From heavy snowstorms to melting snowfall and from torrential rains to overflowing bodies of water, Massachusetts flood insurance can help protect you from perils that your home insurance policy won't cover.
☘ Your home's physical structure and its foundation, meaning the essential pieces that make up your home, are covered by flood insurance. This can be anything from flooring and drywall to built-in cabinets and electrical wiring.
☘ Flood insurance can help pay to repair or replace your personal belongings that were damaged or destroyed directly by flooding. This coverage extends to things like TVs, computers and other electronics to furniture and clothes.
☘ When floodwaters enter a home, they tend to damage or destroy a handful of appliances in your home. Luckily, flood insurance can help replace many of those appliances, like your HVAC unit, water heater, dishwasher and much more.
How Much Does Flood Insurance Cost in Massachusetts?
Since most of the state resides in FEMA's 100-year floodplain rate map, the average cost of flood insurance in Massachusetts tips the scale at $1,250 per year. That's among the highest prices in the country.
Since flooding is so rampant in The Bay State, flooding homes are just about as common as getting a lobster roll at the nearest restaurant. When you consider the average flood causes about $25,000 in damage for every 1 inch of floodwaters, the yearly premium price is suddenly well worth the cost.
Massachusetts Flood Insurance Laws
Even though there are no legal requirements to maintain flood insurance in Massachusetts (except for the requirements put in place by your mortgage lender), securing and maintaining a flood insurance policy is a wise idea.
Keep in mind that flood insurance takes 30 days to go into effect, so you need to purchase a policy sooner rather than later if you want to be covered during the next season of potential floods.
How to Get Private Flood Insurance in Massachusetts
To get private flood insurance in The Bay State, which is among the cheapest flood insurance costs in Massachusetts, just give us a call at Clovered and we can help pair you with a policy that meets your needs for coverage and your yearly budget restrictions.
We partner with some of the state's top insurers, so we're able to keep the prices down while getting you adequate coverage that meets the demands of your mortgage lender and keeps you high and dry when the floodwaters roll in.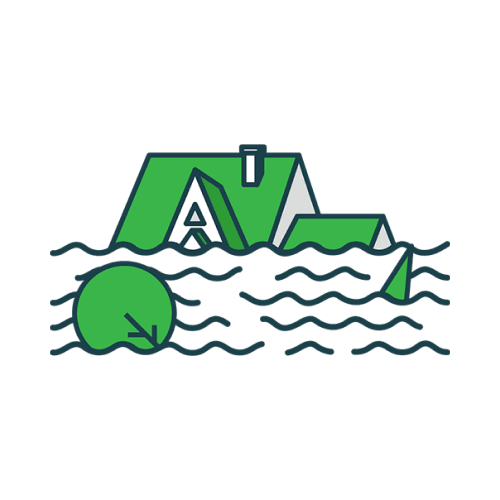 Stay Above Water With Flood Insurance
Do you want to pay for costly and common flood damage yourself or have an insurance policy pick up the tab?
The editorial content on Clovered's website is meant to be informational material and should not be considered legal advice.