Does Flood Insurance Cover Broken Pipes?
Flood
/
Does Flood Insurance Cover Broken Pipes?
When Does Flood Insurance Cover Broken Pipes?
Similar to your home insurance policy, flood insurance covers a multitude of perils that cause flooding — not water damage from the inside of your home. Water damage and flooding are two separate perils. Water damage can occur from appliances inside your home or broken pipes, but flooding is a peril that only occurs from things like excessive rain or overflowing bodies of water entering into your home from the ground up.
Although broken pipes from flood damage can be pretty rare, it can happen. For your coverage to be enacted, the flooding would have to directly damage the pipes. However, even though flooding is a peril not covered home insurance, it has similar coverages. Let's take a look at what kind of coverage you can expect after a flood.
If flooding damages your pipes, the pipes themselves would likely not be covered, meaning your policy would likely pay to replace or repair the pipes. However, if the broken pipes caused water damage to your home — in the walls, carpet or other areas directly attached to your home — flood insurance would likely pay to repair or replace these structures.
Personal Property Coverage
Actual cash value accounts for depreciation to your belongings' value so it will pay you less than what you purchased it for. Replacement cost, however, reimburses you for the entire cost you paid for the item. So whether it's one month old or 10 years old, you'll still get reimbursed for the amount you paid initially.
If you have home insurance, which you should, loss of use coverage may sound like a familiar protection in your policy. Depending on what flood policy you get and whether you get it from a private insurer or the government, that will determine whether your policy includes loss of use or not.
But if you live in another flood zone, you may be able to purchase a policy through a private insurer and, therefore, will have the option to add loss of use coverage to your policy.
Coverage Limits for a Flood
While your coverage limits will be largely determined by the carrier — government coverage typically offers less of a policy maximum than private coverage — you should always have enough to rebuild your entire home and replace your belongings.
So if your home is worth $200,000 and you have $40,000 in personal property, you should opt for at least $200,000 in dwelling protection and $40,000 in personal property protection.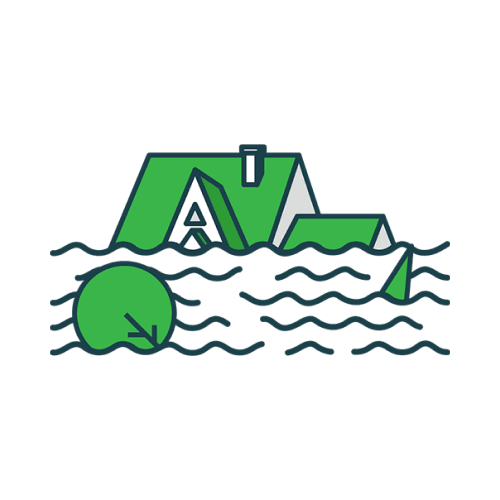 Stay Above Water With Flood Insurance
Do you want to pay for costly and common flood damage yourself or have an insurance policy pick up the tab?
The editorial content on Clovered's website is meant to be informational material and should not be considered legal advice.
Similar Articles