Flood Insurance in Minnesota
Flood
/
Flood Insurance in Minnesota
Minnesota has the tenth-fewest active federal flood insurance policies out of all states. While flooding risk may seem minimal in many neighborhoods, homeowners shouldn't overlook how devastating even a minor flood can be.
Homeowners insurance doesn't cover flooding, and just one inch of floodwater causes an average of $25,000 in damage. Your property is exposed without a separate flood insurance policy.
This guide details what you need to know to find the best flood insurance in Minnesota so you can protect your property at an affordable price.
How Much Is Flood Insurance in Minnesota?
The average cost of flood insurance in Minnesota is $1,832 under the National Flood Insurance Program's rating system. Average rates were $943 before 2021 until the NFIP changed how they calculated premiums nationwide.
The NFIP is the largest flood insurer in the country. Unlike other typical large insurance providers, the NFIP is run by the government. The Federal Emergency Management Agency (FEMA) manages the program and aims to give communities relatively affordable flood insurance.
The NFIP has over 3,900 policies in force for single-family homes in Minnesota, among the lower numbers of all the states. Beginning in 2021, FEMA changed how it calculates flood premiums, reportedly reflecting a new system of measuring property flood risk. This caused average rates in Minnesota to increase.
The table below shows the average cost of flood insurance in Minnesota by county before and after the NFIP's new rates, called Risk Rating 2.0.
Average Cost of Flood Insurance in Minnesota
County
Aitkin
Anoka
Becker
Beltrami
Benton
Big Stone
Blue Earth
Brown
Carlton
Carver
Cass
Chippewa
Chisago
Clay
Clearwater
Cook
Cottonwood
Crow Wing
Dakota
Dodge
Douglas
Faribault
Fillmore
Freeborn
Goodhue
Hennepin
Houston
Hubbard
Isanti
Itasca
Jackson
Kanabec
Kandiyohi
Kittson
Koochiching
Lac Qui Parle
Lake
Lake Of The Woods
Le Sueur
Lincoln
Lyon
Mahnomen
Marshall
Mcleod
Meeker
Mille Lacs
Morrison
Mower
Murray
Nicollet
Nobles
Norman
Olmsted
Otter Tail
Pennington
Pine
Pipestone
Polk
Pope
Ramsey
Redwood
Renville
Rice
Rock
Roseau
Scott
Sherburne
Sibley
St. Louis
Stearns
Steele
Stevens
Todd
Traverse
Wabasha
Wadena
Waseca
Washington
Watonwan
Wilkin
Winona
Wright
Yellow Medicine
Policies in Force
70
185
88
88
68
14
31
16
28
67
88
88
40
139
88
9
28
84
140
23
7
9
69
15
49
683
27
88
40
25
88
13
12
12
9
88
6
18
54
88
27
88
25
29
20
43
41
58
22
30
20
32
123
10
10
78
8
91
88
135
88
88
37
7
30
92
77
88
156
105
46
88
26
14
37
10
8
166
88
42
94
77
10
Current Cost
$1,038
$1,033
$946
$946
$1,290
$1,274
$921
$1,083
$870
$775
$946
$946
$981
$1,103
$946
$667
$1,433
$820
$638
$1,271
$838
$1,132
$1,134
$691
$1,165
$745
$1,073
$946
$1,179
$1,123
$946
$929
$1,096
$677
$1,393
$946
$579
$927
$1,051
$946
$964
$946
$1,277
$1,054
$1,125
$965
$839
$887
$867
$742
$664
$827
$839
$593
$1,256
$1,137
$582
$1,148
$946
$706
$946
$946
$952
$984
$767
$999
$1,135
$946
$965
$1,311
$1,208
$946
$861
$882
$947
$1,854
$573
$857
$946
$818
$1,153
$1,080
$993
Risk-Based Cost
$2,270
$2,081
$1,806
$1,806
$2,258
$1,756
$2,705
$2,778
$3,028
$1,431
$1,806
$1,806
$1,474
$2,515
$1,806
$1,610
$1,901
$1,803
$832
$2,616
$1,328
$1,829
$2,829
$1,329
$2,334
$1,160
$3,062
$1,806
$1,448
$1,733
$1,806
$2,760
$1,344
$867
$1,683
$1,806
$1,981
$1,270
$2,058
$1,806
$2,676
$1,806
$2,617
$2,350
$1,399
$1,933
$2,342
$2,610
$1,704
$2,035
$664
$1,177
$2,932
$1,595
$6,169
$2,330
$588
$2,192
$1,806
$983
$1,806
$1,806
$2,173
$1,068
$1,524
$1,478
$1,860
$1,806
$1,716
$2,973
$2,365
$1,806
$1,545
$1,564
$2,528
$3,036
$752
$1,245
$1,806
$1,039
$2,739
$1,689
$1,965
RR 2.0 rates began to take effect for everyone getting new NFIP policies on October 1, 2021. For existing policyholders, FEMA began phasing in RR 2.0 rates on April 1, 2022.
Depending on the size of your rate increase, it may take some time for existing policyholders to realize their RR 2.0 premium. FEMA capped rate increases at 18% annually.
Under RR 2.0, Pennington County has the highest average flood insurance in Minnesota, with a whopping $6,169 premium. But, the county has only ten policies, so these may reflect some very expensive homes. Houston, Wadena, and Carlton were the next most costly areas, with all three counties coming in over $3,000 annually.
Pipestone, Nobles, Waseca, Dakota, Kittison, and Ramsey counties had some of the cheapest flood insurance in Minnesota. These are all the counties with average premiums under $1,000 annually.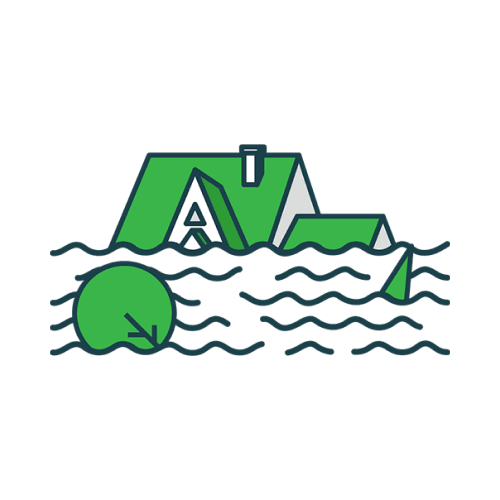 Stay Above Water With Flood Insurance
Do you want to pay for costly and common flood damage yourself or have an insurance policy pick up the tab?
What Does Flood Insurance in Minnesota Cover?
Flood insurance financially protects your property from flood damage. Covered instances of flood damage include mudslides, storm surges, coastal erosion, and sometimes the sudden accumulation of heavy rains (flash floods).
If floodwaters damage your property, your flood insurance policy can reimburse you for damaged items. Your plan covers the following elements:
Building Coverage
Building coverage in flood insurance accounts for the physical structure of your home, such as the walls, flooring, ceilings, water heater, wiring, plumbing, and more.
Contents Coverage
Contents coverage safeguards your belongings in and around your home, including furniture, electronics, clothing, small appliances, tools, jewelry, and more.
Flood insurance policies from the NFIP have limited coverage for basements, since basements are prone to suffering flood damage. If water enters your home, it can easily flow down and fill a basement. As a result, many items in finished basements, from furniture to installations, aren't covered in NFIP plans.
How to Get the Best Flood Insurance in Minnesota
The NFIP isn't your only option for flood coverage. You should get quotes from private flood insurance companies in your area to see if these smaller, private carriers have the best flood insurance in Minnesota for your needs. Flood insurance from a private firm has certain advantages over NFIP coverage.
The NFIP is so popular because it's a government program. Its coverage is available to nearly everyone, and the government subsidizes rates to an extent. It's not profit-seeking. As a result, the program is run at a loss and very deep in debt.
Due to its financial restraints, the NFIP in Minnesota can't afford to cover every policyholder's property fully. The NFIP caps its single-family home policies at $250,000 in building coverage and $100,000 in contents coverage. Your home and belongings may surpass these evaluations, and you would be underinsured with an NFIP policy in this case.
Private Flood Insurance in Minnesota
Private flood insurance companies in Minnesota don't have the financial restrictions of the NFIP. As traditional insurance carriers, they can offer higher coverage limits and more options. But, they may be unavailable or more expensive in some areas.
Private flood insurance policies often have building limits of $1 million or more if needed and contents coverage of several hundred thousand dollars, depending on the carrier. Private plans can also offer additional protection, such as loss of use coverage, which reimburses policyholders for living expenses if they're forced to move out of their homes after flood damage.
Private carriers also have other potential advantages, like shorter waiting periods and fewer deductibles. But, flood insurance from a private company may only be available in some places in the state. A company may manage its risks by not writing policies in the most flood-prone areas. Or, their rates may be much higher in these Minnesota flood insurance zones.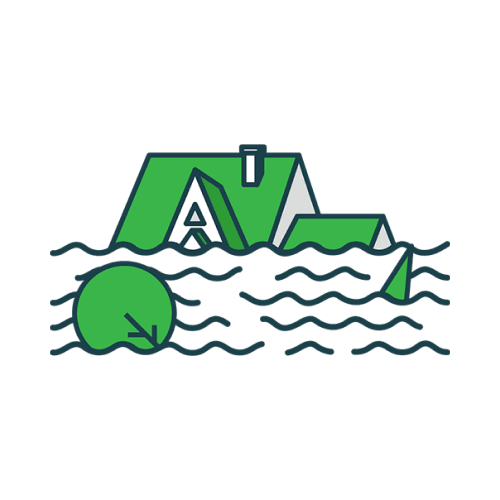 Stay Above Water With Flood Insurance
Do you want to pay for costly and common flood damage yourself or have an insurance policy pick up the tab?
Minnesota Flood Insurance Cost Factors
Several factors influence the cost of flood insurance, such as your home's location, elevation, and building materials.
Your location is a primary component of flood costs. FEMA categorizes areas into different flood zones countrywide based on their flood risk. Properties located in high-risk flood zones, called Special Flood Hazard Areas (SFHAs), have a higher likelihood of flooding and more costly insurance rates.
The NFIP reports that some parts of Cook, Lake, and St. Louis counties are vulnerable to flooding from the Great Lakes, which can raise premiums in these areas.
Many SFHAs are on or near bodies of water. Unsurprisingly, homes closer to water sources have higher chances of flooding. Insurers note your home's distance to potential flood sources.
Property elevation is also critical. Houses built higher off the ground or in not low-lying areas have smaller chances of flooding and lower flood insurance rates in general.
Your home's building materials and features can also impact premiums. For instance, masonry homes tend to withstand floodwaters better than wooden frame homes and tend to have lower premiums. Carriers also look at historical flood data, local drainage issues, and more.
Is Flood Insurance Required in Minnesota?
Minnesota law doesn't require flood insurance for anyone, but mortgage lenders can require homeowners in certain areas to carry flood insurance.
When mortgage lenders put money down in home loans, they want homeowners to get insurance coverage to protect their investments. Since homeowners insurance doesn't cover flood damage, lenders require property owners in high-risk flood zones to carry flood insurance. Lenders accept NFIP and private flood coverage as long as the policy meets the home's value.
How to Get Minnesota Flood Insurance Quotes
It's wise to compare flood insurance quotes in Minnesota from the NFIP and private companies to see who has the most cost-effective coverage for your home. You can compare quotes quickly and easily with the help of our team at Clovered.
We're an independent insurance agency partnering with some of the top flood insurance companies in Minnesota. We want to help you find the coverage you need at the price you want.
You can compare quotes entirely online with our flood insurance quote form. It takes just a few minutes to fill out some information about yourself and your home, and you'll hear back from our team with your flood insurance options as soon as possible.
You can also give us a call at 833-255-4117 if you'd rather quote over the phone with one of our licensed agents. Feel free to email us at agent@clovered.com with any questions you have.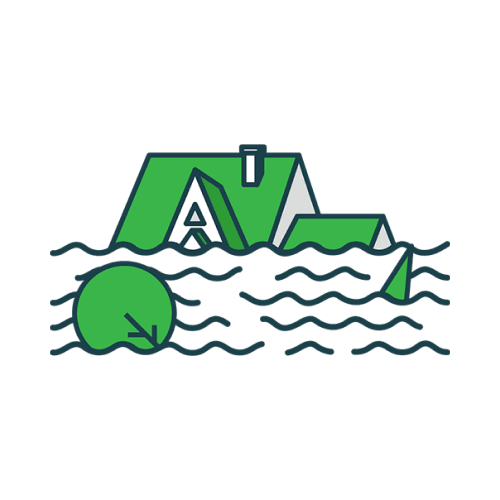 Stay Above Water With Flood Insurance
Do you want to pay for costly and common flood damage yourself or have an insurance policy pick up the tab?
The editorial content on Clovered's website is meant to be informational material and should not be considered legal advice.