Minnesota Flood Insurance
Flood
/
Minnesota Flood Insurance
Since Minnesota is home to more than 10,000 lakes, heavy snowfall in the winter and torrential rains during the spring and summer, flooding is a major concern throughout the state. Many people aren't aware that their typical home insurance policy doesn't cover damages from floods like these. But having a proper Minnesota flood insurance policy in place can be the difference between protecting your home and belongings or being left high and dry and picking up the bill to repair your home and replace your belongings.
Floods are the most common natural disasters in the United States, and Minnesota seems to be one of the epicenters where it occurs more commonly than other areas of the country. With an average cost of repair at $25,000 per 1 inch of floodwaters, protecting your home and belongings is serious business in the Land of 10,000 Lakes.
Flood insurance in Minnesota takes at least 30 days to kick in after you've purchased a policy, so you'll need to act quickly and secure a policy before the snow arrives or the rain begins.
What Flood Insurance Covers in Minnesota
When the springtime snowmelt starts or it coincides with the rainy season, the state's more than 10,000 lakes, rivers, ponds and streams will overflow and seep into the ground. Some of this overflow will definitely make its way into people's homes — and they'll be pleased that they have an adequate Minnesota flood insurance policy in place to take care of the damages.
☘ Your home's physical structure and its foundation, meaning the essential pieces that make up your home, are covered by flood insurance. This can be anything from flooring and drywall to built-in cabinets and electrical wiring.
☘ Flood insurance can help pay to repair or replace your personal belongings that were damaged or destroyed directly by flooding. This coverage extends to things like TVs, computers and other electronics to furniture and clothes.
☘ When floodwaters enter a home, they tend to damage or destroy a handful of appliances in your home. Luckily, flood insurance can help replace many of those appliances, like your HVAC unit, water heater, dishwasher and much more.
How Much Is Flood Insurance in Minnesota?
Even though Minnesota has more than 10,000 lakes, heavy snowfall in the winter and torrential rains in the spring — all of which help contribute to flooding — the average cost of flood insurance in Minnesota is pretty low at around $500 per year.
If you look at a flood insurance rate map in Minnesota, you'll realize that low premium cost is a steal for the amount of coverage you get. Minnesota flood insurance is worth every penny you spend, and you can look at the cost as an investment to protect your property and belongings from floodwaters.
How to Get Flood Insurance in Minnesota
When you consider the Minnesota flood insurance zones put into place by FEMA, getting cheap flood insurance may seem like a daunting task. But with Clovered, we made things easy. We've teamed up with the state's top flood insurance providers to bring a fair policy to you in minutes — with all of the coverage and none of the hassle.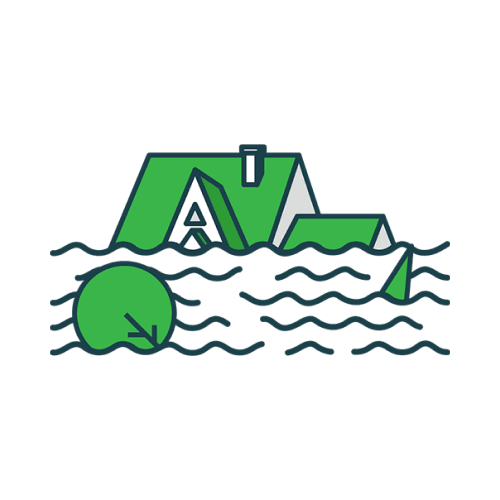 Stay Above Water With Flood Insurance
Do you want to pay for costly and common flood damage yourself or have an insurance policy pick up the tab?
The editorial content on Clovered's website is meant to be informational material and should not be considered legal advice.