Flood Insurance in New Hampshire
Flood
/
Flood Insurance in New Hampshire
While much of New Hampshire's scenery is breathtaking, the bountiful nature, particularly bodies of water, can also threaten properties. Homeowners insurance doesn't cover flooding, and floods are the most common and costly natural disasters in America.
We created this detailed guide to help you make an informed decision on flood insurance in New Hampshire. We break down average rates, cost factors, and more.
How Much Is Flood Insurance in New Hampshire?
The average cost of flood insurance in New Hampshire is $2,545 under the National Flood Insurance Program, the sixth-highest average rate of all states. The NFIP is the largest flood insurance provider in the country.
The NFIP is so popular because it's a government program offered nationwide. The NIFP is administered by the Federal Emergency Management Agency (FEMA), which attempts to subsidize rates and make flood insurance affordable for the general public.
Unfortunately, it's not easy to do this. Prior to 2021, the average cost of flood insurance in New Hampshire was $1,216 per year. But, the NFIP overhauled its rate calculation system to more accurately account for the flooding risk of all properties, which caused rates to increase nationwide.
New Hampshire felt the effects notably, with average premiums more than doubling. The table below shows average flood insurance rates in New Hampshire by county before and after the NFIP's new rates, referred to as Risk Rating 2.0, take effect.
Average Cost of Flood Insurance in New Hampshire
County
Belknap
Carroll
Cheshire
Coos
Essex
Grafton
Hillsborough
Merrimack
Middlesex
Rockingham
Strafford
Sullivan
Policies in Force
84
172
119
60
39
168
459
198
39
1,003
117
60
Current Cost
$1,119
$1,193
$1,245
$1,254
$1,161
$1,563
$1,228
$1,404
$1,161
$1,152
$931
$1,323
Risk-Based Cost
$1,980
$2,752
$2,057
$3,153
$1,703
$3,542
$2,455
$2,992
$1,703
$2,446
$1,899
$2,977
RR 2.0 rates went live on October 1, 2022, for anyone seeking a new NFIP policy. For existing policyholders, FEMA began phasing in RR 2.0 rates on April 1, 2022, capping rate increases at 18% annually. As a result, it may take some time for existing policyholders to realize their full RR 2.0 premium.
You should note that even though rates are rising, the effects will vary statewide. The cost of flood insurance depends on many factors, such as location, elevation, and more, that can lower your premiums.
Coos and Grafton counties' average premiums will exceed $3,000 per year, the highest rates in the state. Belknap, Essex, Middlesex, and Strafford counties will have the cheapest flood insurance in New Hampshire.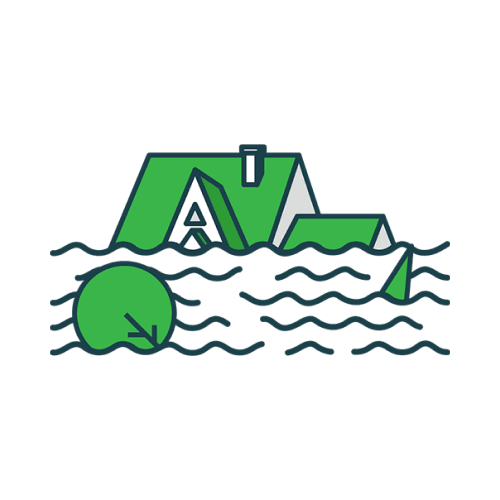 Stay Above Water With Flood Insurance
Do you want to pay for costly and common flood damage yourself or have an insurance policy pick up the tab?
What Does Flood Insurance in New Hampshire Cover?
Flood insurance in New Hampshire covers buildings and personal property from flood damage. Flooding damage is typically caused by storm surges, mudslides, coastal erosion, and sometimes flash floods from heavy rain.
Flood insurance plans are typically separated into two sections based on provided coverage:
Building Coverage
Building coverage in flood insurance financially safeguards your home's physical structure and components, such as the flooring, walls, windows, water heater, plumbing, wiring, and more.
Contents Coverage
Contents coverage in flood insurance covers your belongings, like clothing, furniture, electronics, art, tools, small appliances, jewelry, and more.
Your insurer will reimburse you if floodwaters damage your building or contents. However, flood insurance companies typically limit their coverage of basements. NFIP policies don't cover many belongings and features in finished basements because basements are often below ground and especially susceptible to any rushing waters.
How to Get the Best Flood Insurance in New Hampshire
When looking for the best flood insurance in New Hampshire, compare flood rates and coverage options from the NFIP and private flood insurance companies. Depending on your budget, location, and home value, you may be better off going with a private insurer.
NFIP Flood Insurance in New Hampshire
While the NFIP is beneficial for some people in high-risk flood zones since FEMA subsidizes rates for many communities, its status as a government program compromises it in some ways.
For instance, the program is hundreds of millions in debt and runs at a loss annually. As a result, it can't afford to cover all policyholders fully. NFIP policies have limits of $250,000 in building coverage and $100,00 in contents coverage for all single-family homes, meaning houses valued over $250,000 won't be fully insured.
It's estimated that the NFIP writes about 90% of the flood insurance policies in the United States. It's the most popular carrier by far, but it's not the only option.
Private Flood Insurance in New Hampshire
Private flood insurance companies can offer higher policy limits and more coverage options than NFIP policies, although they may not be affordable or available throughout the state.
Since private flood insurers can control their exposed risks and decide which properties they can afford to cover, their policies have more flexibility. Private plans often have building limits over $1 million and contents coverage of several hundred thousand dollars, if needed.
Private flood carriers can also offer additional protection, such as loss of use coverage. With loss of use coverage, your insurer can reimburse you for living expenses, like gas and groceries, if you're forced to move out of your house after it suffers significant flood damage.
When looking for the best flood insurance in New Hampshire, you should compare quotes from some private flood insurance companies in your area to see how their rates stack up to NFIP rates for your property.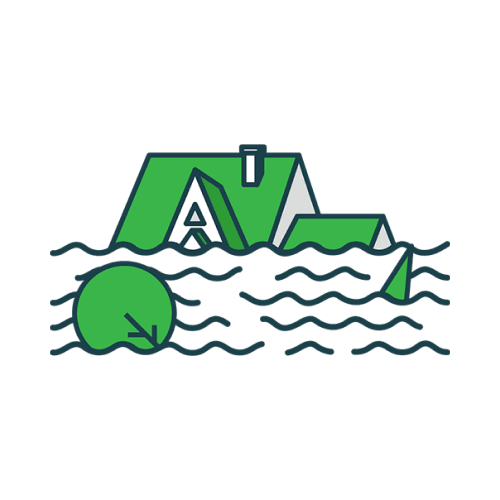 Stay Above Water With Flood Insurance
Do you want to pay for costly and common flood damage yourself or have an insurance policy pick up the tab?
New Hampshire Flood Insurance Cost Factors
Many factors affect the cost of flood insurance in New Hampshire. Homes at higher risk of flooding have higher premiums. Insurers will examine flooding risk variables to determine premiums, such as property location, elevation, and certain features. They'll also take policy details into account.
Location: Properties in FEMA-designated high-risk flood zones are more likely to suffer flood damage and have higher premiums. FEMA maintains flood maps for the country, and they've classified all communities according to flood risk. Houses in high-risk flood zones, called Special Flood Hazard Areas, have the highest chance of severe flood damage. SFHAs are often near the coast or bodies of water.
According to FEMA, about 63% of policyholders in Rockingham County are exposed to storm surge damage. A small number of homes in Essex and Strafford counties are, also, which raises flood premiums. You can check your property's flood insurance risk with FEMA's FloodMap Service Center.
Elevation: Homes higher relative to nearby water sources tend to have lower flood insurance premiums since these properties have less of a chance of flooding. For instance, a house at the top of a hill is much less likely to flood than a home at the bottom.
Insurers look at the height of your first floor, the presence of a basement, and the number of floors in your dwelling to indicate your flooding risk.
Policy details: Plans with higher coverage limits cost more, which correlates to your home's value. Larger, more expensive homes need more coverage. More coverage means more money.
Your policy deductible also influences your premiums. Your deductible is the dollar amount property damage must exceed before your insurer will cover it. In other words, it's how much you're willing to spend out of pocket to cover property damage before filing a claim with your insurer.
Depending on your provider, deductibles can range from $1,000 to $10,000. Choosing a higher deductible means you're willing to cover more out of your own pocket, which lowers your insurance premiums.
Is Flood Insurance Required in New Hampshire?
Mortgage lenders put large sums of money down when they help people purchase homes. To protect their investment, they require homeowners to protect their property with insurance. Since home insurance doesn't cover flooding, lenders require homeowners in high-risk flood zones (SFHAs) to also purchase flood insurance.
If a flood destroys the property, the lender and homeowner can then recoup their money through the flood insurance policy. Banks accept NFIP and private flood coverage as long as the policy limits meet the home value or the NFIP maximum of $250,000, if necessary.
How to Get New Hampshire Flood Insurance Quotes
Comparing flood insurance quotes in New Hampshire can help you find the best deal and save you hundreds or even thousands yearly. At Clovered, we want to help you with your insurance search so you can start saving as soon as possible.
As an independent insurance agency, we partner with several of the top flood insurance companies in New Hampshire. We have two ways to compare rates and help you find a policy with the coverage you need at the price you want.
Compare flood insurance quotes in New Hampshire completely online by submitting our flood insurance quote form. It takes just a few minutes to fill out some information about yourself and your property, and one of our licensed agents will get back to you as soon as possible with your coverage options.
You can also chat with an agent over the phone by calling 833-255-4117 during business hours. Feel free to email us, also, at agent@clovered.com with any questions.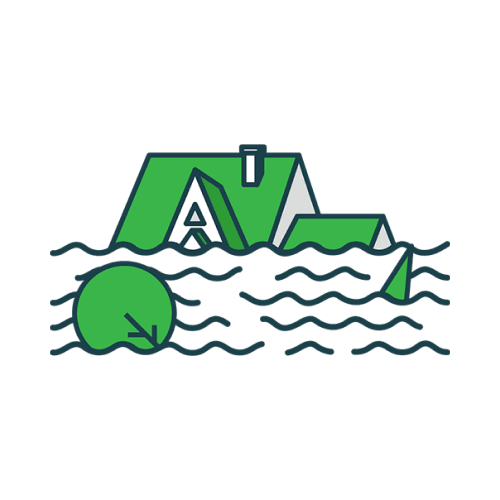 Stay Above Water With Flood Insurance
Do you want to pay for costly and common flood damage yourself or have an insurance policy pick up the tab?
The editorial content on Clovered's website is meant to be informational material and should not be considered legal advice.