New Hampshire Flood Insurance
Flood
/
New Hampshire Flood Insurance
Like the rest of the state's home insurance policies, New Hampshire flood insurance is some of the most affordable in the entire country. At around $11 per month, you could provide critical flood protection for your home and belongings.
Since the Granite State has many relatively higher regions than other states in the U.S., it doesn't receive too many flood insurance claims each year. But that doesn't mean you should enroll in coverage. It's estimated that nearly 20 percent of flood claims come from homes located in low- to moderate-risk areas. Plus, flood insurance coverage takes 30 days to kick in after purchasing.
Getting a New Hampshire flood insurance policy is quick and easy with Clovered's team of licensed agents. Simply give us a call and we can help pair you with the perfect policy in minutes.
What Flood Insurance Covers in New Hampshire
From overflowing rivers and ponds overrun with snowmelt runoff to the state's stormy spring season and much more, flood insurance in New Hampshire can protect your home and belongings from several unexpected perils.
☘ Your home's physical structure and its foundation, meaning the essential pieces that make up your home, are covered by flood insurance. This can be anything from flooring and drywall to built-in cabinets and electrical wiring.
☘ Flood insurance can help pay to repair or replace your personal belongings that were damaged or destroyed directly by flooding. This coverage extends to things like TVs, computers and other electronics to furniture and clothes.
☘ When floodwaters enter a home, they tend to damage or destroy a handful of appliances in your home. Luckily, flood insurance can help replace many of those appliances, like your HVAC unit, water heater, dishwasher and much more.
How Much Is Flood Insurance in New Hampshire?
For just about $11 per month, you can protect your home and personal belongings from flood damage with a New Hampshire flood insurance policy. These average flood insurance rates in New Hampshire account for about $200,000 worth of coverage for the structure for your home and another $30,000 worth of coverage for all your personal belongings kept on the property.
Do I Need Flood Insurance in New Hampshire?
Although flood insurance in New Hampshire is not required by law, those homeowners who currently owe payments on their mortgage may be required by their lender to maintain adequate coverage until the mortgage is paid. Many lenders make this coverage mandatory to protect their share of the investment.
However, just because you're not required to keep flood insurance on your home, it's always a great idea to maintain a policy. It keeps you protected and helps to give you peace of mind in case a flood does hit your area and cause damage to your home.
How to Get New Hampshire Flood Insurance
With Clovered, you can get a New Hampshire flood insurance policy in minutes. Simply call one of our many licensed agents and they can help you get the state's best policies at the best prices in a matter of just minutes.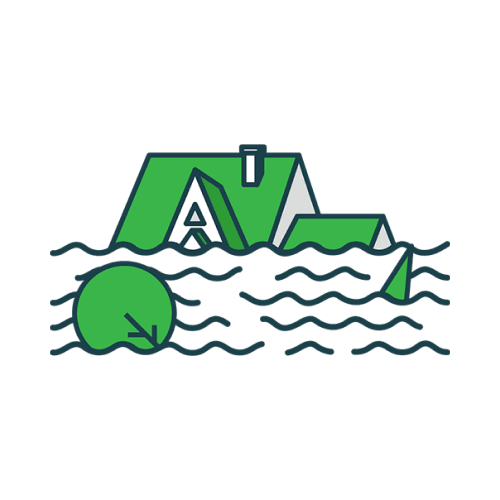 Stay Above Water With Flood Insurance
Do you want to pay for costly and common flood damage yourself or have an insurance policy pick up the tab?
The editorial content on Clovered's website is meant to be informational material and should not be considered legal advice.