Flood Insurance in South Carolina
Flood
/
Flood Insurance in South Carolina
Many parts of South Carolina are prone to flooding, thanks to its ample coastline, extensive marshes, and barrier islands. Flooding is the most common and costly natural disaster in the United States. Every state has experienced a flood.
Homeowners insurance doesn't cover flooding damage. The only way to protect your property and belongings from floods is with flood insurance.
This guide delves into everything you need to know about flood insurance in South Carolina so you can find the coverage you need at the price you want.
How Much Is Flood Insurance in South Carolina?
The average flood insurance cost in South Carolina is $798 annually. However, under the National Flood Insurance Program's new rates, the cost of flood insurance will increase to $1,531 per year on average.
The NFIP, managed by the Federal Emergency Management Agency (FEMA), is the largest flood insurance provider in the country, with over 5 million policies nationwide. The NFIP has over 88,000 policies in force in South Carolina.
Over 27,000 of these policyholders will see their premiums decrease under Risk Rating 2.0, a new methodology from the NFIP for calculating rates that they began in 2021.
However, over 112,000 will experience increases under RR 2.0 in South Carolina in some fashion, although about 100,000 of those people will have their premiums rise under $120 per year.
The table below shows average South Carolina flood insurance rates by county before and after premium changes from RR 2.0.
Average Cost of Flood Insurance in South Carolina
County
Abbeville
Aiken
Allendale
Anderson
Bamberg
Barnwell
Beaufort
Berkeley
Calhoun
Charleston
Cherokee
Chester
Chesterfield
Clarendon
Colleton
Darlington
Dillon
District Of Columbia
Dorchester
Edgefield
Fairfield
Florence
Fort Bend
Georgetown
Greenville
Greenwood
Hampton
Horry
Jasper
Kershaw
Lafourche Parish
Lancaster
Laurens
Lee
Lexington
Marion
Marlboro
Mccormick
Newberry
Oconee
Orangeburg
Pickens
Richland
Saluda
Spartanburg
Sumter
Union
Williamsburg
York
Policies in Force
2,119
337
2,119
95
16
6
20,830
4,108
11
30,805
12
13
16
49
1,003
89
82
2,119
2,046
18
123
353
2,119
3,947
702
52
50
16,115
1,386
207
2,119
129
27
17
1,057
181
15
32
80
53
122
85
1,215
19
160
376
2,119
60
281
Current Cost
$818
$735
$818
$821
$818
$907
$763
$654
$828
$852
$779
$903
$611
$614
1,003
$764
$681
$818
$674
$795
$942
$672
$818
1,257
$792
$804
$747
$691
$703
$853
$818
$752
$860
$615
$757
$692
1,021
$874
$870
$771
$723
$859
$734
$862
$726
$599
$818
$799
$679
Risk-Based Cost
$1,232
$968
$1,232
$2,093
$846
$1,471
$1,822
$1,019
$925
$1,575
$1,519
$1,584
$734
$898
2,932
$1,387
$848
$1,232
$982
$3,285
$2,012
$967
$1,232
2,680
$1,540
$1,609
$929
$1,096
$960
$1,375
$1,232
$2,041
$3,046
$777
$1,183
$974
1,284
$1,398
$1,414
$1,667
$938
$1,477
$1,160
$1,227
$1,698
$732
$1,232
$1,317
$1,324
RR 2.0 rates were enacted on October 1, 2021, for new NFIP policies. For existing NFIP policyholders, RR 2.0 rates began to take effect on April 1, 2022, but, depending on the size of your increase, it may take some time to realize your full, new risk-based premium since the NFIP caps increases at 18% per year.
However, these numbers are averages, and you won't know your exact premium until you get a quote. The cost of flood insurance in South Carolina varies due to many factors about your home and location.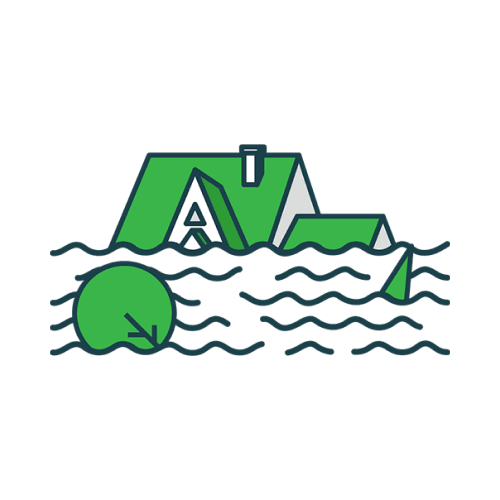 Stay Above Water With Flood Insurance
Do you want to pay for costly and common flood damage yourself or have an insurance policy pick up the tab?
What Does Flood Insurance Cover in South Carolina?
Flood insurance covers your home and belongings from instances of flooding. FEMA defines a flood as "a general and temporary condition of partial or complete inundation of 2 or more acres of normally dry land." Common instances of flooding include storm surges, mudslides, and sudden coastal or bank erosion.
Flood insurance policies are generally divided into two sections based on given coverage:
Building Coverage
Building coverage in flood insurance financially protects the structure of your home and its permanently attached components. Building coverage covers your walls, flooring, wiring, water heater, and more.
Contents Coverage
Contents coverage in flood insurance covers your belongings in and around your house, such as your furniture, clothes, electronics, small appliances, artwork, and more. Your insurer will reimburse you if floodwaters damage these things.
How to Get the Best Flood Insurance in South Carolina
While the NFIP is the largest flood insurer in South Carolina, it isn't the only option. Depending on your coverage wants and needs, a private flood insurance company may offer the best flood insurance in South Carolina for your circumstances.
The private flood insurance market is relatively small but growing over time as technology improves. It's estimated that private flood insurance companies make up about 10% of the market, but you shouldn't discount their coverage. Private flood companies can sometimes offer better coverage than the NFIP at competitive rates.
Pros and Cons of NFIP Coverage
As a government offering, the NFIP has some benefits and drawbacks. It's available anywhere, even in the most flood-prone places where private carriers might not be willing to offer policies. There's also no chance of it failing and being unable to pay your claim. Although unlikely, a private company always has the possibility of going bankrupt, possibly unable to pay your claim, and leaving you needing to find another provider.
However, the NFIP has financial constraints. It's not a profit-seeking enterprise. Funded by the government, it runs at a deficit and loses millions every year paying out claims. As a result, the NFIP has strict caps on coverage limits. You can have a maximum of $250,000 in building coverage and $100,000 in contents coverage.
Additionally, some homes in South Carolina have basements. Basement coverage is very limited in NFIP plans since basements are typically entirely below ground and are the most prone to flooding should water enter your home.
There's also a waiting period once you get your plan. An NFIP policy doesn't become active until 30 days after purchase.
Pros and Cons of Private Flood Coverage
There are several private flood insurance companies in South Carolina. An immediate benefit of coverage from a private company is higher policy limits. Where you can only be covered up to $250,000 for building coverage with the NFIP, private carriers often offer dwelling limits of up to $1 million or more and contents coverage of $500,000 or more, depending on the company.
Private flood carriers also often don't have as long a waiting period for their policies to kick in. And, they may offer more coverage options, like loss of use coverage.
As we mentioned earlier, the primary drawbacks of private flood coverage are that it may not be available in your area, and the carrier you choose could ultimately go out of business. Also, private firms could raise rates more than the NFIP. FEMA limits rate increases to 18% yearly, while you may not find this at a private company.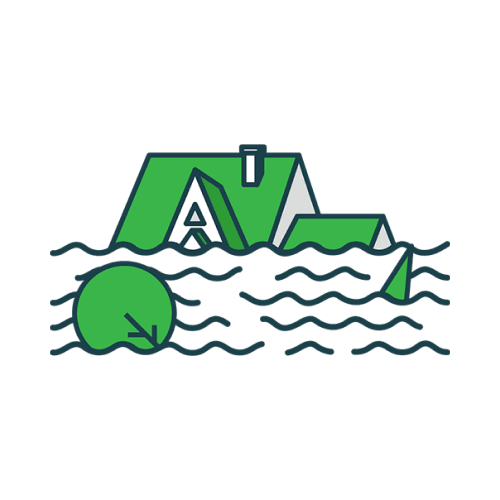 Stay Above Water With Flood Insurance
Do you want to pay for costly and common flood damage yourself or have an insurance policy pick up the tab?
Factors Affecting Flood Insurance Cost in South Carolina
The average cost of flood insurance in South Carolina will rise to $1,531 per year under the NFIP's RR 2.0. Many people's premiums will increase. Some of the most critical factors that affect South Carolina flood insurance rates are:
Location

Elevation

Home characteristics
Your home's distance from water sources, like coastal banks, oceans, and rivers, influences your flood insurance rates. In South Carolina, homes on or near the Atlantic coast are much more likely to flood from storm surges than inland homes.
According to FEMA, counties with the highest storm surge risk in South Carolina are :
Beaufort (100%)

Georgetown (99.9%)

Charleston (99.8%)

Colleton (96.2%)

Jasper (94.9%)

Horry (93.7%)

Berkeley (78.2%)

Dorchester (71%)
These places tend to have higher flood premiums, likely as a direct result of this increased flood risk.
Your home's elevation is also important. Homes higher above sea level are less likely to flood and generally have lower premiums.
Location and elevation used to be the primary determinants before RR 2.0. But, under the new methodology, the NFIP reports it's accounting for many other factors also, such as essential home characteristics and existing flood mitigation measures.
For instance, the foundation type of your home plays a role in your rates. Risk varies based
on its design and location above or below ground. Construction materials for your home are also important. Masonry homes tend to perform better in floods than frame homes, so brick or concrete houses can have lower premiums.
Is Flood Insurance Required in South Carolina?
FEMA maintains maps that determine flood risks in every part of the country. They break up cities, counties, and neighborhoods into zones based on the likelihood of flood risk. People in high-risk zones, called Special Flood Hazard Areas (SFHAs) are the most prone to flooding and typically pay the highest flood insurance rates.
If you have a mortgage on a home in an SFHA, your lender will require you to have flood insurance as part of the home loan. This way, if your home gets destroyed by a flood, the lender can recoup the money it invested in your house through the flood insurance policy. Homeowners insurance doesn't cover floods, so it wouldn't help in this scenario.
How to Get Flood Insurance Quotes in South Carolina
Clovered can help you get flood insurance quotes in South Carolina from the NFIP and private companies quickly and easily with our online quote form. It takes minutes to fill out; once you submit it, one of our licensed agents will get back to you with your coverage options.
If you'd rather quote over the phone, feel free to give us a call at 833-255-4117 during business hours. You can also email our team with any questions at agent@clovered.com.
As an independent insurance agency with years of experience and expertise in all property insurance matters, we'd be happy to help you with your South Carolina flood insurance quote.
What to Know About Flood Insurance in Charleston
The average cost of flood insurance in Charleston is $852 per year, but it will rise to $1,575 annually under the NFIP's RR 2.0. Their expected rate is slightly above the state average of $1,531 annually.
Charleston, the most populous city in South Carolina, is right on the Atlantic coast, leaving it very vulnerable to potential storm surges and other flooding. Many homes and businesses in Charleston may experience an increased risk of coastal flooding or storm surge, given 2-3 feet of sea level rise in the future, also. This contributes to the city's above-average flood insurance prices.
Fortunately, Charleston residents do have some discounts to look forward to from the NFIP. The city participates in the Community Rating System, a program the NFIP offers that incentivizes communities to take flood mitigation measures.
The CRS has a 1-10 scale, with 1-rated communities being the most active in mitigating flood damage with preventive measures like preserving open spaces, protecting natural floodplains, limiting development in flood zones, and much more.
Charleston currently has a CRS rating is 6, which provides citizens with up to a 20% premium discount on flood insurance policies from the NFIP.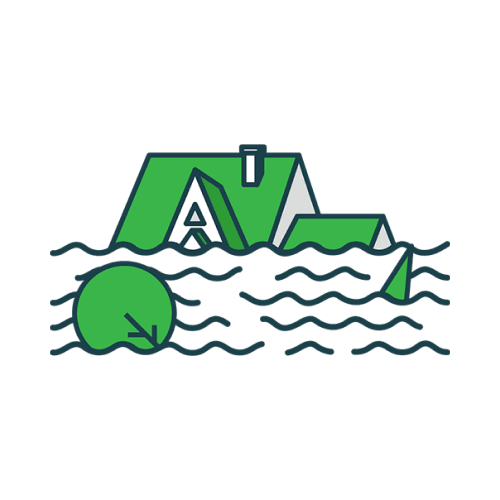 Stay Above Water With Flood Insurance
Do you want to pay for costly and common flood damage yourself or have an insurance policy pick up the tab?
The editorial content on Clovered's website is meant to be informational material and should not be considered legal advice.