Is a Camper Covered Under Homeowners Insurance?
RV
/
Is a Camper Covered Under Homeowners Insurance?
Whether your camper is on the open road, sitting in your driveway, stored at a nearby facility or somewhere in between, accidents that damage it can strike in an instant. Since there are so many different types of RVs and campers and they could be on the move at any time, knowing which insurance coverage comes into play can be tricky.
Luckily, towable campers are probably already covered a few ways by a variety of insurance policies you already have. However, those coverages will surely fall short, so let's go over what your policies cover and what they may be missing.
Is a Camper Covered Under Homeowners Insurance?
Campers are typically covered under homeowners insurance while they're parked or stored on your property. Coverage typically applies to both towable campers and drivable RVs — including Class A, Class B, Class C, fifth-wheels, travel trailers, pop-up campers, gooseneck trailers, toy haulers — as long as they're listed on your policy, and extends to liability and damage.
This is where it can get tricky. Since you'll be enrolled in either actual cash value or replacement cost coverage for personal property coverage, you may seriously lack adequate protection for your camper or RV. You'll want to consult your insurer to figure out which option is best for you.
The personal belongings you keep inside will also be covered, but their coverage may max out at 10% of your overall personal property coverage per claim because your covered belongings are designed to be inside your home.
If your camper or RV is stored in a detached garage or shed on your property, it may only get coverage under the other structures portion of your homeowners insurance policy. That may be a huge problem because this coverage is typically 20% of your policy's dwelling limit.
So if your house is worth $200,000 and that's how much dwelling coverage you have, you'd only have $40,000 worth of other structures coverage. If your RV or camper is worth more than that, you'd have to pay the remaining amount out of your own pocket. Even if it's worth less than that, you'll have to take into account the building's value it's stored in as well. If both tip the scale at more than your policy's maximum, that's not good.
Your camper also shares your homeowners insurance's liability coverage while it's parked on your property. So if anyone is injured in or by your camper — while it's not being towed — and you're deemed to be liable, your policy can help out with medical bills and even legal expenses if they sue you.
When It's Stored Away From Your Home
Depending on your policy, and the type of policy the storage facility has, you may or may not be covered by your homeowners insurance for the damage caused at said facility. If the damage was caused as a fault of the storage facility, they'd be responsible to pay for the damages.
However, if the damage was caused by a natural disaster or another covered peril, your homeowners insurance would likely step in and pick up the damages. This coverage is a bit tricky, though, because the facility likely has its own insurance policy to protect the items it stores. If their policy is sufficient, it would likely be used. But if they don't have enough coverage, you may have to use your own homeowners policy.
While both of the aforementioned homeowners insurance coverages typically apply to any camper or RV you own and keep on your property or have stored at a facility, that coverage is no longer valid as soon as they leave your premises and hit the open road — including when it's in transition from your home to a storage facility.
When It's Being Towed by Your Vehicle
So your auto insurance will cover damage to other vehicles and people caused by your towable camper, but it won't cover damage to the camper itself. For that coverage, you'll need to invest in RV insurance, which works in different ways to pay for the damage caused to your towable camper.
When a Towable Camper is Parked at a Campsite
Similar to being stored at a facility or parked on your property, as soon as you detach your towable camper from your vehicle at a campsite, the coverage switches from auto insurance to nothing at all. That's because, at that point, it's considered by insurers to be a rental home. So any damage it sustains or injuries that occur in or around your camper are solely your responsibility — unless you invest in RV insurance.
If you have RV insurance for your camper, that would kick in and pay for trees falling on and damaging it, at-fault injuries and much more. That's why it's always a wise decision to invest in RV insurance — no matter the style or cost of your camper.
Drivable RVs need their own RV insurance policy from the start. Even though they may be covered by homeowners insurance while on your property, your regular auto insurance will never transfer coverage to your drivable RV because it's a motorized vehicle that can and will be driven.
RV insurance can cover a multitude of things, including damage to your RV, damage it causes to other vehicles and people, theft, vandalism, uninsured or underinsured drivers, and many extras like towing and roadside assistance.
How to Get Insurance for Campers
Getting RV insurance is easy when you choose Clovered. We partner with the nation's top RV insurers to provide our customers with a policy they need at an affordable price. Simply enter a few details about your camper or RV into our online quoting form and one of our licensed agents will find you a policy that fits your needs and your budget.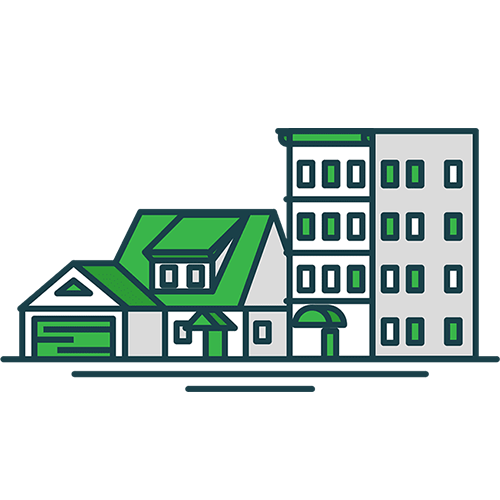 Home Protection Is Just a Click Away
We partner with the nation's top home insurance companies so you can get an excellent policy at an affordable price.
The editorial content on Clovered's website is meant to be informational material and should not be considered legal advice.