The Sunshine State presents a splendid opportunity to enjoy warm winter weather from the comforts of your home on wheels. Florida has become quite the haven for part-time and full-time RVers to enjoy some sunshine snowbirding.
But even though Florida's winter weather is pretty calm and mostly free of storms, you'll still want to have the proper RV insurance policy in place to protect your rig — and your peace of mind. Let's dive into everything you need to know about it.
Is RV Insurance Required in Florida?
RV insurance is required for all drivable RVs in Florida, but it isn't required for towable travel trailers because they can use the auto insurance of the vehicle towing them. Florida's minimum state requirements are $10,000 per person and $20,000 per accident of bodily injury liability, $10,000 per accident of property damage liability, $10,000 per person of personal injury protection and $10,000 per person and $20,000 per accident of uninsured motorist coverage.
However, those minimum legal limits are simply a requirement of the state. RVs are expensive to repair and can cause a significant amount of damage, so opting for minimum coverage will likely leave your rig underinsured.
So even though you may be able to settle for $10,000 in property damage liability coverage, your lender could deem your RV will likely cause more damage than that and require you to up your coverage. They'll also make you purchase a full coverage policy instead of a liability only policy. They do this to recoup their money if you're involved in an accident, your RV sustains significant damage and you still owe money on your loan.
What's Covered With RV Insurance in Florida?
While only bodily injury liability, property damage liability, personal injury protection and uninsured motorist coverage are legally required in Florida, there are a few more coverages that can help you protect your RV, the possessions you keep inside of it and your wallet if something drastic occurs on the road.
This covers medical bills to injured parties if you caused an accident and any lawsuits that may arise if you're sued due to the injuries. It's only required for drivable RVs since your standard auto insurance transfers this coverage to towable travel trailers.
Property Damage Liability
This covers damage you cause to someone else's vehicle or property if you're at fault in an accident. This coverage is also only required for drivable RVs because your standard auto insurance transfers to towable travel trailers.
Uninsured/Underinsured Motorist Coverage
Uninsured or underinsured motorist coverage is used if you get into an accident that isn't your fault with a driver who either doesn't have insurance or doesn't have sufficient enough insurance to pay for damages to your RV or medical bills for injured parties in your rig. It will either cover the difference of what their insurance can cover and the exact cost of damages or, if they're uninsured, the entire cost.
Whether you're at fault or not in an accident, collision coverage can pay to repair damage to your RV. So if you caused the accident, your coverage should kick in. But even if you didn't cause it, your coverage can kick in to pay for all or part of the damage.
Comprehensive coverage is designed to protect your RV from damage caused by incidents that are deemed to be mostly out of your control. This can be damage caused by vandals or natural disasters like hurricanes and floods, as well as theft of your rig.
Medical Payments Coverage
Medical payments coverage helps pay for medical expenses due to injuries sustained to you or anyone in your RV after an accident — whether you're at fault or not.
Personal Effects Replacement Coverage
If you get into an accident and personal items (such as TVs, computers and clothes) you keep inside the RV are damaged, this coverage will typically reimburse you up to $5,000 to replace them. However, you may be able to add an endorsement to your policy to get up to $100,000 in coverage.
Total Loss Replacement Coverage
Only available for newly purchased new models of RVs, this coverage is designed to reimburse you if your RV is considered totaled. Your coverage can provide you with a new and comparable model RV within the first four years, reimbursement for the original purchase price in years five to seven and the actual cash value after seven years.
This coverage can help pay for 24-hour assistance needed on the road. This can be utilized for things like jumpstarting your rig, delivering gas if you miscalculated your mileage to the nearest gas station or simply fixing a flat tire.
If you break down in Central Florida's springs country or South Florida's swamp country, towing and labor coverage can pay to tow your rig to the nearest mechanic. It can also cover some labor costs associated with the breakdown.
This optional coverage provides personal protection if you're at a site that's being designated as a living premises, such as an RV resort or free campground — even if you're living in it full time. Your policy will typically cover liability expenses associated with injuries to others in your camper or damage you accidentally cause to someone's property.
Do I Need Insurance on a Travel Trailer in Florida?
If you own a towable travel trailer, you're not legally required to have insurance on it in the state of Florida. That's because the liability coverage on the auto insurance policy of the vehicle towing your travel trailer carries over to it.
So if you cause damage to someone's property or vehicle with your travel trailer, the auto insurance of the vehicle towing the trailer will extend coverage. However, that auto policy only extends bodily injury and property damage liability coverage. It will never extend any other aspect of full coverage, such as comprehensive coverage.
In that instance, any damage to your travel trailer will not be covered. That's why it's important to get RV insurance on your travel trailer. Plus, since it doesn't have an engine, full coverage will likely be much cheaper than a drivable RV.
Average Cost for RV Insurance in Florida
The average RV insurance cost in Florida can be anywhere from a few hundred dollars to a few thousand dollars a year. It all depends on the class of your RV, whether or not it's drivable or towable, its value, your driving record and the amount and scope of coverage you have on your rig.
Class A motorhomes are the largest and typically the most expensive, so those will be much more expensive to insure than something like a converted van or teardrop trailer.
Part Time vs. Full Time RV Insurance in Florida
Full time RV insurance in Florida is designed for people who spend more than 150 nights per year living in their RV. It's somewhat of a mix between auto insurance and homeowners insurance because it's much more comprehensive in the coverages and amounts.
RV insurance will also likely cost you more if you're a full-time RVer rather than someone who takes theirs out on the occasional weekend. That's because people who spend more time in their RV, especially more time driving it, are more likely to get in an accident or experience a claim.
How to Get RV Insurance Quotes in Florida
Getting RV insurance is quick and easy when you use Clovered. All you need to do is enter a few details about your rig in our online quoting form and one of our licensed, in-house agents will find a policy that meets your needs and reach out.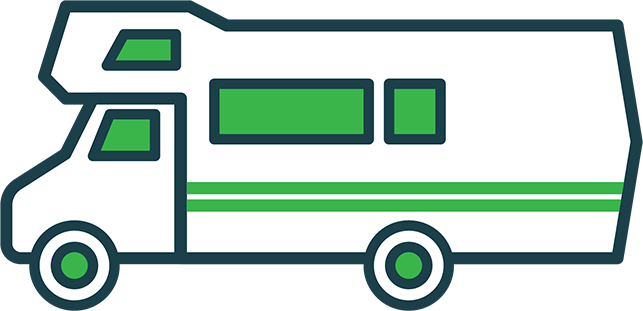 Protect Your Rig With RV Insurance
Cruise more and stress less with an all-types custom RV insurance policy that keeps you on the road longer.