What Is Vacation Liability RV Insurance Coverage?
RV
/
What Is Vacation Liability RV Insurance Coverage?
So many things can happen on the open road — and even more can occur when you've parked your RV at your designated campsite to enjoy the sights, sounds and scenery of the place you drove so far to visit.
Fortunately, RV insurance covers many liability issues while you're on the road. But what about while your rig is parked at your campsite? Unfortunately, that's where the overlap in lack of coverage occurs. But there is one piece of the RV insurance puzzle that can have you singing praises around the campfire: vacation liability coverage. Let's take a look at what it is, how it can help and why you may need it.
What Is Vacation Liability RV Insurance Coverage?
Vacation liability coverage is an add-on to many RV insurance policies that can help financially protect you if you accidentally cause an injury to someone else or damage someone's property while your RV is parked at a designated campsite, which can exclude campsites located on public lands.
It can also extend liability coverage, similar to your home insurance's Coverage E, if someone is injured inside your RV while it's parked at a campsite and you're found liable. It may also apply when your RV is parked at a store, but things can get a bit tricky in those scenarios. The best way to know exactly what's covered by your specific policy is to consult your insurance agent for your policy's specifics.
Since vacation liability coverage only applies to RVs when they're parked at a designated campsite and actively not on the road, coverage can be added to all types of RVs, such as drivable RVs and converted vans, towable travel trailers, truck bed campers and even pop-up campers. Let's take a look at the different instances when vacation liability coverage may have your back and provide an example of each.
Injury to Someone Else at the Campsite
While you're parked at your campsite, RV insurance and auto insurance (depending on the type of rig you own) typically don't cover injuries that occur in or around your rig. That's where vacation liability coverage comes into play.
Let's say you're roasting marshmallows around an open flame. Things get sticky when you set your mallow up in flames and vigorously start shaking it to put out the flame on the burning mallow. It then comes undone from the stick and flies onto the face of the camp neighbor you invited over, melting second-degree burns on the side of their face and resulting in a hospital visit.
Since the accidental incident occurred around the campfire at your campsite, and you're definitely responsible for their injuries, you could be held liable to pay for the medical expenses they incur. Vacation liability coverage can pay for their medical expenses and even help you cover legal fees if they decide to sue you.
This coverage also holds true to dog bites. If you bring your dog to the campsite, they get worked up and wind up biting someone, you'd be held financially responsible for the damages they cause. So if you have a dog, even if they're trained very well and have never bitten someone in the past, we highly recommend investing in vacation liability coverage.
Accidental Property Damage at the Campsite
If you're parked at your campsite and that same incident occurs — only this time the flaming marshmallow is swung into the open window of your camping neighbor's RV — things could get a bit hairier and a lot more expensive.
If that flaming mallow causes burns to the inside of their rig or, worse, causes it to go up in flames, you'd likely be responsible for the damages. Vacation liability coverage can also help with property damage that occurs at your designated campsite and while your RV is parked there.
When Does Vacation Liability Coverage Not Kick In?
When your RV is on the road, it's covered by the bodily injury liability and property damage liability portions of your RV insurance or auto insurance policy, depending on the type of RV you have.
In every state except New Hampshire and Virginia, drivable RVs are required by law to maintain RV insurance that includes both liability coverages. For towable RVs, those coverages automatically transfer from the auto insurance policy of the vehicle towing them. So it never kicks in while your RV is on the road — no matter what type of RV you own.
Also, vacation liability coverage may not be available for full-time RVers who spend more than 150 nights in their rig. Those RVers will likely need a full-time RV insurance policy that already includes standard coverage for injuries and accidents that occur at campsites.
How to Add Vacation Liability RV Insurance Coverage
Adding vacation liability RV insurance coverage to your policy is usually pretty simple. It comes in the form of an add-on, which means you don't have to get an entirely new RV insurance policy to add the coverage. Simply call your insurer, ask them to add the coverage and you're done.
However, the add-on can only be placed on RV insurance. So if you own a towable RV and rely solely on your auto insurance policy for its protection, you can't add it. You'd have to purchase a separate RV insurance policy for it — which is a smart move anyway.
The good news is that getting an RV insurance policy is super simple when you use Clovered. All you need to do is answer a few questions in our online quoting form and one of our licensed, in-house agents will pair you with the perfect policy that fits your needs and your budget.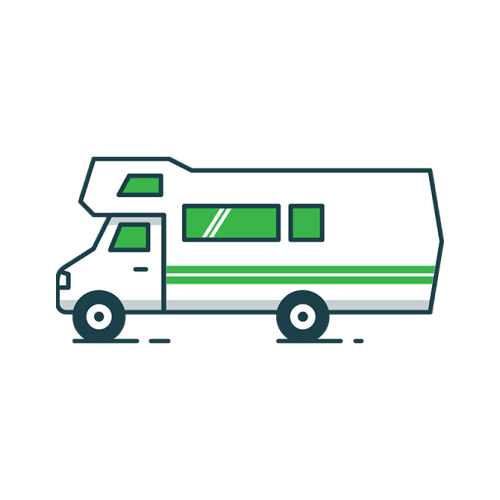 Protect Your Rig With RV Insurance
Cruise more and stress less with an all-types custom RV insurance policy that keeps you on the road longer.
The editorial content on Clovered's website is meant to be informational material and should not be considered legal advice.
Similar Articles