What Is Scheduled Personal Property Coverage?
Insurance 101
/
What Is Scheduled Personal Property Coverage?
You may have heard that "the devil is in the details," and that can be especially true in the world of insurance. Home insurance covers your belongings. But, it may not cover the full value of your belongings all the time, which is where scheduled personal property coverage comes in.
Let's take a look at what scheduled personal property coverage is and if or when you might need it.
What Is Scheduled Personal Property Coverage?
Scheduled personal property coverage, or special personal property coverage, is a supplemental policy that grants you protection beyond the personal property coverage limits outlined in your homeowners, renters or condo insurance. Scheduled personal property coverage is useful for collectible, antique, or particularly expensive items.
Home insurance is divided into several aspects of coverage. A major policy section is the one for your personal property, sometimes referred to as Coverage C.
Personal property coverage financially safeguards your belongings, like furniture, electronics, clothes, bicycles, and whatever else you may own inside your house from covered perils. But, personal property coverage has a maximum limit. Your insurance carrier will only reimburse you up to the stated limit you chose in your policy.
People usually base their personal property limit on a percentage of their dwelling limit, typically between 25% and 50%, or the overall value of their belongings. So, if you have $300,000 of dwelling coverage, your insurer could recommend a personal property max of between $75,000 and $150,000. The choice is ultimately yours, though. If you have particularly expensive or high-value items, this might not be enough protection.
Scheduled personal property coverage can be an add-on to your existing home insurance or a separate policy altogether. Since it can provide significantly higher coverage limits, special personal property coverage will raise your rate. The extent to which your premiums increase, though, depends on what you schedule and for how much.
In addition to your policy limit, it's important to know that some items that are known to appreciate over time often have sub-limits, too. So, even if an item's cost is below your personal property limit, it might be subject to an additional sub-limit.
What's Considered Scheduled Personal Property?
Personal property doesn't become scheduled until you schedule it. You may want to consider scheduling the high-value items that could be subject to sub-limits on your standard coverage. Some common items that people seek scheduled personal property coverage for include:
Jewelry

Expensive clothing, including furs or designer pieces

Expensive technology, including cameras, drones, or video equipment

Musical instruments

Firearms

Artwork

Valuable coin, stamp, or card collections

Fine china or silverware
To get items scheduled, your insurer will likely require a recent professional appraisal. You'll probably need an expert to value the item within the last year or two, as a dated estimate won't be useful. To know if you should get an item scheduled, here are some common sub-limits for potential valuables in home insurance:
Some common sub-limits for jewelry are $1,000, $2,500, or $5,000 per item. If you have a $2,500 limit for your jewelry, that means each jewelry item is covered up to $2,500. This includes engagement and wedding rings, necklaces, watches, earrings, pins and more.
Firearms are typically covered up to $2,500 or $5,000. Firearms, especially antique ones, can easily exceed this limit. It's also important to know that they may only be covered when in your home. You might not be covered if they're stolen from your car or at a shooting range, for example.
It's common for silverware to be capped at $2,500. This includes china, silverware, goldware, tea sets, trays, and pewterware.
You might be surprised to learn that your home insurance even covers your boat, but this coverage is usually capped at $1,000. This applies to yachts, jet skis, kayaks, and canoes, as well as boat engines and motors. If you've got a motorized boat, this amount of coverage is almost negligible, especially after you pay your deductible. You should get a major watercraft covered separately with its own policy.
If you've got special coins, gold, or silver, you may only be covered up to $200 per item. This could be well short of their full value. Also, this lower coverage sub-limit makes it impossible to file a claim if only these items were damaged or stolen since $200 is almost certainly lower than your home insurance deductible.
What Is Unscheduled Personal Property?
Unscheduled personal property refers to any items covered under your personal property protection that aren't singled out in your policy. Think of these as your standard, not especially valuable items.
For example, furniture, clothes, kitchen appliances, and small electronics could typically be unscheduled. Unscheduled personal property is subject to your coverage limits and sub-limits.
Scheduled vs Unscheduled Personal Property
Simply put, if you have high-dollar, special items that you need to be covered, your standard policy may not get the job done. Instead, scheduled personal property insurance exists to protect some of your most valuable possessions.
If you're unsure whether expensive items are covered in their entirety to replace or repair if needed, be sure to discuss them with your insurer, or check under the Coverage C section of your home policy.
Scheduled personal property coverage could protect your things if you wear them out of the house or take them on trips. For example, you could bring your high-powered rifle on a cross-country hunting trip, or you could wear your diamond necklace on a night out. Special personal property coverage takes this into account and protects you sufficiently.
Typically, home insurance doesn't cover damage related to negligence or expected wear and tear, either. Negligence may include losing an item. Scheduled personal property usually has your back even if you lose or misplace your valuable items, like a wedding ring, while your standard home policy likely won't.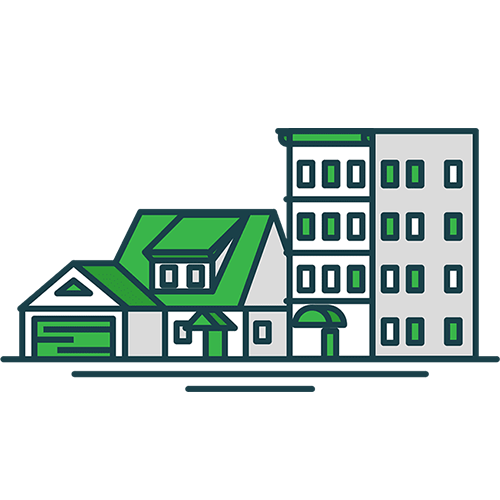 Home Protection Is Just a Click Away
We partner with the nation's top home insurance companies so you can get an excellent policy at an affordable price.
The editorial content on Clovered's website is meant to be informational material and should not be considered legal advice.