What's the Average Cost of Renters Insurance?
Renter
/
What's the Average Cost of Renters Insurance?
The average cost of renters insurance is determined by a combination of multiple factors — some you can control and others that you can't. Let's get into the nitty-gritty of a renters insurance policy and go through the insurance premium factors that can raise or lower your monthly premiums.
How Much Does Renters Insurance Cost?
The average cost of renters insurance in the United States is about $14.16 per month or $170 per year for $20,000 in coverage for your personal belongings and $100,000 in liability coverage. Your coverage amounts have a direct controllable impact on your premiums, while things like the state you live in and your relation to potential natural disasters may be fixed.
Depending on how much you pay for coffee, the average cost of renters insurance is equal to two or three cups of coffee each month. It's certainly a smarter investment than the coffee because it offers protection for your personal belongings, liability coverage for unforeseen incidents and reimbursements for many living expenses incurred if you're unexpectedly forced to move out of your rental home due to a covered peril. Let's take a look at what you can expect to pay in each state across the U.S.
Monthly Average
$18.50
$14.58
$14.66
$17.25
$18.75
$13.66
$15.50
$12.33
$15.83
$18.50
$14.33
$11.91
$13.83
$13.66
$10.41
$15.58
$12.75
$20.50
$12.50
$14.00
$16.00
$15.91
$12.75
$20.75
$13.16
$12.75
$11.16
$14.16
$11.50
$13.08
$13.75
$14.75
$13.50
$10.00
$12.91
$18.66
$12.58
$11.33
$14.75
$15.25
$10.41
$14.50
$18.08
$12.33
$11.25
$12.50
$12.41
$15.16
$13.91
$10.83
$14.16
Yearly Average
$222
$175
$176
$207
$225
$164
$186
$148
$190
$222
$172
$143
$166
$164
$125
$187
$153
$246
$150
$168
$192
$191
$153
$249
$158
$153
$134
$170
$138
$157
$165
$177
$162
$120
$155
$224
$151
$136
$177
$183
$125
$174
$217
$148
$135
$150
$149
$182
$167
$130
$170
What Affects the Cost of Renters Insurance?
1. Personal Property Coverage
The main part of your renters insurance is personal property coverage. This coverage reimburses you if your belongings are damaged or destroyed by a covered peril. Belongings such as furniture, electronics, clothes and jewelry are commonly covered. Although you probably have a lower limit for jewelry coverage that may require you to seek additional coverage through a rider or endorsement.
So if a fire or hurricane destroys your personal belongings, or they're stolen from your home, your renters insurance will be there to help you out. All you need to do is file a claim, pay your deductible and your insurer will take care of the rest, cutting you a check to replace your belongings.
If you have more personal belongings that need to be insured, it'll cost you more money to do so. That's because insurance companies are assuming more risk for more belongings. If you're insuring $10,000 in personal belongings, an insurance company will only have to pay you $10,000 if everything is destroyed. On the other hand, if they have to pay out $50,000, they'll offset the increased risk by charging you more in premiums.
Liability coverage is also a significant portion of your renters insurance policy. It helps to pay for medical bills if someone is injured on your property and you're found liable, property damage you cause to someone else, dog bites that occur on or off the property and legal fees if one of those incidents results in a lawsuit filed against you.
Renters policies come standard with $100,000 in liability coverage. If you file a claim an insurance company will only pay a maximum amount of $100,000 if you file a claim. If the damages exceed that amount, you're responsible for paying the rest. You can usually get up to $500,000 in liability coverage from your insurer and $1 million or more by purchasing a separate umbrella policy.
3. Additional Living Expenses Coverage
Additional living expenses coverage is another key controllable factor affecting your renters insurance cost. This is the amount of money an insurance company will pay toward unexpected costs if a covered peril forces you to temporarily move out of your rental property due to damage.
If you set your policy at a $2,000 maximum, your insurance company will only provide up to that amount for relocation fees, such as finding a temporary place to live, extra gas money for longer commutes, a storage unit to house the belongings you can't bring with you and other related expenses. If you set it at $20,000, there's a chance your insurance company will have to pay that amount. Again, they'll offset the increased risk of a higher payout by increasing your cost of renters insurance.
The deductible on your policy determines how much you must first pay before the insurance company kicks in and pays the remaining amount. The higher your deductible, the cheaper your cost of renters insurance. That's because you'll have to pay more and the insurance company will pay less per claim.
For renters, deductibles typically start at $500 and go up to $1,500. If you have a $500 deductible and suffer $20,000 in losses, you must pay $500 and your insurance company will pay the remaining $19,500. If you have a $1,000 deductible and you suffer $2,000 in losses, you must pay $1,000 and your insurance company will pay the remaining $1,000.
5. Actual Cash Value vs Replacement Cost
There are two kinds of coverage you can choose from that pay to repair or replace your personal belongings if they're damaged, destroyed or stolen due to a covered peril: actual cash value and replacement cost.
Actual cash value takes depreciation due to aging and general wear and tear into account, which reduces the value of your belongings. Replacement cost simply pays you the exact amount you bought an item for — even if it's 10 years old.
So a renter who files a claim for a stolen laptop can receive two different amounts depending on which coverage they enroll in. If the laptop was purchased 5 years ago for $1,000, a renter with replacement cost coverage would receive the full $1,000 from their insurer. A renter with actual cash value coverage may only receive $500 if the insurer deems the laptop has a 10-year lifespan.
Since replacement cost coverage nearly always pays out more than actual cash value coverage, it increases your renters insurance cost per month.
Owning a dog could significantly increase your renters insurance rates because they're deemed to carry a higher risk. Dog bites are one of the leading causes of home insurance claims and force companies to pay out hundreds of millions of dollars each year. There are also certain breeds deemed to be riskier than others.
Where your rental home is located plays a part in the price of your monthly premium, too. If you live in an area with a high crime rate, you'll pay more in premiums due to an increased risk of theft. If you live in a state or area that's prone to natural disasters, you'll see an uptick in your premiums compared to locations that don't see much natural disaster activity.
Are you renting a single-family house, apartment, duplex, mobile home or something else? Each residence type comes with its unique risk factors, which all have an impact on your monthly premium.
Mobile homes are more susceptible to storm damage. Living in an apartment affects your risk factor because your neighbors could accidentally start a fire or cause water damage to your belongings. While houses don't see the damage risk caused by neighbors and are typically more sturdy to stand up against natural disasters, they may be an easier target for theft and vandalism.
Many safety features can be added to your home to reduce the amount of your monthly premiums. Smoke detectors prevent extra damage from a fire spreading. A monitored security system and reinforced door locks deter thieves from breaking in and stealing your stuff. Impact-resistant windows keep your belongings safe during harsh windstorms. All of these things can play a key factor in reducing your monthly premiums.
If you bundle a renters and auto insurance policy with the same company, you could save yourself a little bit of money each month. In addition, if you stay with the same company for a certain number of years, they may be more inclined to provide a discount for being a loyal customer.
How to Get the Best Renters Insurance Rates
As a licensed insurance agency in nearly 20 states across the U.S., Clovered can help you get the best policy for the best price. We've partnered with some of the nation's top insurers to provide every renter with an affordable policy that provides adequate coverage.
All you need to do is answer a few questions about your residence in our online quoting tool, we'll run some data in the background and get you on your way with a new policy in minutes — one that doesn't break the bank.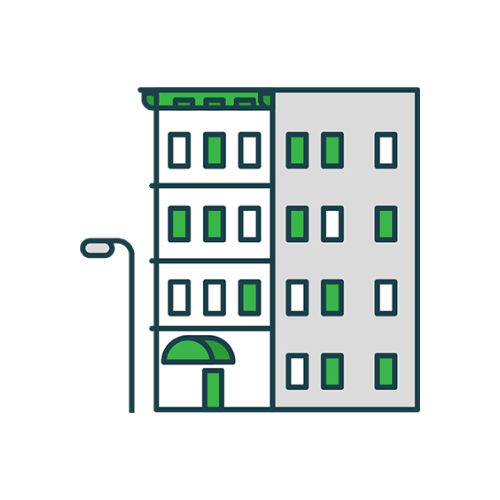 Protect Your Belongings With Renters Insurance
Averaging just $12 per month, renters insurance can protect your belongings for the cost of a few cups of coffee.
The editorial content on Clovered's website is meant to be informational material and should not be considered legal advice.
Similar Articles