Does Boat Insurance Cover a Blown Engine?
Boat
/
Does Boat Insurance Cover a Blown Engine?
Nothing puts a stop – literally – to a fun day on the water like a blown engine. They can happen when you've seemingly done nothing wrong. But, they ultimately have a cause, and your boat insurance may be able to help you out.
Boat insurance is the best way to protect your boat from unexpected damage. Let's see if a blown engine qualifies, and if similar damage, like lower unit or engine block troubles, is also covered by boat insurance.
Does Boat Insurance Cover a Blown Engine?
Your boat insurance may cover a blown engine if the problem was not related to a lack of maintenance or expected upkeep on your part. Most policies will cover engine damage if it was a direct result of a collision or severe weather.
If your boat insurance policy covers the value of your boat (meaning you have more than just liability coverage), you can expect your insurer to protect your boat and its components, like your engine, from unexpected forms of damage. These usually include collisions, vandalism, fire and lightning damage, storm damage, and may include hurricane and wind damage depending on your policy and provider.
If a blown engine is caused by these commonly covered perils, your insurer will likely shoulder some or all of the costs for you. But, oftentimes, a blown engine is caused by negligence. An insurance company sees a failure to perform maintenance that keeps a vessel in working order as the boat owner's fault. As a result, your insurer will not cover a blown engine if the company believes it can be attributed to negligence.
Blown engines can be caused by several things, like corrosion, loose connections, failed ignition switches, and transmission issues. Many of these can be avoided with routine inspections and care for your engine before they suddenly get bad enough to blow your motor or engine.
In addition to negligence, insurers also don't usually cover wear and tear. So, if your engine finally gives after 15 years of use, your carrier may not step in to cover the cost of a new one. Also, engine damage from mold or insects isn't typically covered, either.
A blown engine can also be caused by a manufacturer or mechanical defect. Coverage for this varies by provider. Basic boat insurance policies usually don't cover any defects. But, if you have top-of-the-line protection, such as total replacement cost coverage, your provider may reimburse you for a new engine even if you suffer damage from a defect. Check your policy to be sure.
If you ultimately decide to file a claim for your blown engine, it helps to provide as much documentation as you can. In addition to pictures, service records are vital. You should log the maintenance and inspections you have done on your vessel to prove that you're a responsible boat owner.
How Does Boat Insurance Cover Engine Damage?
If your insurer agrees to cover it, how you get reimbursed for your engine depends on the coverage outlined in your policy. With actual cash value protection, you'll always receive less than what you paid for your engine due to depreciation. The older the engine is at the time of its failure, the less you'll get for it. 
With an agreed-upon value or hull value policy, your insurer may pay to replace a new one without accounting for depreciation if it's within a few years old. The cut-off for deducting appreciation varies by company; it's usually between 3 to 7 years. For instance, one insurer may replace your 5-year-old engine without deducting depreciation, while another one may. 
Your provider also might have certain limits when replacing your engine. For example, Progressive will cover engines up to 700 HP for single engines or 1,400 HP for twin engines on cruisers, motor yachts, and ski/wake boats with inboard or inboard/outboard engines.
Does Boat Insurance Cover a Cracked Engine Block?
Like engine failure, your insurance may cover a cracked engine block if the damage was caused by something other than negligence. Damage due to severe weather or other unexpected, sudden incidents, like hitting a submerged object, may be covered.
A common cause of cracked engine blocks, though, is freezing during the winter. The liquids inside the block condense and expand when they freeze and thaw, which can crack pipes. If your insurance company believes you didn't take the proper steps to prevent this from happening, they won't reimburse you.
But some companies cover freezes in certain situations. You may have a freeze coverage or winterization clause in your policy. Double-check yours if you're concerned, and always be sure to store your boat properly in the winter months.
Does Boat Insurance Cover a Lower Unit?
Boat insurance usually covers lower unit damage as long as it's not the result of negligence. Weather-related damage, or damage from hitting a submerged object, should be covered. But, if your provider believes the damage was preventable (like with routine maintenance), they may not reimburse you. If you fail to perform expected upkeep, like changing the oil or keeping debris clear from the prop, your insurer may not be too willing to cover damage caused by neglect.
Some insurers won't help to replace your lower unit if it simply gives out near the end of its lifespan, either, as expected wear and tear isn't covered. But, some carriers will. You may be able to add mechanical breakdown coverage to your policy, which can help replace the lower unit of motors if they break down, no matter what the cause is.
The cost of mechanical breakdown coverage varies by provider, but it generally costs more the older your boat is. It's usually only applicable to outboard motors, too. Your insurer may or may not factor in depreciation when replacing your lower unit depending on your policy.
Keep in mind that you'll likely have to pay a deductible when filing a claim for lower unit damage. Depending on how many motors you have, you'll probably have to pay a deductible for each one you want replaced or repaired.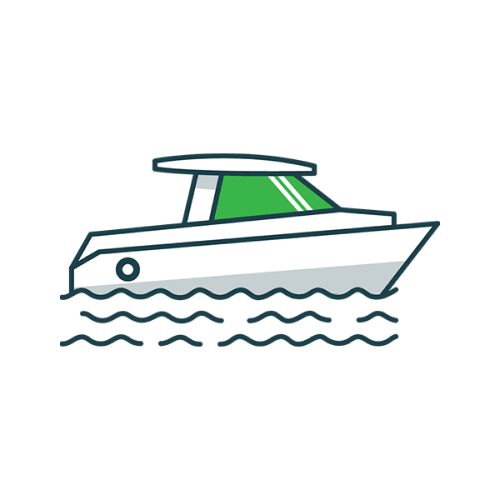 Keep Your Vessel Afloat With Boat Insurance
Don't get sunk by unexpected damages.Keep your vessel safe with a policy from one of the nation's top carriers.
The editorial content on Clovered's website is meant to be informational material and should not be considered legal advice.
Similar Articles