Does Flood Insurance Cover Fences?
Flood
/
Does Flood Insurance Cover Fences?
Private flood insurance companies can give better coverage, but it often comes at a greater cost. Below, we'll go over when fences on your property can be covered by either government-backed or private insurer flood policies so you can make a better decision when considering your coverage needs.
Does Flood Insurance Cover Fences?
Flood insurance through the NFIP won't cover damage to fences on your property because they're not considered to be a part of your home. Private flood insurers have more customizable policies, though, and some of them may be willing to cover fences.
Government Flood Insurance
The NFIP is the country's largest flood insurance provider. It's estimated that the NFIP has written over 90% of the current active flood policies in the United States. The coverage they offer in their policies can be divided into two sections: dwelling coverage and contents coverage.
For residential NFIP policies, dwelling coverage protects the structure of your home and its permanently attached features, like the walls, floor, built-in appliances, and HVAC systems. This coverage typically maxes out at $250,000 for single-family homes and condo units.
Unfortunately, fences don't fall under either of these categories. In fact, NFIP policies include language specifically excluding property and belongings outside of buildings. This usually includes trees, plants, wells, hot tubs, swimming pools, and fences.
Usually, one of the main goals of any insurance company is to mitigate risk. This is why underwriting is such a complicated process. Firms need to analyze several factors before coming up with a rate that accurately reflects the risk the company is taking on in insuring you. This also ultimately helps the carrier stay profitable, which is another necessity of any company.
Since the NFIP is funded by the government, it doesn't have the goal of staying profitable. Anyone can purchase a policy, even those in the most high-risk of areas that would historically get turned down by a private company for being too large of a risk. As a result of the volume of policyholders and public money involved, coverage is standardized and limited.
These limitations mean the NFIP can't exactly afford to cover fences in your policy. The program is already run at a deficit as it stands now. Including fences would likely mean higher rates for most policyholders and a more complicated claims process.
Furthermore, private companies may handle your NFIP policy through the Write-Your-Own program, but if the plan is written and backed by the NFIP, your policy won't cover fences.
If you want flood insurance with coverage for fences, look for insurers that have other structures coverage in their flood policies. In insurance, other structures are structures on your property apart from the primary dwelling (the home where you live). Examples of other structures typically include gazebos, sheds, and fences.
For instance, although they may not specifically cover fences in their policies, Neptune Flood Insurance offers up to $50,000 in coverage for unattached structures on your property. This limit is in addition to your primary dwelling coverage. Your best bet is to look for flood insurers with these types of provisions in their policies.
In addition, you may be able to find surprise lines carriers that offer more comprehensive flood insurance that includes fences. Surplus lines carriers cover risks that people may have trouble finding coverage for in the standard market.
Surplus lines carriers are a type of insurance company that, although approved by the state, aren't subject to many state insurance regulations. This allows them to take on more risks, but their rates may vary more.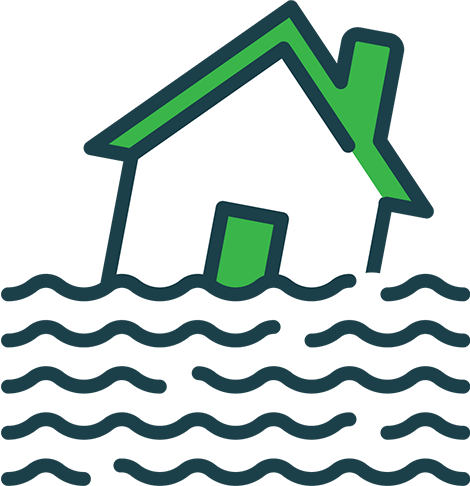 Stay Above Water With Flood Insurance
Do you want to pay for costly and common flood damage yourself or have an insurance policy pick up the tab?
The editorial content on Clovered's website is meant to be informational material and should not be considered legal advice.
Similar Articles