Does Home Insurance Cover Vandalism?
Insurance 101
/
Does Home Insurance Cover Vandalism?
When you think about how your insurance protects your house, the first things that come to mind are probably weather-related. Natural disasters like tornadoes and hurricanes can be incredibly destructive and cause expensive damage.
While these extraordinary weather events catch the headlines, you should know your insurance protects you from man-made damage, too.
When someone's cruel intentions take the form of vandalism, it might comfort you knowing that your insurer has your back. Let's take a look at how and when your home insurance covers vandalism.
Does Home Insurance Cover Vandalism?
Yes, your homeowners insurance should cover most instances of vandalism. The most common form of homeowners insurance, known as the HO3 form, covers a list of over a dozen named perils you're financially protected from. One of these named perils is vandalism, although insurers may have limits on how much they reimburse you for.
Your personal property is also protected. This includes your household appliances, carpeting and furniture. You'll want to check your personal property coverage, though, as different companies may have different limits. With a plan from Clovered, for example, you could be reimbursed up to $2,500 to replace damaged personal belongings as a result of vandalism.
When it comes to your personal property, you should also be aware if you're covered for the replacement cost of your items or their actual cash value. If your items get damaged, the replacement cost would reimburse you for what you paid for the item, while actual cash value coverage would factor in depreciation.
For example, if your couches were destroyed in an act of vandalism and you have replacement cost coverage in your plan, you'd be reimbursed what you paid for them. If your policy has actual cash value, your insurer would reimburse you what you paid for the couches, minus depreciation.
How a provider determines depreciation varies, but the older the item, the less money you'll receive. Actual cash value is the cheaper option, but it almost always pays less than replacement cost.
Definition of Vandalism in Insurance
Vandalism is any property damage done intentionally. It's often accompanied by burglary or theft of some sort, which is also covered by every form of home insurance, but it doesn't have to be. Some examples of vandalism include:
Graffiti on the walls of your home

Broken windows or locks

Chopped down trees

Salting lawns

Smashed mailbox

Destroyed fences

Arson
When checking out vandalism in your policy, you may also see the phrase "malicious mischief" right alongside it. There's not really a difference between the two. Both involve deliberate actions to damage someone else's property. Legally, vandalism can also be referred to as malicious mischief. If anything, the fact that both phrases are included in your coverage only helps you.
Requirements for a House Vandalism Insurance Claim
If you've experienced vandalism, you must document the damage. Take pictures of what's occurred to show your insurer, and find or keep any relevant receipts for the items that were damaged or any immediate, temporary repairs you had to make to mend the damage.
It's important to remember that vandalism is a crime, so you should contact the police and file a police report, too. This police report can also be further evidence for your provider, and they may require one to process your claim.
While vandalism is a covered peril, some notable instances are excluded from policies. If you do business out of your home, you may not be covered.
If customers come to your home or you keep expensive inventory or equipment at your house for your home business, you should look at commercial insurance for sufficient coverage. Home insurance protects homes from vandalism, not businesses.
Also, you must live in the home to file a successful vandalism claim. If your house has sat vacant for an extended time you won't be protected. The time frame varies by company, but it's common for plans to exclude incidents of vandalism in homes that have been vacant for 30 days before the incident. Some insurers say 60 days.
Does Homeowners Insurance Cover Tenant Vandalism?
In most instances, homeowners insurance won't cover tenant vandalism. As mentioned earlier, home insurance usually requires that you're living in your home. If you're renting your property out to someone else, your homeowners insurance likely won't cover damage a tenant causes to your house.
Also, it will never cover your tenant's personal property. You need to maintain regular residence in your home to be protected. If you're looking to insure a rental property, you'd need landlord insurance for proper protection.
Landlord insurance safeguards you in many of the same ways home insurance does with liability and property coverage, but it recognizes that you aren't the primary resident. This is important because it can also cover loss of rental income in case your tenants have to move out due to a covered peril.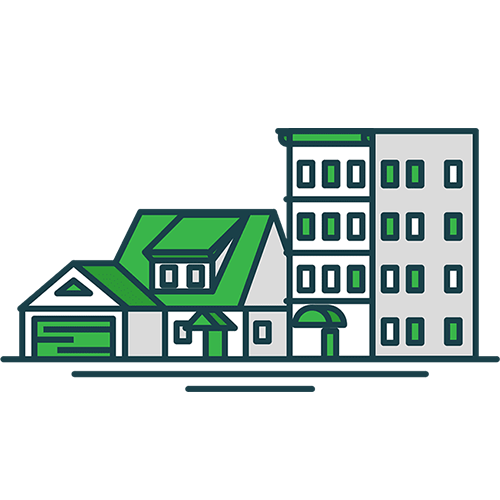 Home Protection Is Just a Click Away
We partner with the nation's top home insurance companies so you can get an excellent policy at an affordable price.
The editorial content on Clovered's website is meant to be informational material and should not be considered legal advice.
Similar Articles